Exclusive: Worsening job inequality in America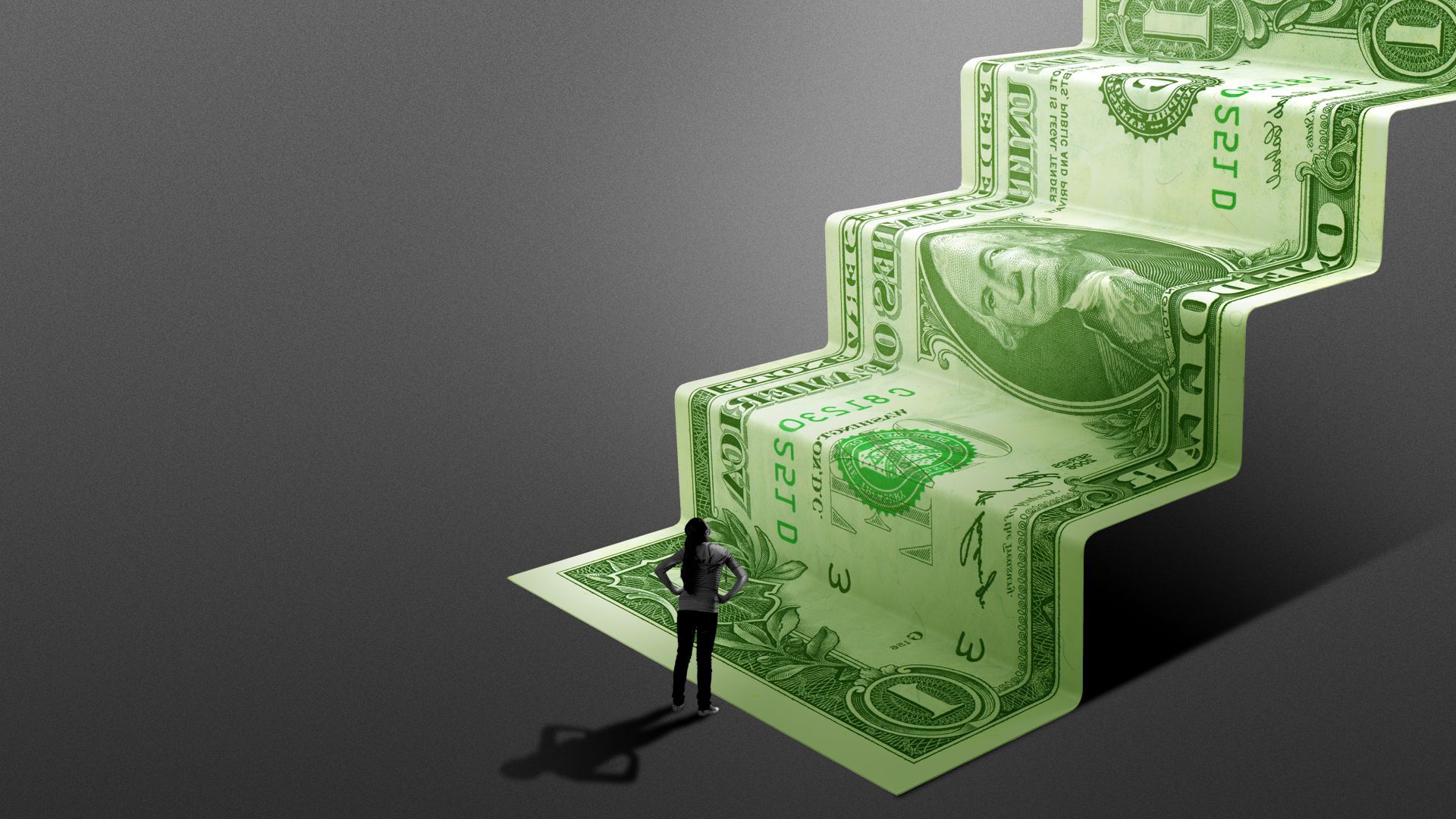 Inequality in the U.S. is worsening by many measures — especially when it comes to employment.
Driving the news: The Job Quality Index (JQI), a measurement of "high" to "low quality" jobs in the U.S. private sector, has fallen from 81.1 in 2007 to 80.5 last year.
The 80.5 level signifies that 55% of workers were in low quality jobs versus 45% in high quality. (High quality means weekly wages above the national average for non-management production jobs and low means it's below.)
Axios is first to report the new findings from a group of research and industry analysts who publish the JQI monthly. They include economists from the Coalition for a Prosperous America, a trade group representing domestic sectors across farmers, manufacturers and labor organizations.
The inequality shows drastic differences when broken down by race: 28% of Hispanic American workers held high quality jobs in 2020, compared with 29% of Black American workers, and 61% of Asian American workers.
Since 2007, Black American workers have seen a 6% decline in job quality versus a less than 1% decline nationally, a 29% increase for Hispanic workers and a 66% increase for Asian American workers.
Why it matters: Worker pay has been at the heart of recent debates over the slowly recovering labor market.
Following a year of shutdowns, companies like Amazon, Chipotle and McDonald's say they are finding it difficult to hire people and have started to bump up hourly pay. 
Republican governors of more than a dozen states are ending federal unemployment programs months earlier than the September target, citing tight labor supply.
What they're saying: "Low-quality service sector jobs" in areas such as food service and social assistance (child day care, home health care, for example), have made the problem of declining job quality worse, CPA economists write in their new JQI report.
"Established policy objectives, including increased educational opportunities and reduced job discrimination, have an important role to play. But the importance of the sectoral mix of job opportunities, and the dominance of low-quality job growth in recent decades, is often overlooked."
The big picture: The pandemic demonstrated how communities of Black and Hispanic workers — women in particular — were disproportionately impacted by shutdowns, given how much more likely they were to have been in service sector roles.
Yes, but: Investing in manufacturing as a way to boost the income levels and lifestyles of communities of color has been a familiar drumbeat this year following President Biden's Build Back Better push to revitalize the industry. 
Critics, however, look at an executive order like the one to "buy American," as the start of increased costs and reduced quality.
Be smart: The economy has been in a K-shape orientation well before the pandemic, Treasury Secretary Janet Yellen wrote in her first message to staff this year. 
Upper-income families actually built wealth between 2001 and 2016, up 33%, while middle- and lower-income families saw declines of 20% and 45% respectively, according to Pew Research.
Over the past year, Yellen's central bank counterpart Jerome Powell has been asked to address and acknowledge the Fed's role in exacerbating systemic disadvantages, which include easy-money policies that benefit wealthier investors and corporations.
Go deeper