Sen. Cortez Masto: Funding schools can help improve children's mental health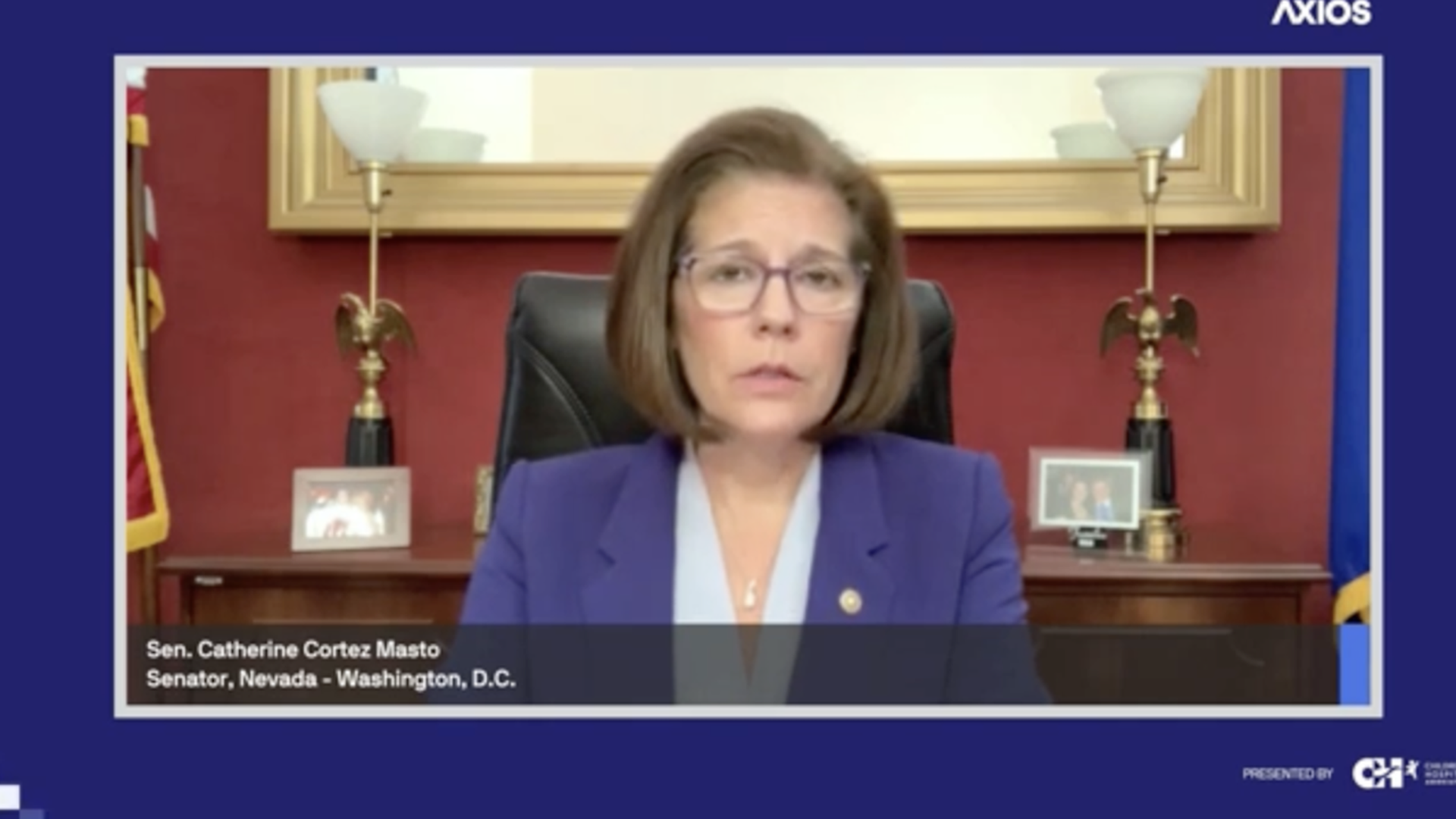 Funding schools, and specifically hiring additional counselors, can help address children's mental health concerns, Sen. Catherine Cortez Masto (D-Nev.) said at an Axios Event on Thursday.
Why it matters: Demand for mental health services for teens has skyrocketed amid the coronavirus pandemic, though Cortez Masto said the country didn't have a strong grasp on the issue even before the virus started forcing schools to cease in-person classes.
Context: Mental health professionals have repeatedly voiced their concerns about the pandemic's effect on children's mental health, and hospitals have seen an increase in mental health emergencies among children, Axios' Marisa Fernandez reports.
What they're saying: "We need more counselors. We need to make sure we have the opportunity for schools to work with community-based programs and focus on the mental health needs of our children and their families," Cortez Masto said.
"I've been pushing the administration and focused on making sure that we put additional dollars into two grant programs — about five hundred million dollars in grant programs — that focuses on our counselors and making sure we're hiring more counselors for our schools, because this is the time to make sure the money spent in the right way — the best interest of our kids."
"We don't know," Cortez Masto said when asked if she thinks the pandemic will have long term effects on children.
"Now's the time to start focusing on the mental health and the well-being of our kids," she added.
Cortez Masto said 18 kids have died by suicide in Nevada as of February.
The big picture: The American Rescue plan gave $122 billion in relief to K-12 schools, which they are allowed to use to counter all aspects the pandemic's effects on students, including mental health.
The Department of Education said schools can use the funding to implement "strategies to meet the social, emotional, mental health, and academic needs of students hit hardest by the pandemic, including through evidence-based interventions and critical services like community schools."
Watch the full event here.
If you or someone you know may be considering suicide, contact the National Suicide Prevention Lifeline at 1-800-273-8255 (En Español: 1-888-628-9454; Deaf and Hard of Hearing: dial 711 ,then 1-800-273-8255) or the Crisis Text Line by texting HOME to 741741.
Go deeper