Scoop: Kinzinger allies launch advocacy group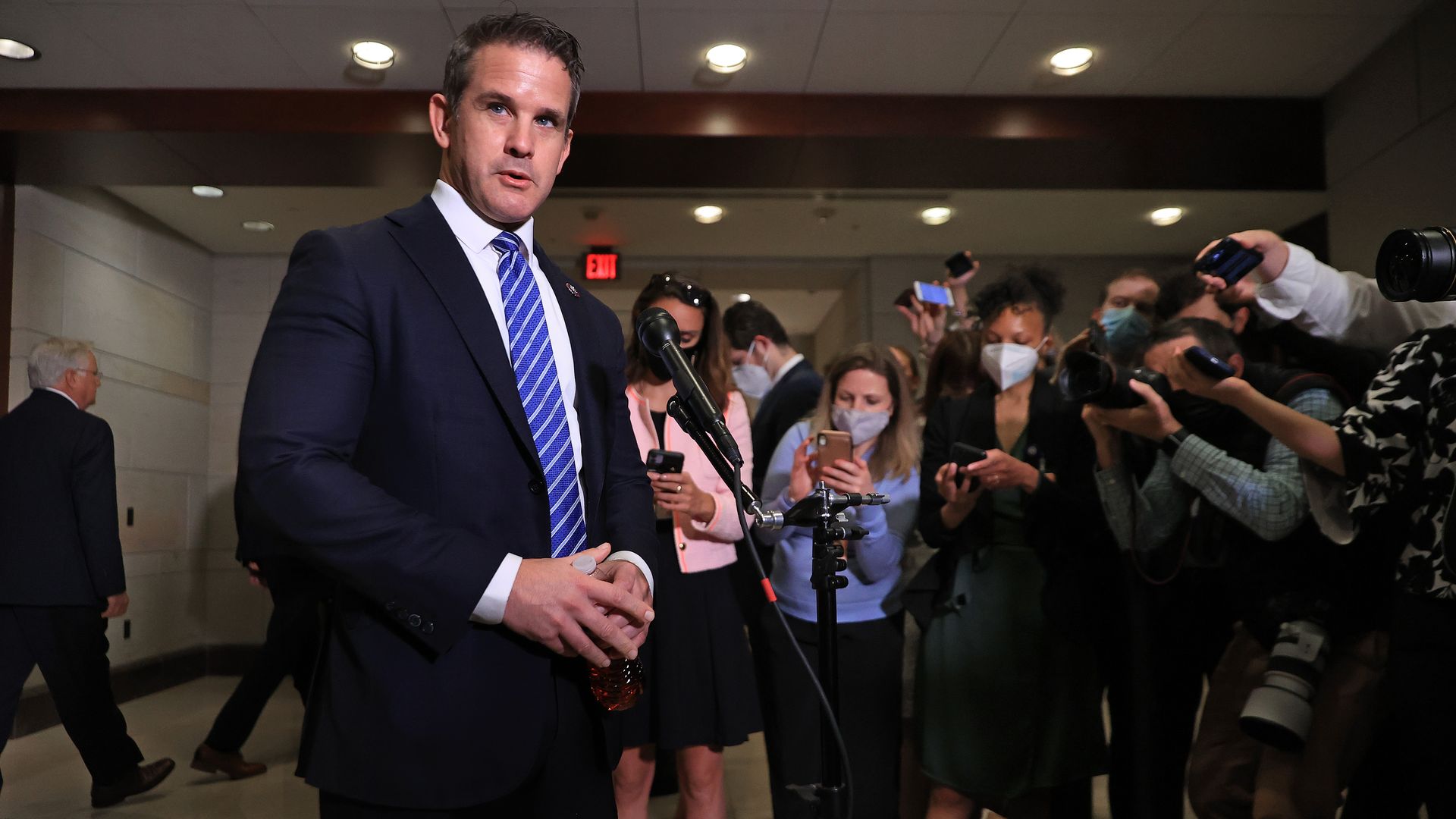 Allies of Rep. Adam Kinzinger (R-Ill.), a prominent Trump critic who now argues he's trying to save the Republican Party, are launching a new advocacy group, Axios has learned.
Why it matters: The group and a sister super PAC will boost Kinzinger's political brand, help insulate him from primary challenges next year and be able to boost like-minded politicians elsewhere in the country.
The congressman has drawn the wrath of the Trump faithful over his vote to impeach the former president and persistent criticism of the party's embrace of election conspiracy theories.
Kinzinger is an Air National Guard pilot who has flown missions in Iraq and Afghanistan.
What's new: Keep Country First Policy Action, a 501(c)(4) nonprofit, plans to "use both earned and paid media to drive the national narrative on key issues," according to a memo on its launch shared with Axios on Wednesday.
It also hopes to "build a grassroots army" that it can activate in support of a centrist policy agenda to "improve political dialogue and reestablish faith in our institutions."
The group's board includes two former Republican members of Congress: Virginia's Barbara Comstock and Florida's Tom Rooney.
Republican consultant Mario Castillo also will have a board seat.
What they're saying: "We want to begin the process of restoring faith in our institutions by advocating for the sort of commonsense policies that will give the average American hope that the federal government can put their interests first," Comstock said in a statement about the group's launch.
The big picture: The nonprofit's launch comes shortly after Kinzinger allies unveiled a super PAC designed to support Republicans who break ranks with the party's Trump-aligned mainstream.
Kinzinger is among the most prominent of that bloc. It also includes Rep. Liz Cheney, the Wyoming Republican who was booted from House leadership last week over her criticism of Trump's role in fomenting January's siege on the U.S. Capitol.
Both are facing primary challengers firmly aligned with Trump and determined to purge the party of his critics.
Between the lines: Trump remains the unquestionable leader of the GOP. But his internal critics include some of the party's top donors.
These new Kinzinger-aligned groups will allow deep-pocketed Trump critics to finance a political apparatus that can help shield like-minded elected officials from the former president's wrath — and that of his many allies.
Both the super PAC and the nonprofit can accept unlimited contributions.
That far exceeds the $5,800 per-cycle maximum each donor can give to a federal political campaign.
Go deeper