Sources: McConnell opposed to current Jan. 6 commission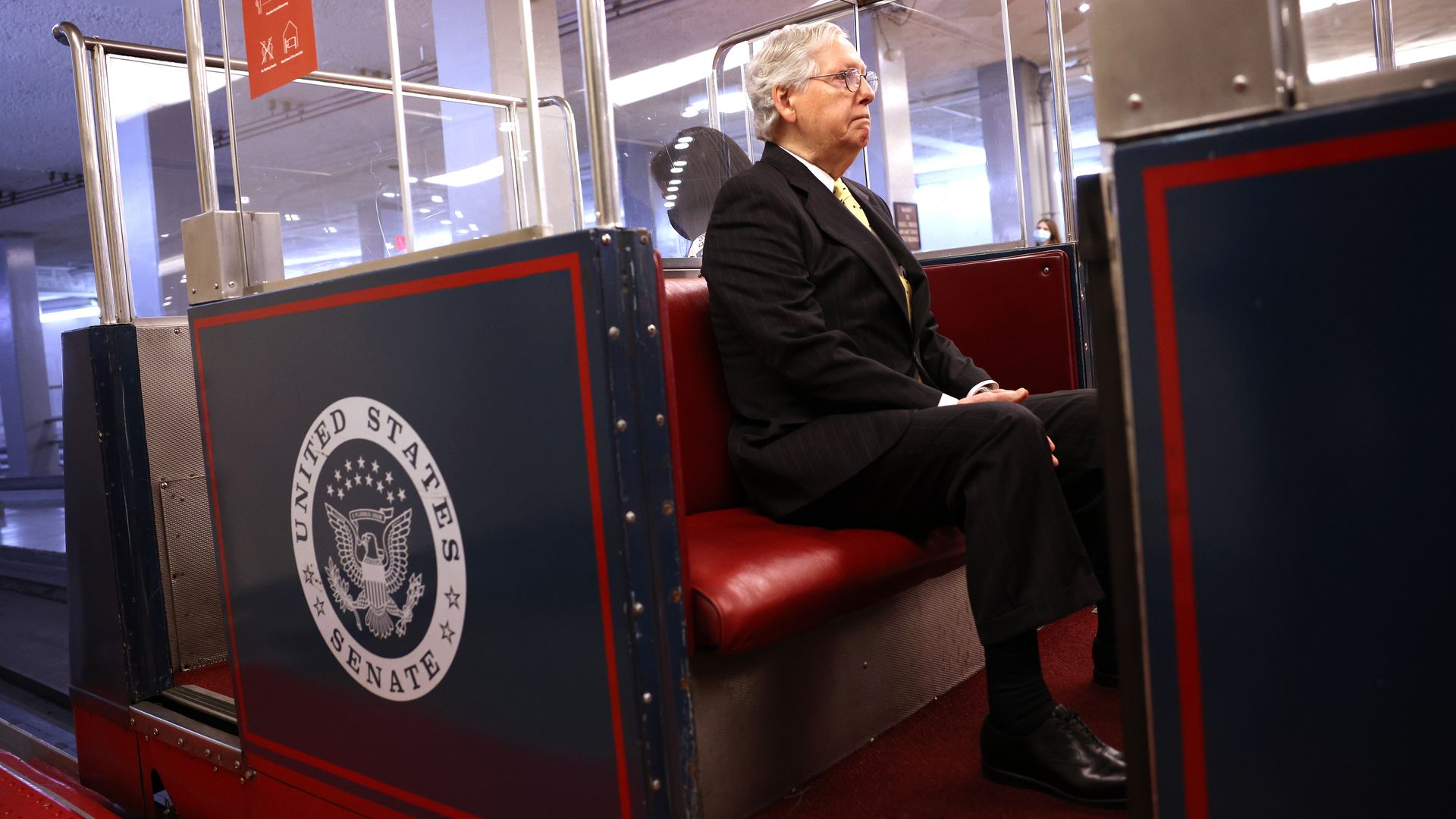 Senate Minority Leader Mitch McConnell (R-Ky.) told his fellow Republicans during a closed-door caucus lunch Tuesday he can't support a Jan. 6 commission in its current form, two sources familiar with his remarks tell Axios.
Why it matters: Senate Republicans are bracing for a House vote Wednesday. Minority Leader Kevin McCarthy (R-Calif.) opposes the commission but several Republicans are expected to buck leadership — making it more difficult for Senate Republicans to dismiss it.
What we're hearing: McConnell made comments to his colleagues along the lines of, "There's 41 of us who could change this, and I think we should," according to one of the sources. A second source confirmed the nature of the comments.
When McConnell finished, Sen. Roy Blunt (R-Mo.) — who's retiring in 2023 — also stood up and questioned aspects of the deal.
The senators did not indicate the deal is DOA in the Senate, the sources said, but made clear they would want to see substantive changes.
Such changes being discussed more broadly among some Republicans include ensuring the panel is truly bipartisan.
Rep. John Katko (R-N.Y.), who struck the deal with Democrats in the House, voted to impeach Trump — raising concerns among his fellow Republicans.
McConnell spoke publicly following the lunch and said he is "pushing the pause button" on the legislation, adding the GOP conference is "undecided."
He also noted the Justice Department and other congressional oversight committees are investigating the insurrection.
McConnell questioned whether a new commission would interfere with that work.
Between the lines: Most Republican members are wary of the commission and want to reframe the narrative away from the insurrection.
A prominent concern is that it could be weaponized to subpoena members.
There's also concerns it might alienate members of the GOP base, as well as former President Trump — who was impeached by the House for inciting the riot.
Alternatively, they recognize that if an investigation is going to take place, it's better to have a hand in investigating it than to allow Democrats to be fully in control.
Go deeper