Japan's 11th hour COVID Olympics nightmare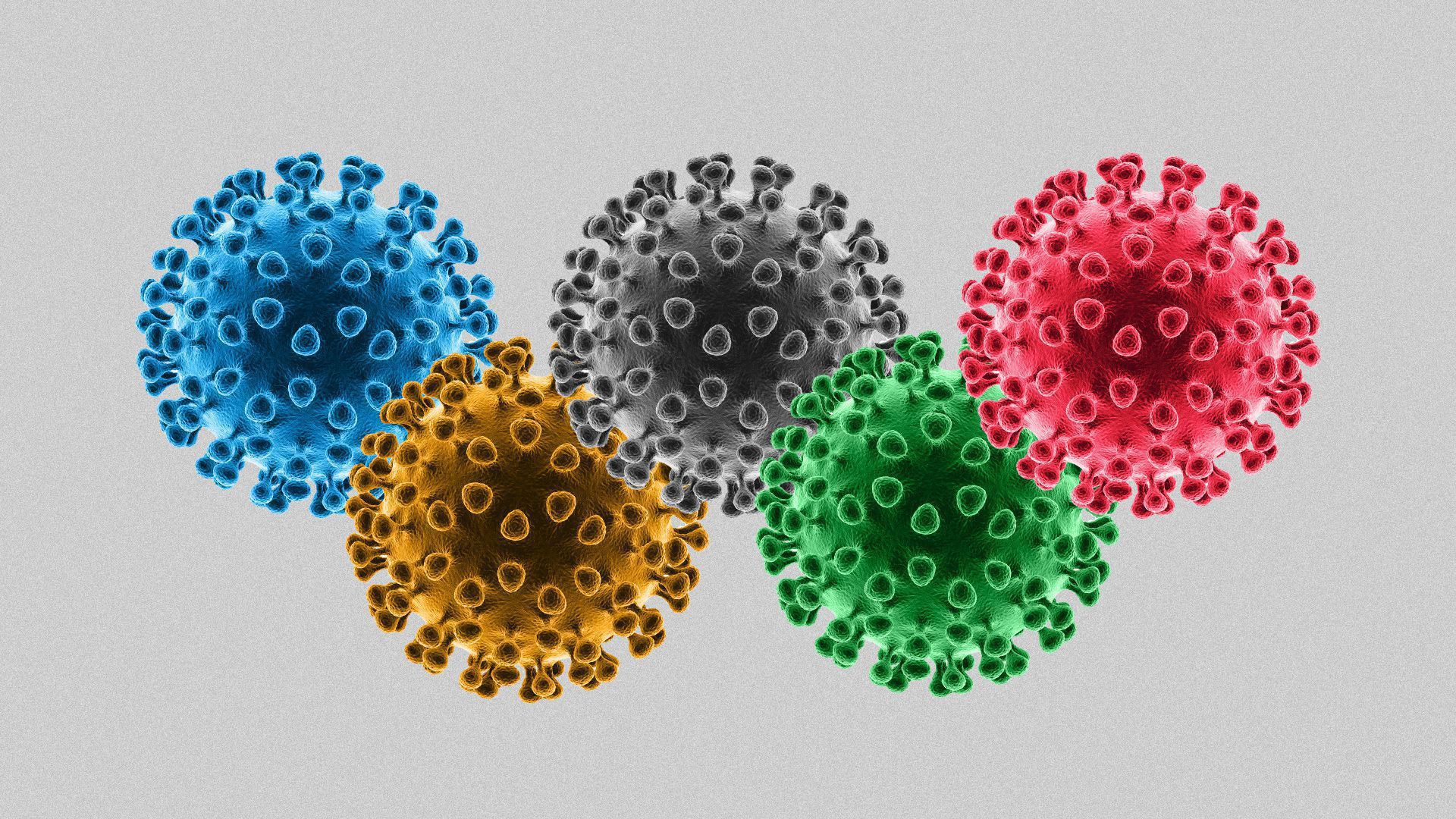 With just 65 days until the Olympics, Japan's COVID-19 infection and vaccination rates are providing legitimate cause for concern.
Why it matters: The country's seven-day average of new cases surpassed 6,000 for five straight days last week, just barely trailing its worst surge to date, back in January.
Vaccines: Japan's vaccination rate pales in comparison to similarly developed countries, with just 1.7% of the population fully vaccinated. (U.S., 38%; U.K., 31%; Spain, 16%).
The state of play: The reasons for the slow vaccine rollout largely stem from a cultural barrier that has slowed the process from the start, as well as a reliance on foreign supply due to their feeble vaccine sector.
Despite securing ample supply, a deep-seated skepticism of foreign vaccines pushed Japan to pursue additional testing on top of Pfizer's multinational test whose results were accepted by dozens of countries.
Once they finally began vaccinating the population on that delayed timeline, different challenges arose. Namely, there aren't nearly enough people approved to administer the shots.
"Only doctors and nurses are allowed to give them in Japan's conservative medical culture," writes AP's Mari Yamaguchi. "Getting shots from pharmacists at drug stores as in the U.S. or from volunteers with no medical background other than brief training as in Britain remain unthinkable in Japan."
What they're saying: A prominent group of ~6,000 Japanese doctors is calling for the Olympics to be canceled because "the medical institutions ... have their hands full and have almost no spare capacity," per Reuters.
Meanwhile, 40 towns that had registered to host athletes have abandoned those plans, and 59.7% of people in Japan think the Olympics should be canceled, per a recent Kyodo News poll.
"The risk is too big," Rakuten CEO Hiroshi Mikitani told CNN. "It's not time to celebrate yet."
"Holding the Olympics should be welcomed by everyone, but that is not possible under the current situation," said Japanese lawyer Kenji Utsunomiya, whose "Stop Tokyo Olympics" petition has over 350,000 signatures.
The big picture: The coronavirus has evolved over time, with new and more contagious variants posing a major challenge to a world that's already weary from a year unlike any other.
The U.S. has trended in the right direction, going from COVID-19's favorite breeding ground to a world leader in vaccinations.
Japan has gone in the opposite direction, keeping cases low for months before stumbling on the vaccine front. And it could cost them — and thousands of athletes — their Olympic dream.
Go deeper: Japanese doctors urge Olympics to be canceled as COVID surges
Go deeper