Gaza faces food and medicine shortages without ceasefire: UN official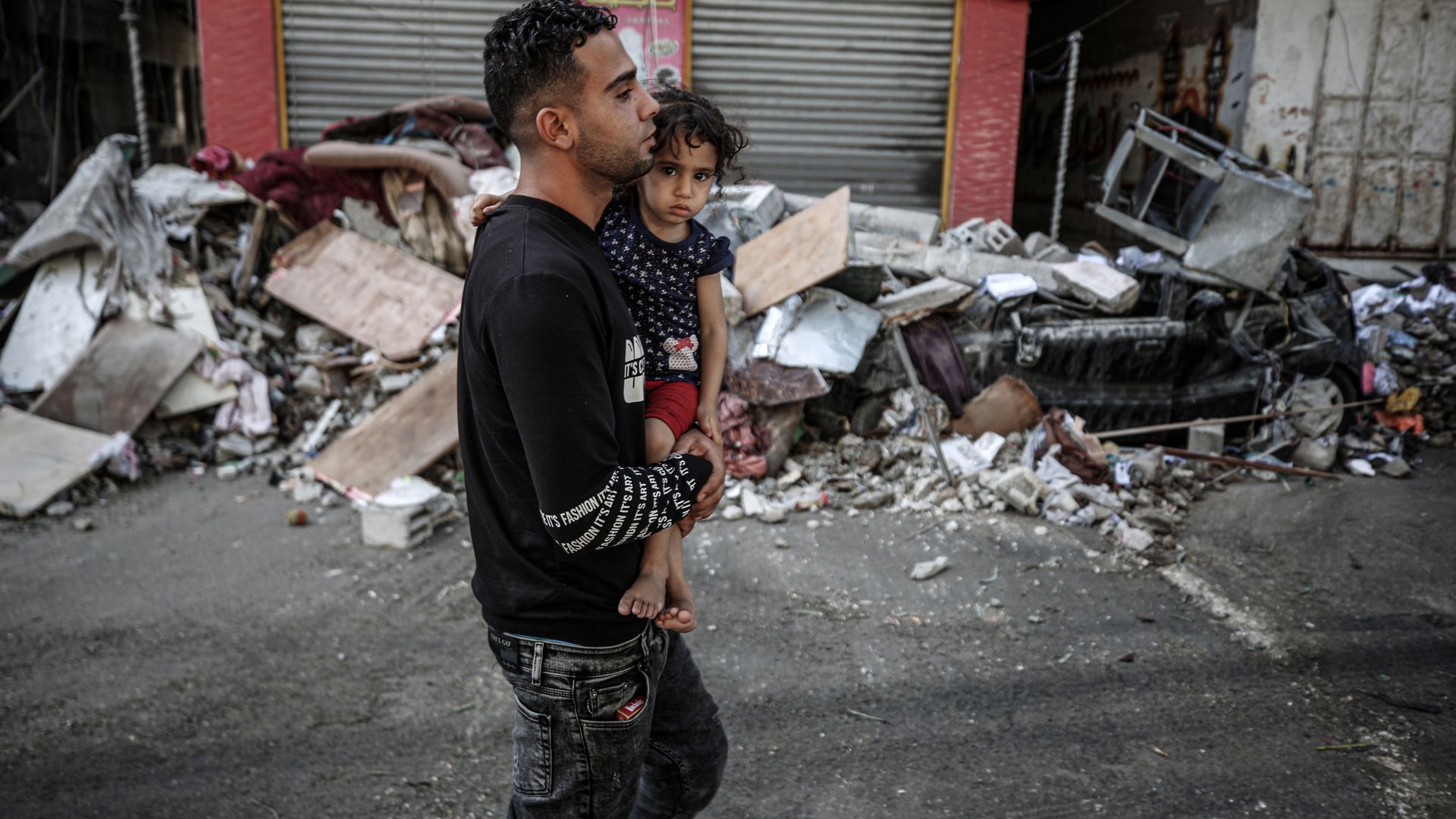 Shortages of food, water, fuel and medicine are growing more dire in Gaza, and further fighting will make them dramatically worse, Matthias Schmale, the Gaza director for the UN Relief and Works Agency (UNRWA) told Axios in a Zoom interview on Tuesday evening.
The state of play: The most urgent problem is the displacement of Palestinians, including the around 50,000 who left their homes near the border with Israel, fearing a ground invasion, and are now taking shelter in 60 UNRWA schools.
"Parents here are mainly worried for the security of their children. People here say that they sleep in the same room with their children so that if they die in an airstrike they will be together. This is what I hear from people. They are terrified and traumatized."
— Matthias Schmale, UNRWA
When the Israeli operation in Gaza started, most markets had food and other supplies for one week, Schmale says. With border crossings now almost completely closed, shortages at grocery stores began to be reported on Tuesday.
Fuel shortages were also reported Tuesday, and the Gaza power plant has sufficient fuel for only six hours per day. Israel allowed five trucks with fuel to enter Gaza in order to resupply UNRWA and other UN agencies.
Many parts of the Gaza Strip have insufficient supplies of clean water because of the destruction of infrastructure by Israeli airstrikes and because a desalinization plant was damaged, Schmale says.
Schmale was briefed by a Gaza Ministry of Health official who told him hospitals were stretched to their limits. If the fighting continues, medical care will collapse, and if the border remains closed, they will run out of medicine, Schmale was told.
There's no distinction between military and civilian areas in Gaza, Schmale says. Hamas fires rockets from residential areas, and Israel — in targeting Hamas — strikes areas that are often densely packed with civilians.
The UNRWA official said the Israeli military contacted him several days ago while he was visiting the al-Shifa Hospital in Gaza City warning him not to leave the hospital because an airstrike would take place imminently nearby.
The movements of UN staff in Gaza are severely limited due to the fighting, and each move must be constantly coordinated with both Hamas and the Israeli military, Schmale says.
He has worked in many conflict zones around the world but never witnessed eight days of constant rocket fire and airstrikes.
"We don't have a bomb shelter here, just the blue UN flag on the roof," he said.
Go deeper