Fashion is adapting for a post-pandemic lifestyle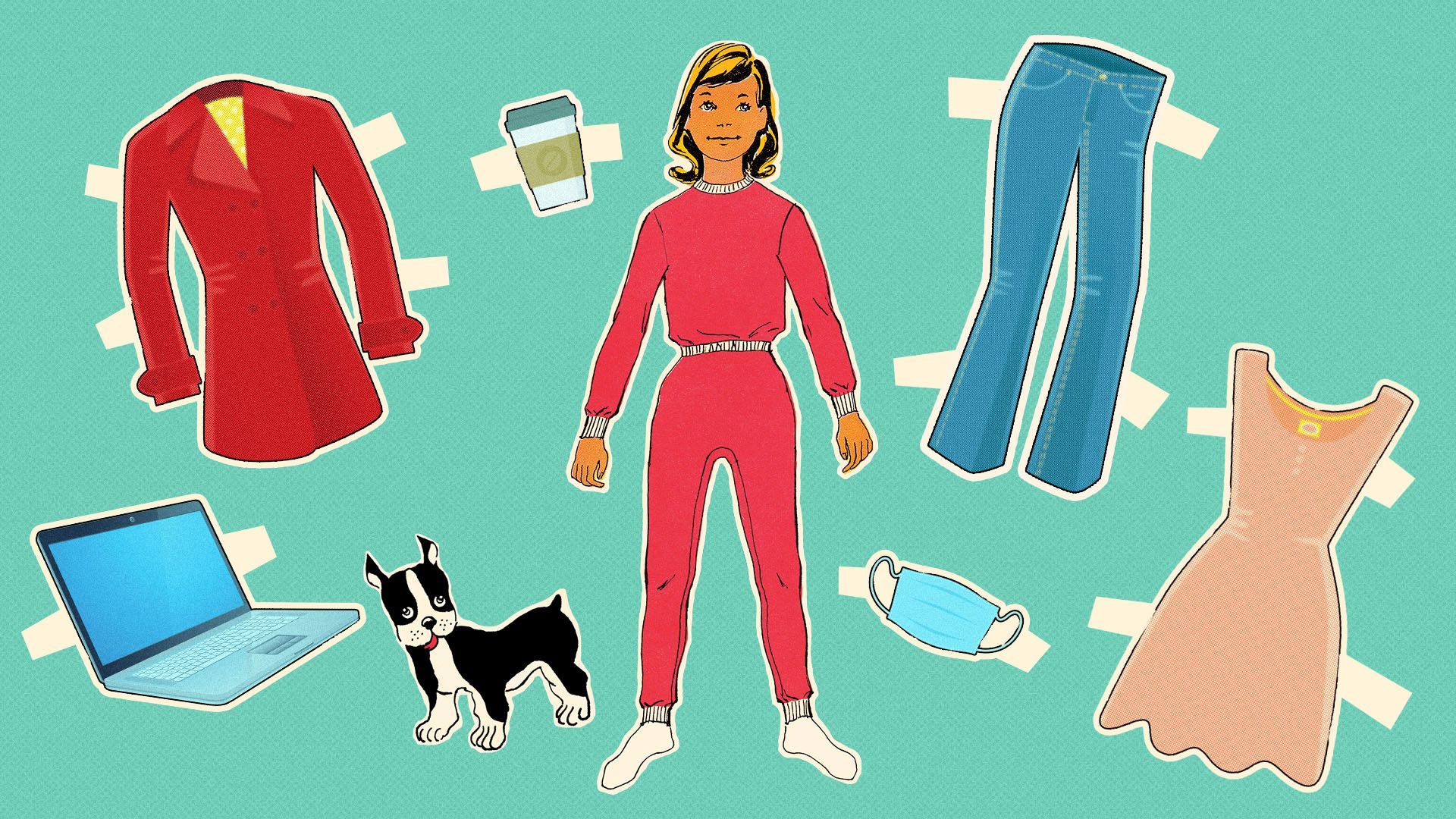 Consumers and retailers alike are still trying to figure out what Americans will want to wear as they head back out into the world after a year at home, in sweatpants.
Why it matters: The choices people make about their post-pandemic wardrobes will help define what, exactly, our "new normal" is. They'll indicate how both work and socializing have changed, and will tell the story of how people expressed themselves in the aftermath of a year of massive transformation.
What we're watching: As sales begin to tick back up, both men and women seem to be moving on from their lockdown looks, but aren't simply snapping back to their pre-pandemic tastes.
Handbag designers, for example, are still making compartments for hand sanitizer, and will probably continue to, said Lainie Schreiber of Latico Leathers. "We made sure to include pockets for the new essentials," she said.
What's trending: "Not a lot of suits and almost anything without a zipper or buttons," said Camille Wright of Style Consortium, a multi-line apparel showroom.
"They cannot get enough dresses," she said. "Everyone wants to wear a dress right now. They want to be pretty."
Anything soft and flowing, especially in block prints or bright colors — pink, turquoise, lavender — is in.
Men's purchases also suggest a lot of them are heading back to the office: They're buying a ton of tops but fewer button ups. "Everything is kind of comfortable and kind of stretchy," says Christine Alcalay, owner and operator of Kiwi, a women's store, and Fig, a men's retailer.
"People have enough sweatpants, but they're still in their COVID bodies so they want really pretty things that aren't too boxy but comfortable," Alcalay said.
Denim, therefore, has taken a dip.
Between the lines: Businesses have been "extraordinarily cautious" about their inventory, and are now trying to pin down the post-pandemic market at a time when they can't afford much experimentation.
"We just didn't know what was going to happen," Lisa Bobb of Squash Blossom, a women's clothing boutique in Georgia, told Axios. "Was there going to be another wave? Were people going to be gathering for events or opting for smaller outings, where they'd be more casually dressed?"
Retail clothing store sales dropped 5% month-over-month in April. And some specific categories have seen steep declines — women's dresses and men's suits saw prices fall 14% and 17%, respectively, from the start of 2020 to March 2021.
But overall apparel prices are now on the rise, and retail employment has improved over the past few months, too.
The bottom line: "After the pandemic, people want to be happy and so I think that is what is translating into what people have been wearing," Wright said.
Go deeper