Updated May 15, 2021 -

World
Biden in call with Netanyahu raises concerns about civilian casualties in Gaza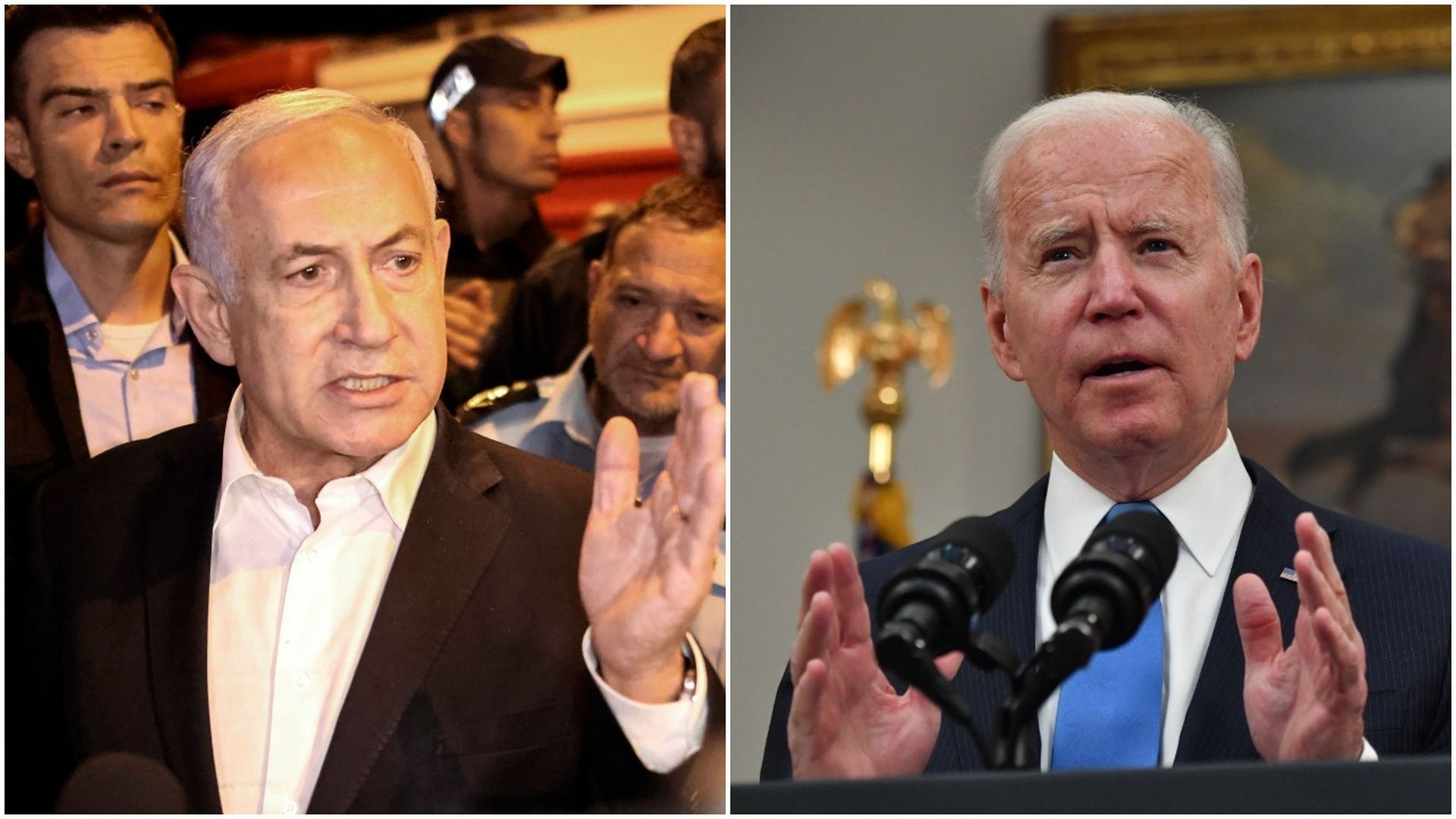 President Biden spoke to Israeli Prime Minister Benjamin Netanyahu Saturday and raised concerns about civilian casualties in Gaza and the bombing of the building that housed AP and other media offices, according to Israeli officials.
The big picture: At least 140 Palestinians, including dozens of children, have been killed in Gaza since fighting between Israel and Hamas began Monday, according to Palestinian health officials. Nine people, including two children, have been killed by Hamas rockets in Israel.
The Israeli prime minister's office said Netanyahu told Biden that Israel is doing the utmost to avoid targeting civilians and claimed that the building with media offices also housed Hamas military facilities. Netanyahu also noted that those in the building had been warned before the attack, his office said.
AP, Al Jazeera, whose offices were also destroyed in Saturday's airstrike in Gaza, and press freedom groups strongly condemned the Israeli attack on the high-rise building.
Biden also "reaffirmed his strong support for Israel's right to defend itself against rocket attacks from Hamas and other terrorist groups in Gaza," according to a White House readout of the call.
"He expressed his support for steps to enable the Palestinian people to enjoy the dignity, security, freedom, and economic opportunity that they deserve and affirmed his support for a two-state solution," the readout added.
U.S. Secretary of Defense Lloyd Austin also called his Israeli counterpart, Benny Gantz, and raised concerns about the targeting of civilians in Gaza, Israeli officials said. Gantz told Austin that Israel is doing everything it can to avoid hitting civilians.
Biden also spoke to Palestinian President Mahmoud Abbas, Palestinian officials say.
It was the first phone call between the two leaders since Biden assumed office.
"President Biden updated President Abbas on U.S. diplomatic engagement on the ongoing conflict and stressed the need for Hamas to cease firing rockets into Israel," a White House readout of the called said.
The Palestinian Authority on Friday criticized the U.S. position on the Gaza crisis and called the Biden administration to intervene.
"The silence by the Biden administration about what Israel is doing and the claim it is self defense led to massacres in Gaza and the West Bank. We ask the U.S. to take action because it is the only party in the world who can stop Israeli aggression," Abbas's spokesperson, Nabil Abu Rudeineh, said in a statement.
Context: The latest fighting between Israel and Hamas began Monday following violence in Jerusalem over the planned evictions of six Palestinian families to make way for Israeli settlers.
This week has also seen the worst inter-communal violence in Israel since the start of the Second Intifada in 2000.
Go deeper...
Editor's note: This story has been updated with information about Austin's call with Gantz and the White House readouts of Biden's calls with Netanyahu and Abbas.
Go deeper