Bernie Sanders: U.S. must recognize that "Palestinian rights matter"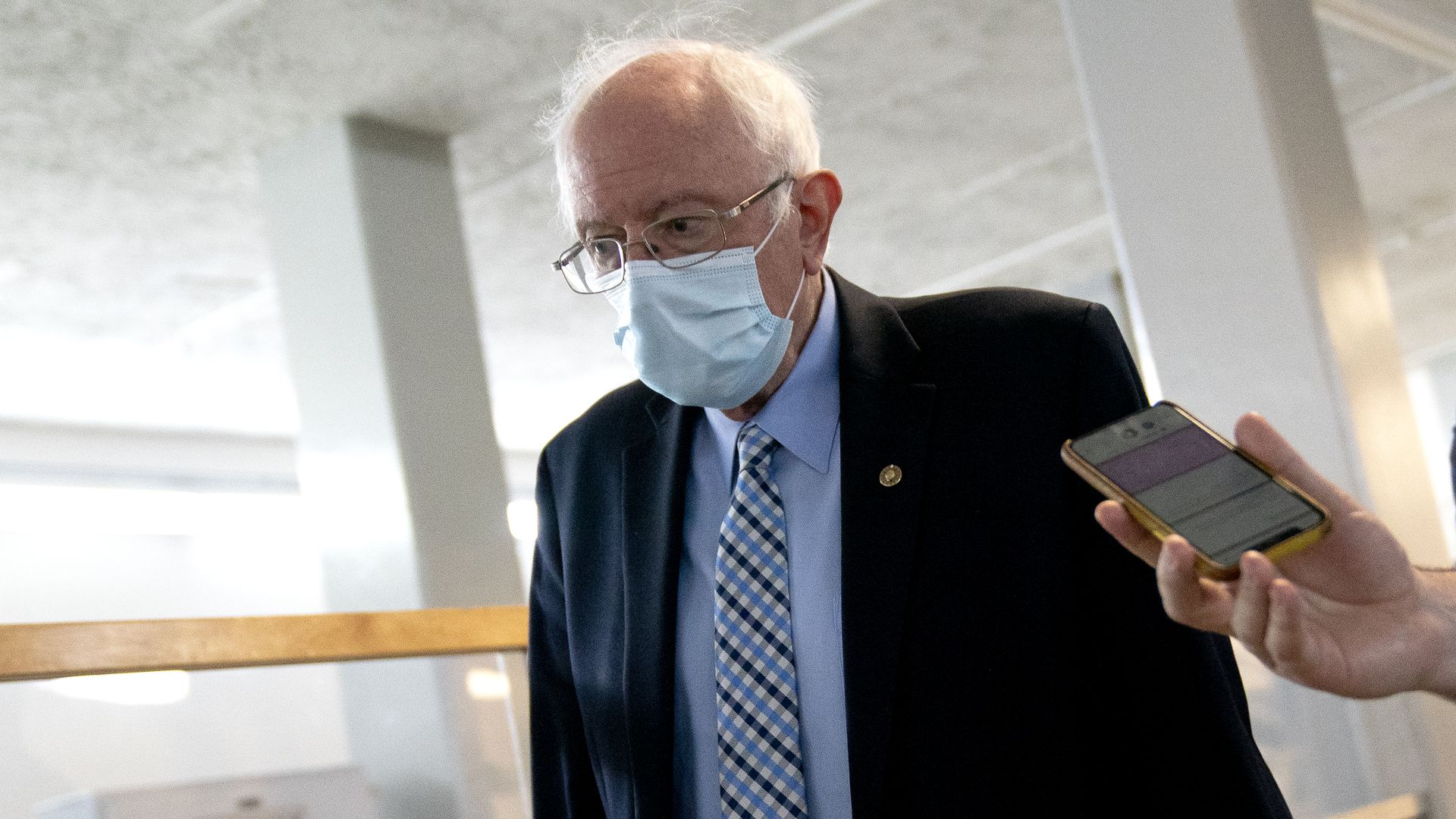 The United States must encourage an immediate cease-fire in the Middle East and adopt an "evenhanded approach" that recognizes Palestinians and Israelis have a right to "live in peace and security," Sen. Bernie Sanders (D-Vt.) wrote in a New York Times opinion on Friday.
Driving the news: Violence escalated this week after Israelis intensified efforts to evict Palestinians from their homes in Jerusalem. Hamas fired rockets and Israel massed troops, leaving more than 125 Palestinians and seven people in Israel dead.
What he's saying: "Let's be clear. No one is arguing that Israel, or any government, does not have the right to self-defense or to protect its people," wrote Sanders.
"So why are these words repeated year after year, war after war? And why is the question almost never asked: 'What are the rights of the Palestinian people?' And why do we only seem to take notice of the violence in Israel and Palestine when rockets are falling on Israel?"
"[W]hile Hamas firing rockets into Israeli communities is absolutely unacceptable, today's conflict did not begin with those rockets," the senator said, adding Palestinians have spent years being threatened with forced evictions, political and economic oppression and deepening Israeli occupation.
"Further, we have seen [Israeli Prime Minister] Benjamin Netanyahu's government work to marginalize and demonize Palestinian citizens of Israel" while pursuing policies "designed to foreclose the possibility of a two-state solution."
"None of this excuses the attacks by Hamas, which were an attempt to exploit the unrest in Jerusalem, or the failures of the corrupt and ineffective Palestinian Authority," Sanders noted.

"But the fact of the matter is that Israel remains the one sovereign authority in the land of Israel and Palestine, and rather than preparing for peace and justice, it has been entrenching its unequal and undemocratic control."
The lawmaker emphasized that the U.S. must "uphold international standards of human rights consistently, even when it's politically difficult."
The big picture: After speaking with Netanyahu on Wednesday, President Biden said that, "Israel has the right to defend itself."
Asked whether Palestine has the same right, press secretary Jen Psaki at a White House press briefing said, "Are the attacks not coming from Hamas?"
The administration has dispatched a State Department official to join de-escalation efforts.
Go deeper... Gaza crisis: Casualties pile up with no signs of ceasefire from Israel, Hamas
Go deeper