Turkey seeks to reconcile with Egypt, Saudi Arabia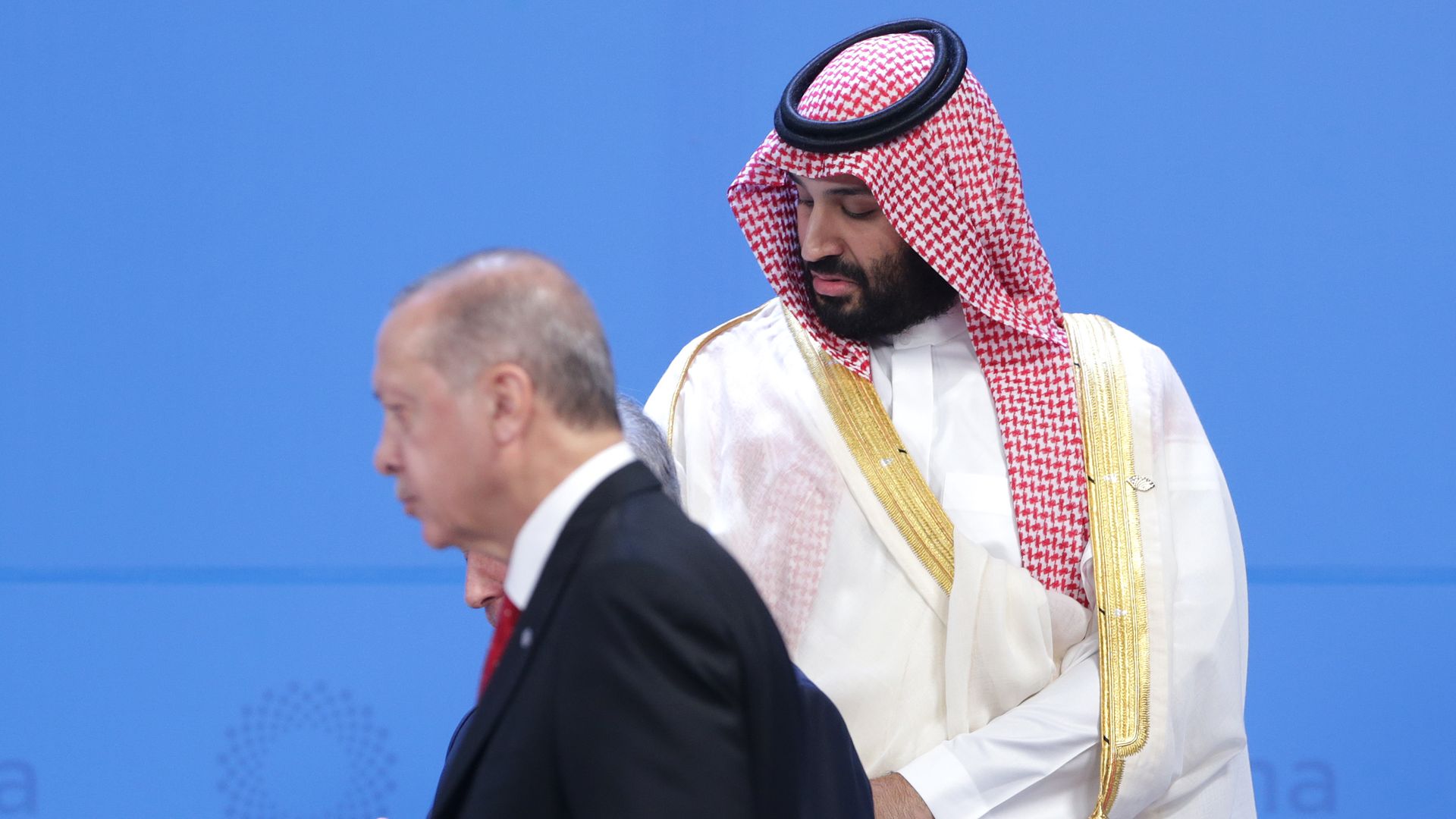 Ankara — Turkey has gone on a charm offensive in Egypt and Saudi Arabia in an attempt to break its regional isolation and end a harmful economic boycott.
Why it matters: The response to these olive branches will depend on the extent to which Turkey is willing to fulfill Egyptian and Saudi demands in terms of its regional interventions and policies toward the Muslim Brotherhood and the Jamal Khashoggi case.
Driving the news: For the first time since 2013, Turkey and Egypt held political consultations in Cairo last week to improve bilateral relations and exchange views on regional issues, particularly Libya, Iraq, Syria and the Eastern Mediterranean.
Then this Tuesday, Turkish Foreign Minister Mevlut Cavusoglu met in Mecca with Saudi Foreign Minister Prince Faisal bin Farhan. The meeting followed a call between King Salman of Saudi Arabia and Turkish President Recep Tayyip Erdoğan.
The outreach follows a bitter dispute over the 2018 assassination of Khashoggi by Saudi agents in Istanbul, after which Turkey expressed outrage and demanded the extradition of Saudi suspects.
The big picture: Ankara's interventionist policies in the region's hotspots have also long angered Egypt, Saudi Arabia and the UAE, which have condemned Erdoğan's "neo-Ottomanist" aspirations.
The backstory: Erdoğan said on March 12 that Cairo and Ankara had held "intelligence, diplomatic and economic" contacts, and he expressed his hopes for "strong" ties between the two countries after years of tensions.
These remarks preceded Turkey's push to soften the critical coverage of three Istanbul-based dissident Egyptian TV channels, which stopped broadcasting some of their political shows — a reconciliatory gesture that was welcomed by Egypt.
The Turkish parliament also recently decided to launch a friendship committee with Egypt.
Yes, but: Egypt and Saudi Arabia are dragging their feet in terms of rapprochement with Turkey, awaiting concrete steps from Ankara to show its sincerity.
Turkey says it's not ready to hand over Muslim Brotherhood leaders who are sought by Cairo but have legal residence permits in Turkey.
Saudi Arabia will likely have some prerequisites of its own for ending its unofficial boycott on Turkish goods, which has been in place for two years.
And the recent Saudi decision to close some Turkish schools by the end of the academic year indicates that the path to normalization could be rocky.
Between the lines: Rising tensions between Turkey and Iran have been another factor in Turkey's push for normalization with Egypt and Saudi Arabia, according to Galip Dalay, a nonresident fellow at Brookings Doha.
What to watch: The Turkish government's statements and actions on the Muslim Brotherhood and the Khashoggi case will be a sign of how deep of a shift Ankara is willing to make.
Go deeper