Inside the GOP's infrastructure strategy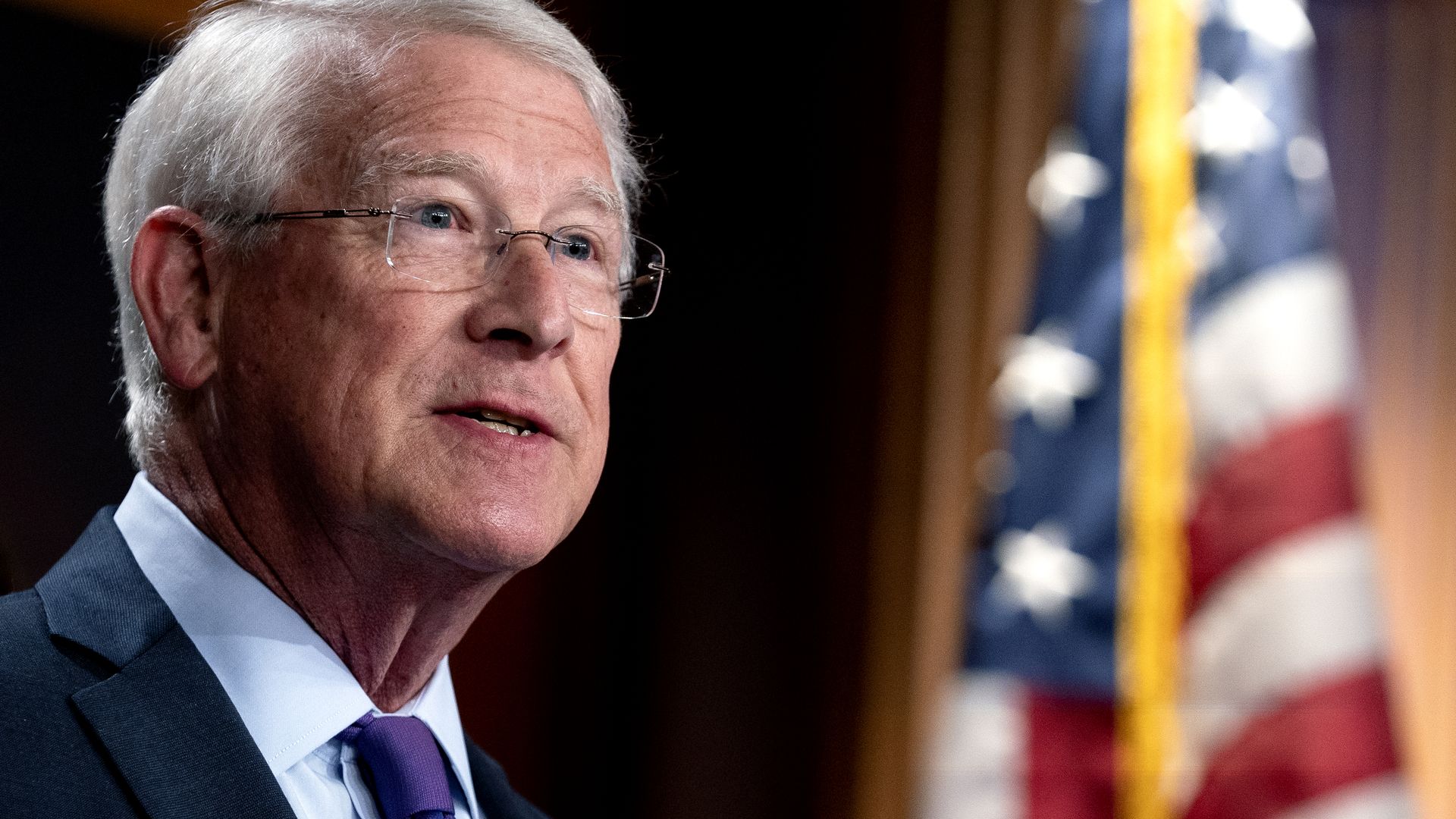 Top Republican senators are hoping the White House will make some sort of counteroffer to their infrastructure proposal when they meet with President Biden on Thursday, lawmakers and their aides tell Axios.
Why it matters: This is a sign of how serious the negotiations are, they say. In advance of the meeting, some of the senators are already publicly signaling the areas in which they have flexibility.
One key compromise was stating they'd be willing to spend up to $800 billion — a big jump from their initial $568 billion offer.
$800 billion is the "absolute upper limit" of what Republicans will accept, Sen. Roger Wicker (R-Miss.), a top GOP negotiator on infrastructure, said Tuesday.
Their strategy, the sources say, is to set expectations both for their GOP colleagues and the White House, so that when they sit with Biden, they can jump into plotting the significant areas of overlap — such as expanding roads, bridges and highways — that could shape a deal.
Attendees for Thursday's meeting include Wicker and Sens. Shelley Moore Capito (R-W.Va.), John Barrasso (R-Wyo.), Roy Blunt (R-Mo.), Mike Crapo (R-Idaho) and Pat Toomey (R-Pa.).
"We plan to have a substantive meeting, that's what the president's planning, too. It's not just 'Hi, how you doing?' type stuff," said Capito, the top Republican on the Senate Environmental and Public Works Committee.
Yes, but: The biggest sticking point — how to pay for the package — has not been discussed in earnest, Capito and Wicker said.
It's unclear whether senators will even broach the subject until they get closer to an agreement about the basics of the bill, they added.
What we're hearing: Some senators and their aides predict that, if there's any deal at all — and that's a big if — the more aggressive and ambitious pay-fors, like increasing taxes on the wealthy and corporations, will be punted to Biden's "American Families Plan."
That split would allow them to be muscled through by Democrats using the budget reconciliation process.
"What's to stop them from doing that?" Wicker told Axios, referring to the potential of Democrats delaying plans to raise taxes to pay for Biden's infrastructure proposal.
"My idea is to get an infrastructure bill, and then if Democrats want to see if they can convince their constituents to do away with stepped-up basis, and destroy family farms and second-generation businesses, then let them try," Wicker added, referring to what he argues will be the fallout from Biden's proposed tax increases.
Keep in mind: All talk of a potential deal comes with a heavy dose of skepticism.
The parties are more polarized than ever, and it'll be hard to sell the entire Senate GOP conference on a bill as pricey as $800 billion when another, far more expensive and progressive Democratic package also is promised.
Go deeper