Negotiations to oust Netanyahu stall amid Jerusalem crisis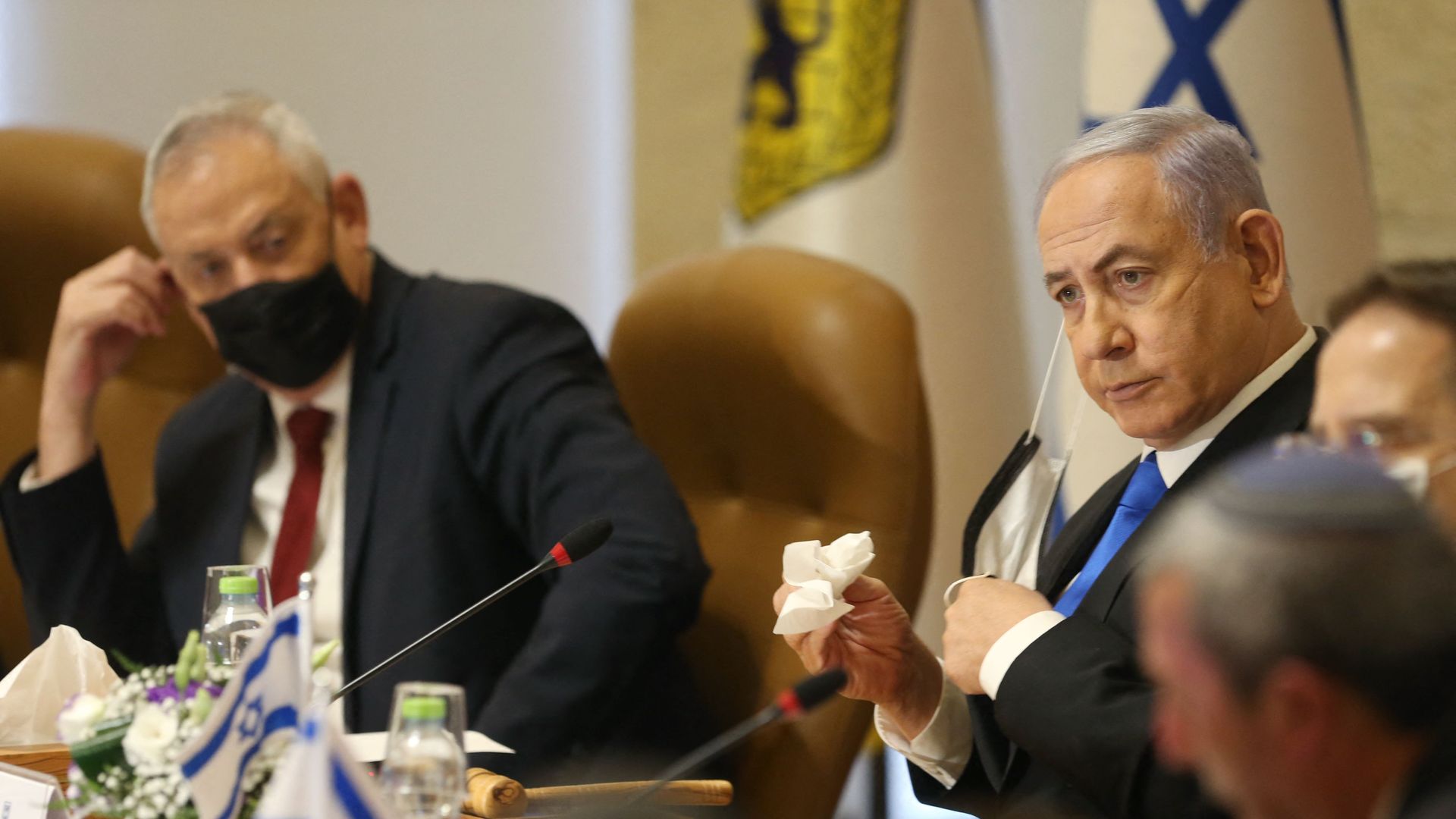 Efforts to form a new Israeli government and oust Prime Minister Benjamin Netanyahu have come to an almost complete halt amid the escalation with Hamas.
Why it matters: Opposition leader Yair Lapid is six days into a 28-day mandate, and seemed on track to strike a coalition deal with Naftali Bennett, a right-wing kingmaker. But the latest crisis could make those efforts nearly impossible.
That's because a Lapid-Bennett government would be just short of a majority in the Knesset unless they can get the support of at least one Arab party. The Arab Joint List supported Lapid in getting the mandate but was expected to abstain from a vote on the new government.
Lapid and Bennett were thus banking on the support of Mansour Abbas' Ra'am party — an offshoot of the Muslim Brotherhood and sister movement of Hamas that broke from the Joint List.
Abbas was negotiating with both Lapid and Bennett about forming a government, and with Netanyahu about preventing them from doing so. Netanyahu received the presidential mandate to form a government first, but failed.
Driving the news: As the situation in Jerusalem and Gaza escalated on Monday, Abbas announced that he was suspending the coalition talks.
Abbas faced harsh criticism in his party and in the broader Arab community in Israel for his willingness to join any Israeli government.
The riots inside Israel also increased the criticism among Jews about the plans to form a government that would be dependent on an Islamist party.
What they're saying: Lapid issued a statement on Wednesday stressing that the escalation is further proof of the need to replace Netanyahu as soon as possible.
He said he would not allow Hamas to harm the democratic process in Israel and stressed the efforts to form a unity government would continue.
Bennett also issued a statement on Wednesday stressing that Netanyahu's Likud party had failed in running the country and was incompetently leading Israel into a disaster.
What's next: If the situation de-escalates quickly, Lapid, Bennett and Abbas could try to revive their talks.
But if it continues into next week and beyond, it could make those talks impossible and lead Israel closer to a fifth election since 2019.
Go deeper