The next political battleground: school boards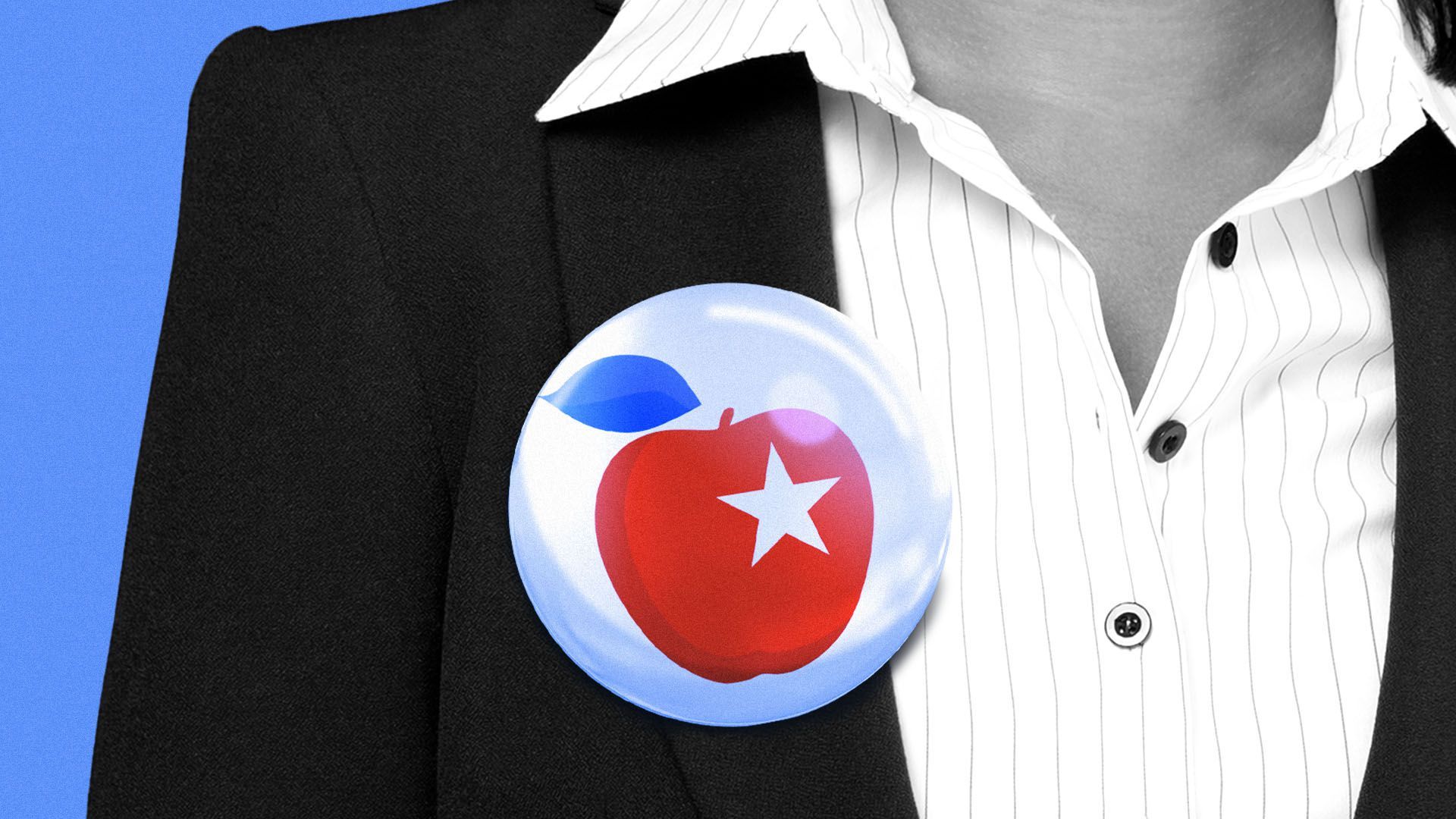 The debate over coronavirus precautions and school reopening has fueled a surge of new candidates for school boards across the country.
Why it matters: What was traditionally a nonpartisan, hyper-local role is now at center of a swirling national political debate. Conservative and progressive parents have clashed over when and how to reopen classrooms — and it's pushed some of them to run for office themselves.
"Historically, we've actually seen where some school board seats have gone uncontested — sometimes for years — and now we're seeing multiple candidates for seats," National School Boards Association CEO Anna Maria Chávez told Axios.
"This is something that we've seen during the pandemic because, again, every kitchen table has become a public school classroom."
More people are "looking to express their political fervor in all different avenues," Troy Flint, Chief Information Officer for the California School Boards Association, told Axios.
"And school boards, as the most approachable elected body, is a natural first step" — both for activists and those wanting to run for office.
What's happening: Grassroots conservative groups are getting involved in school board races all across the country.
Between the lines: Despite the polarized national debate that's driving some of this partisan involvement, school board elections can scramble traditional ideological alignments.
Miranda Turner is seeking the Democratic endorsement for a seat in Arlington, Virginia. She hadn't planned on running, Turner told Axios, until she saw that other candidates weren't making returning to school a priority.
While she insists she is a Democrat, Turner acknowledged her campaign has appealed to more conservative voters. Returning to schools is often "characterized and sometimes disparaged as being Republican, Trumpian, conservative... which I think is really unfortunate," she said.
Anger over the slow reopening of schools among other issues in the Democratic city of San Francisco drove a parent-led effort to recall three of the seven school board members.
Siva Raj, one of the leaders of the recall effort, told Axios that the school board has "completely failed" to fight for the children. "So parents need to have more of a voice. We need to have a seat at the table." Organizers have collected more than 10,000 out of 51,000 signatures needed by September to unseat at least two of the members.
What we're watching: The next flashpoint for local school boards is the debate over critical race theory, an academic movement focusing on systemic racism in U.S. laws.
There is growing concern, mostly among conservatives, about it being taught in public schools.
The bottom line: "The goal of providing a quality education for all students is nonpartisan, but I think it would be naive at this point to say that your average person views it through that lens," Flint said.
"Schools have become another outlet where the culture wars are being waged."
Editors note: This post has been updated to correct the spelling of Josh Acevedo's name.
Go deeper