U.S. tries to de-escalate crisis in Jerusalem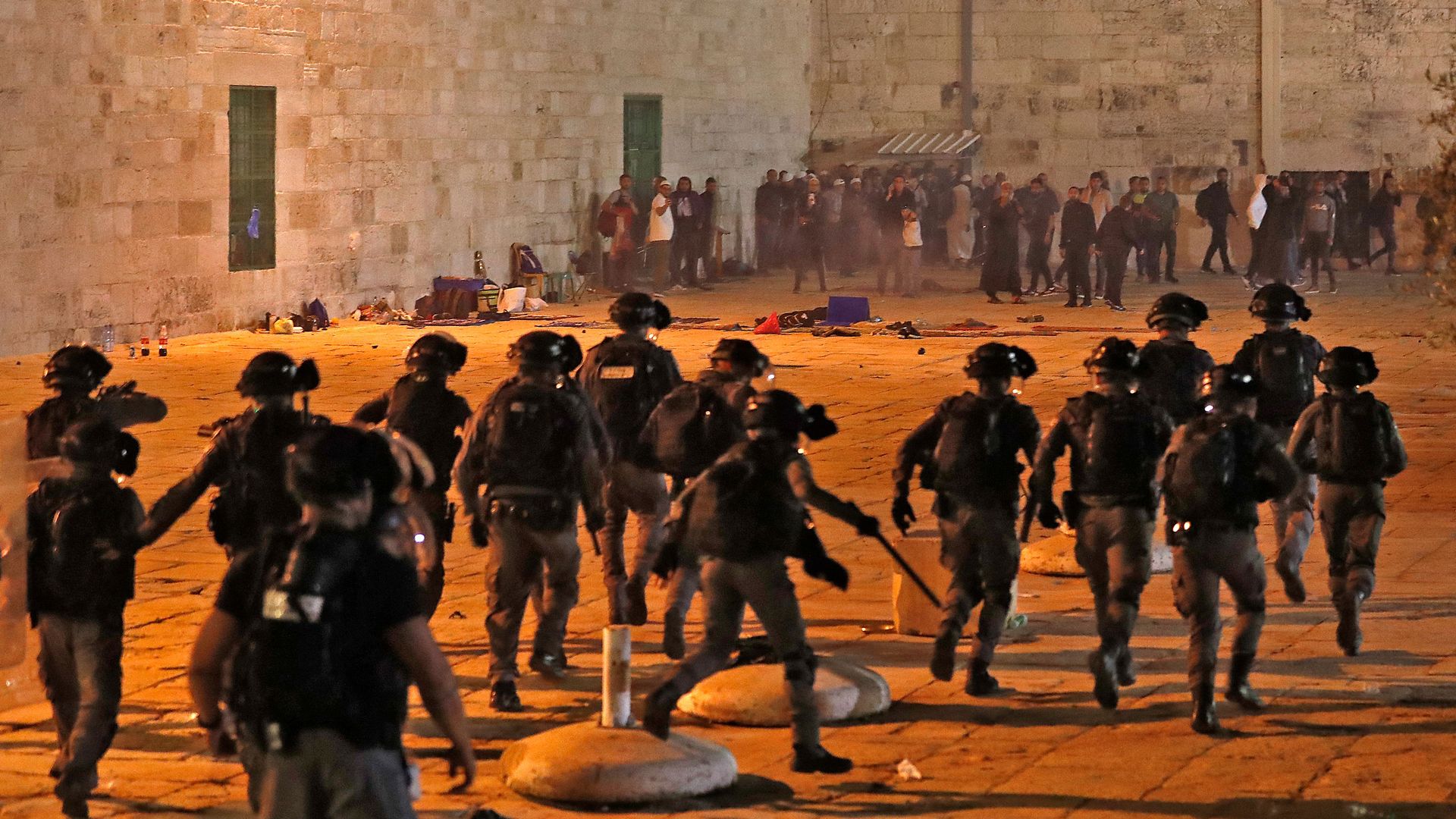 State Department officials spoke to their Israeli and Palestinian counterparts on Friday night and asked them to de-escalate the situation in Jerusalem and the West Bank, U.S. and Israeli officials said.
Why it matters: This is the first crisis between Israel and the Palestinians the Biden administration faces as it reengages with the Palestinians after a long freeze in the relations during the Trump presidency.
The rise in tensions comes in the most sensitive time on the calendar – the last days of Ramadan.
Driving the news: In recent days the tensions grew in Jerusalem over a possible eviction of 300 Palestinians from homes they lived in for more than 50 years in the Sheikh Jarrah neighborhood in East Jerusalem.
In the last week several terror attacks were committed by Palestinians against Israeli settlers and soldiers in the West Bank. One Israeli was murdered and another seriously wounded.
In recent weeks Israeli settlers committed what is called "Price tag" attacks against Palestinians in the West Bank and Israeli right wing activists attacked Palestinians in East Jerusalem.
The tensions reached its height on Friday evening when Israelis police clashed with Palestinian worshipers in the old city of Jerusalem and in the Temple Mount where the Al-Aqsa mosque is located. 20 Israeli policemen and more than 200 Palestinians were wounded.
State Department officials were in contact with senior Israeli and Palestinian leaders and urged them to work cooperatively together to lower tensions and end the violence, State Department spokesman Ned Price said.
What they are saying: "It is absolutely critical that all sides exercise restraint, refrain from provocative actions and rhetoric, and preserve the historic status quo on the Haram al-Sharif / Temple Mount – in word and in practice. Leaders across the spectrum must denounce all violent acts. Security services must ensure the safety of all of Jerusalem's residents and hold all perpetrators to account," Price said.
Palestinian Authority president Abbas said on Friday night Israelis responsible for the escalation and called for the international community to protect the Palestinian residents of Jerusalem.
Israeli prime minister Netanyahu said after a security meeting he convened on Saturday that Israel will uphold the rule of law in Jerusalem while protecting the freedom of worship in Jerusalem.
The big picture: This escalation comes amid a deep political crisis in Israel and the Palestinian Authority. In Israel there are intense talks of forming an alternative government. These efforts can be derailed because the new government needs the support of the Raam Islamist party.
On the other side, Abbas faces harsh criticism for postponing the elections fearing his party would lose. Abbas is trying to use the current crisis in Jerusalem to divert the popular anger against him towards Israel.
What's next: The Palestinians are trying to convene the UN security council in the coming days to discuss the situation in Jerusalem.
Go deeper