Epic's long game against Apple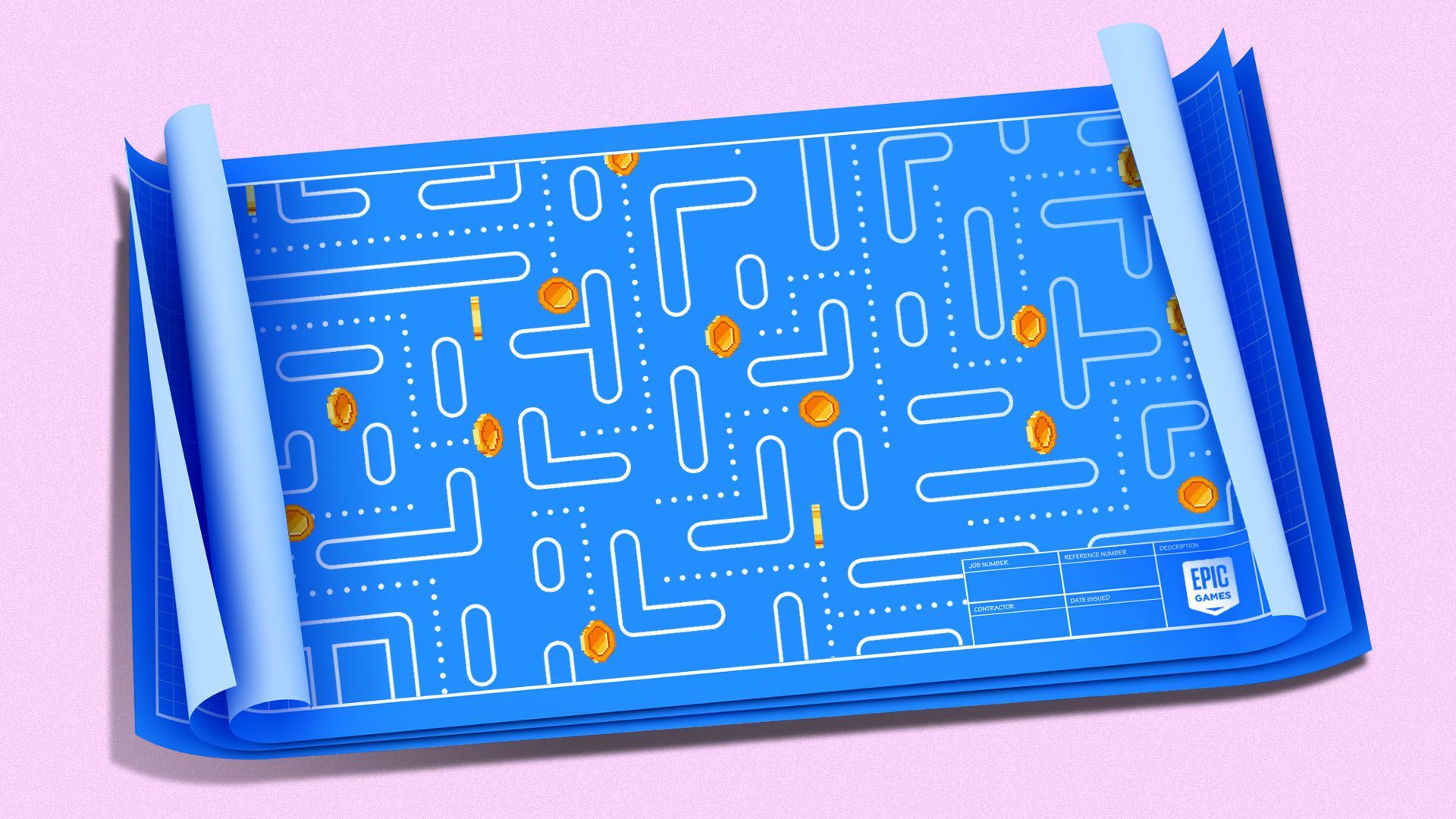 Epic's Apple lawsuit is costing the company dearly, but the game developer has its eye on a valuable long-term goal: prying tomorrow's virtual worlds loose from the grip of app store proprietors like Apple.
Between the lines: Epic isn't spending a fortune in legal fees and foregoing a ton of revenue just to shave some costs off in-app purchases on today's phones. Rather, it's planning for a future of creating virtual universes via augmented and virtual reality — without having to send a big chunk of their economies to Apple or Google.
Catch up quick: Epic added its own in-app payment system to the Android and iOS versions of Fortnite last year, knowing that it was likely to be kicked out of Google and Apple's respective app stores.
What's at stake: Epic is asking a judge to rule that Apple is violating antitrust law by insisting that app developers exclusively use its payment system.
To get to this point, though, Epic has had to forego hundreds of millions of dollars from iPhone owners who now can't use Fortnite on their phones. It's also paying an unspecified amount in legal bills to sue Apple and Google in courtrooms around the world.
While it's hard to say exactly how much revenue the firm has lost, since some Fortnite players have moved to other devices, Epic said in court documents its data shows that more than 70 million players (64% of those on iOS) did played exclusively on Apple devices. From March 2018 through July 2020, those iOS-only players spent on the order of half a billion dollars.
Many legal scholars believe Epic faces an uphill battle to convince a court to change the way the App Store works.
However, Epic could still win in the long term if government regulators force Apple to change its business practices, or if Epic can create enough pressure to cause Apple to change course.
The big picture: In previous interviews and in his trial testimony this week, Epic CEO Tim Sweeney talked about the company's ambition to build a "metaverse" — essentially, a full-on virtual universe encompassing multiple game worlds. To succeed at that, its product needs to be available on all the major platforms.
While Apple's 30% cut of in-app payments is similar to what other platform owners take, including Android and the major game consoles, Epic is hoping to change the status quo now, before the existing arrangements propagate from phones and consoles to new platforms, such as VR headsets and augmented reality glasses.
Epic believes it can offer a more compelling proposition to both developers and players if it doesn't have to pay the "Apple tax" of 30% off the top.
Yes, but: Epic may want to play a very similar role in its metaverse that Apple plays in the iOS universe.
Epic appears to be laying the groundwork for developers to create their own experiences inside Fortnite and collect revenue from users.
The company will presumably expect these developers to fork some of their income over to Epic along the way.
Of note: Roblox already does this — running a universe for developers to build in and splitting the revenue it makes with developers.
However, Roblox is doing so within the existing app store payment rules.
The company hands over a significant chunk to Apple, Google or Microsoft when people purchase the company's in-app currency, known as Robucks, on those platforms.
Go deeper