No one in Washington is happy with Facebook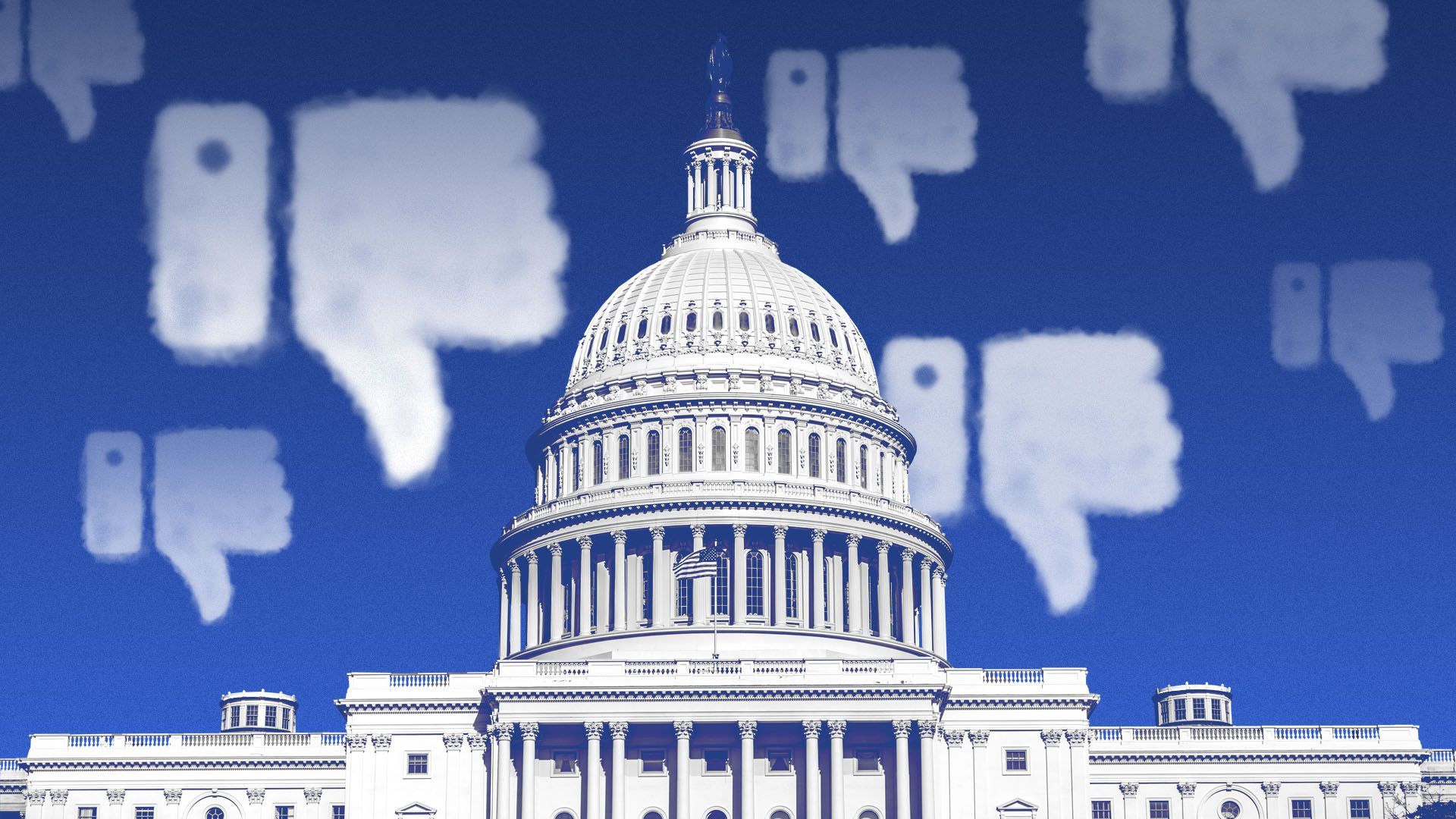 The Oversight Board's decision Wednesday to uphold Facebook's suspension of former President Trump found few fans in Washington and exposed the company to a new round of attacks.
Why it matters: While the board urged Facebook back to the drawing board to better define its rules and processes around political speech, political actors on both left and right agree that the social media giant already has too much power.
Democrats argue that no matter what the Oversight Board determined about the validity of banning Trump indefinitely from Facebook, federal regulation is needed to make sure disinformation doesn't spread unchecked on the social network.
Energy & Commerce Committee chairman Frank Pallone (D-N.J.) argued the structure of the Oversight Board ignores the role Facebook plays in amplifying disinformation. "It's clear that real accountability will only come with legislative action."
House consumer protection subcommittee chairwoman Jan Schakowsky (D-Ill.) called the ruling a "distraction by Facebook to deflect responsibility" and said she intends to introduce legislation soon that would alter a key online liability protection statute, Section 230 of the Communications Decency Act.
Sen. Richard Blumenthal (D-Conn.) said the decision "upholds a minimal marker for truth and decency."
Republicans took aim at Facebook's power in the social media sphere to de-platform Trump, and said the lack of transparency and consistency in the company's decision-making warrants congressional action.
House Energy & Commerce Committee ranking member Cathy McMorris Rodgers (R-Wash.) questioned the purpose of the Oversight Board after it punted questions back to Facebook. "This is unacceptable and only underscores the need for Congress to step up our work to bring much-needed reform and oversight to Big Tech."
Ken Buck (R-Colo.), the top Republican on the House antitrust subcommittee, called for "aggressive antitrust reform to break up Facebook's monopoly," echoing Rep. Jim Jordan (R-Ohio) in a call to break up the company.
Sen. Roger Wicker (R-Miss.), ranking member of the Senate Commerce Committee, called for legislation to bring accountability to the industry. "This decision further illustrates the concentrated control Big Tech exerts over speech and why Congress should act to curb its dominance."
Many tech critics view the Oversight Board itself as a sideshow or a distraction.
Color of Change's Rashad Robinson, who has consistently put pressure on Facebook over its policies, called the process an "illegitimate and anti-democratic circus... that highlights the need for structural and regulatory change."
A common argument: The Oversight Board won't fix social media's problems. "Donald Trump should have been permanently banned from Facebook a long time ago. What people need to understand now is that the Oversight Board, which has still left the door open on this issue, is not the cure for what ails us on social media," said Jim Steyer, CEO of Common Sense Media.
Go deeper