"The wound is still deep": Jordan's royal feud is calmer, but not over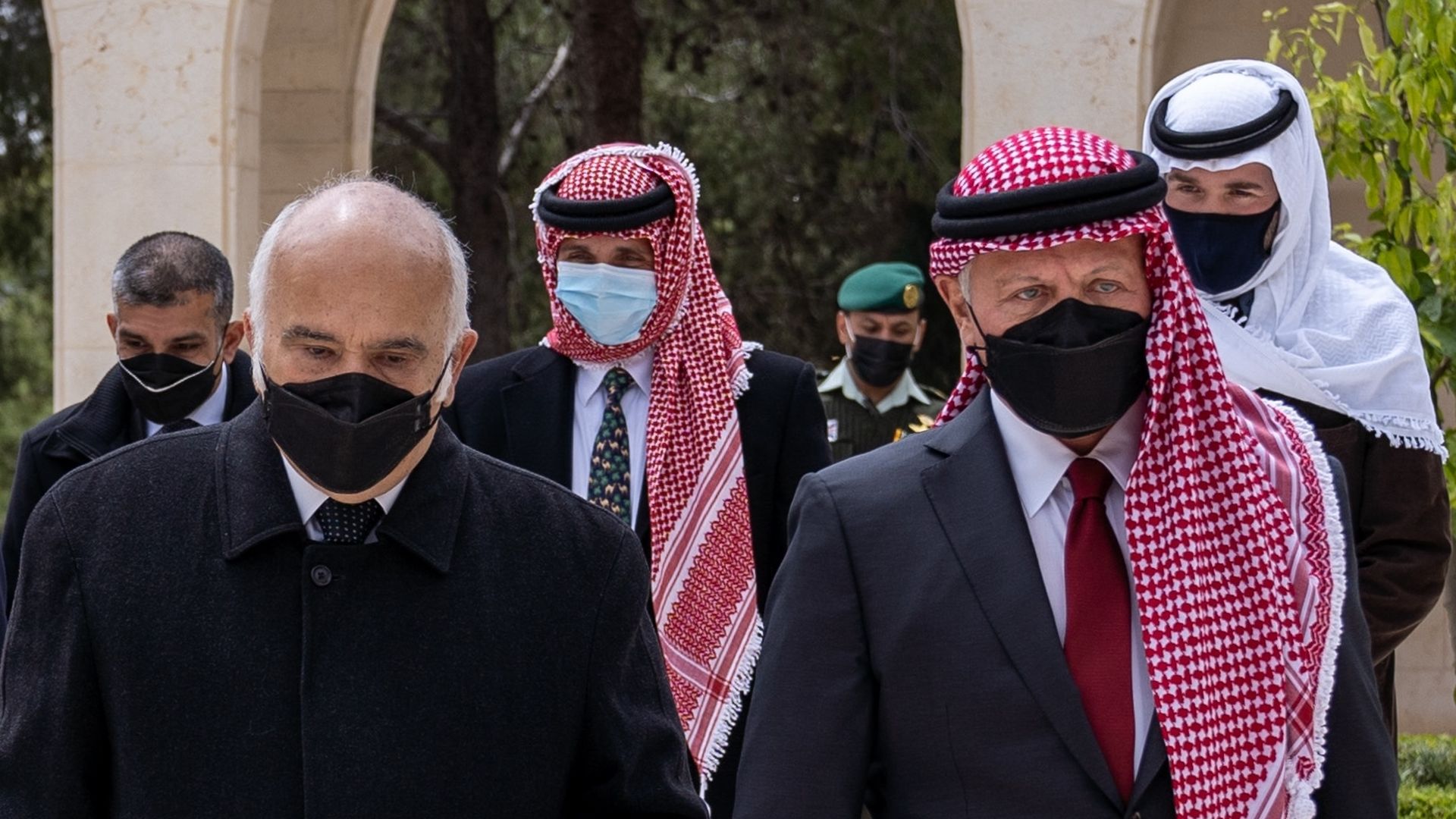 Amman, Jordan — A month after the royal family feud that rocked Jordan, internal tensions have softened but the long-term effects of the crisis are yet to be seen.
Driving the news: In the last two weeks, 16 of the 18 Jordanians arrested in the crackdown on former Crown Prince Hamzah bin Hussein and his associates have been released. Prince Hamzah was publicly accused in April of plotting to destabilize the kingdom.
The two who remain in jail are Bassem Awadallah, a former chief of the royal court and envoy to Saudi Arabia, and Sharif Hassan Ben Zaid, a member of the royal family and a dual Jordanian-Saudi citizen.
Although Prince Hamzah is still under house arrest, he appeared with the royal family on an official engagement recently, temporarily answering the viral question: #whereistheprince.
Behind the scenes: Two former prime ministers, Taher Al-Masri and Abdel Rauf Rawabdeh, told Axios they are playing a role in trying to solve the royal dispute, as is former Prime Minister Aoun Khasawneh.
Rawabdeh, a respected figure from the northern city of Irbid, said the country was "moving in the right direction" and stressed the prisoners were released on "the sole initiative of His Majesty the King."
But Al-Masri told Axios that he and others counseled the royal court to "close the entire file and release all, but our advice wasn't fully accepted."
If the Awadallah and Ben Zaid cases proceed to trial, Al-Masri warned, it will make it more difficult to end the trial, and also make it difficult not to call Prince Hamzah to testify.
"It will also make problems with a number of neighboring countries," Al-Masri said, hinting at Saudi Arabia.
Between the lines: Saudi Arabia sent a delegation in the first days of the crisis to seek the release of Awadallah, who has served as a consultant to Saudi Crown Prince Mohammad bin Salman. The Saudis have denied any role in the royal feud.
Awadallah's lawyer, former military judge Mohammad Al Afif, said he visited Awadallah in jail on Monday and found him in good spirits.
He said the case was still under investigation and estimated it would take up to a month for a trial to begin at the state security court.
What's next: "Once the trial begins some of the public will believe what is presented and some will not. This is not good for the country," Al-Masri told Axios.
He thinks it will take more time for the royal family to reconcile. "The wound is still deep on both sides."
Go deeper