The trial that will decide the future of Apple's App Store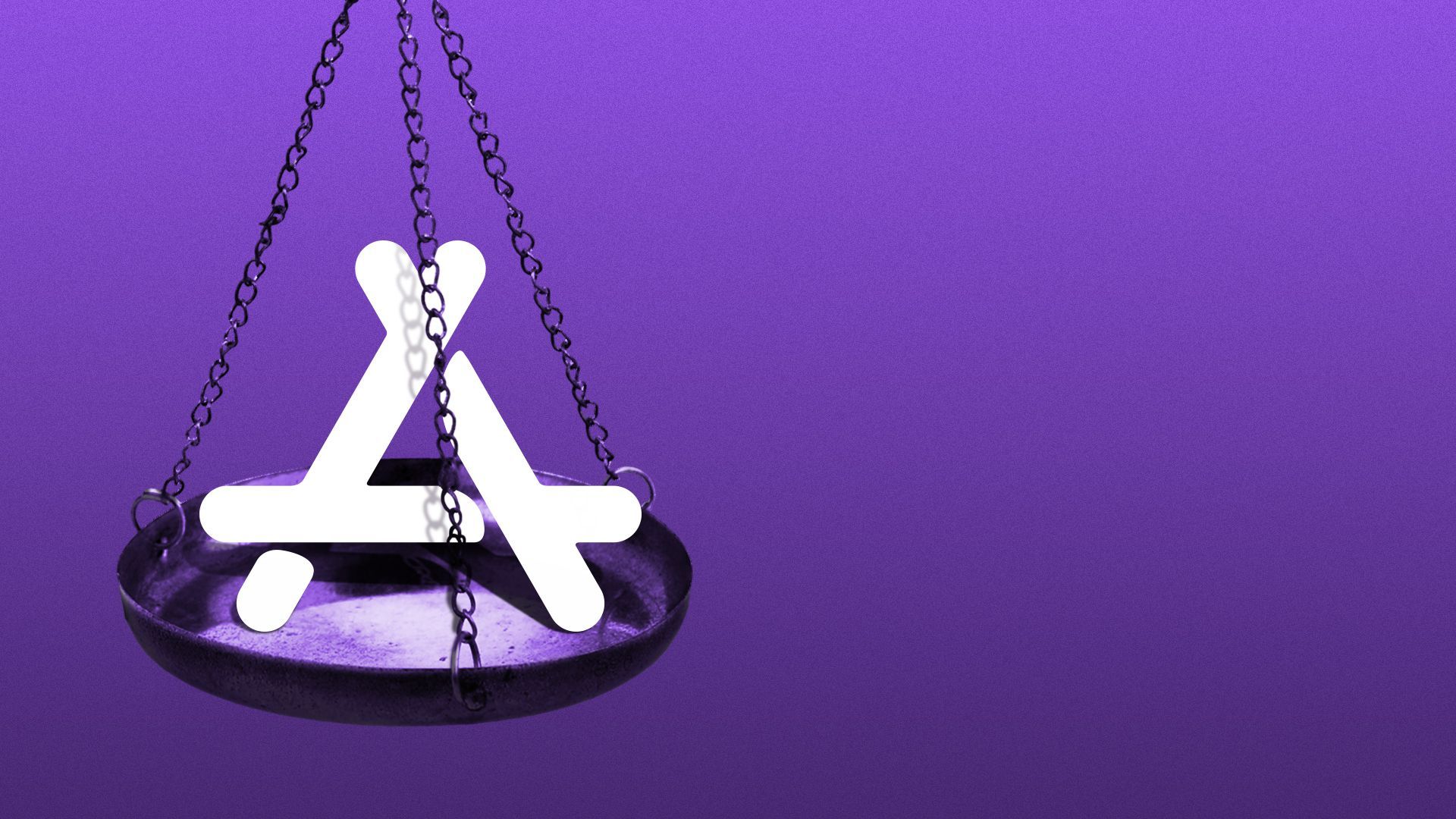 A federal court in Oakland will on Monday begin hearing Epic Games' antitrust suit against Apple, a case that could radically reshape the way iPhone apps and services are sold.
Why it matters: Fortnite maker Epic Games is asking the court to invalidate the entire business model behind the iOS ecosystem, seeking to bar Apple from requiring developers to use its in-app purchases for digital goods and services.
Catch up quick: Last year, Epic added its own in-app payment system into Fortnite, despite prohibitions by both Google and Apple on doing so.
What to watch: The star-studded trial is expected to feature live testimony from Apple CEO Tim Cook, Epic CEO Tim Sweeney, top Apple executives Phil Schiller and Craig Federighi as well as other witnesses from the company, along with economic experts trying to help each side make their case.
The big picture: In order to win, Epic has to convince the judge that Apple has a monopoly with its App Store and abused that market power by forcing Epic (and other developers) to use Apple's payment system.
Apple argues that the relevant market isn't iOS, but rather all the different options players have for games, of which it is just one player.
Context: As big as it is, this case isn't the end of the road for Apple or its critics. The EU last week announced an antitrust inquiry into Spotify's claims that Apple violated its antitrust laws. U.S. policymakers are also exploring the issue. The Senate last month held a hearing, with Apple facing criticism from both parties.
Between the lines: The most interesting revelations to come from the hearing are probably not going to be deeply relevant to the question at hand.
Apple, for example, has made a big deal about the fact that Epic planned this confrontation in a deliberate attempt to get around Apple's rules. (Spoiler alert: Epic will probably not attempt to argue otherwise.)
Epic, meanwhile, cites a bunch of juicy internal emails where Apple, among other things, decided not to do iMessage for Android because it could make it easier for people to switch off the iPhone. (My thought bubble: Even without the emails, we know that's what Apple decided because if they hadn't, we'd all have iMessage on Android by now.)
A huge part of the case hinges on the least exciting part of the trial — back-to-back expert witnesses who will argue over how the relevant market should be determined.
Yes, but: These lines of inquiry will provide useful insight. Apple's long-running legal battles with Samsung forced the company to share a great deal of detail on its usually secretive design process, among other revelations.
What they're saying: Epic maintains that Apple's 30% cut on most sales of digital goods and services, including in-app purchases is an unfair abuse of its monopoly on iPhone app distribution, as is Apple's insistence that companies use its payment system.
Apple will argue that what they are doing is little different from what Google does with its Android Play Store, and also how Microsoft's Xbox and Sony's PlayStation deal with game sales.
It also argues there are plenty of ways to play games and, even on the iPhone, companies not willing to give Apple a cut can offer software as a Web app.
What's next: The trial is expected to run until roughly May 25. The first week will largely consist of Epic's case, with Apple's case taking up the large part of the third week and the economic experts for both sides will be sandwiched in the middle.
District Court Judge Yvonne Gonzalez Rogers will decide the case.
The case will occur in-person, but very few people beyond the parties and their lawyers will be allowed in the courtroom. Journalists and others will be able to listen to a live audio-only feed.
Go deeper