Exclusive: Twitter launches national campaign to boost local news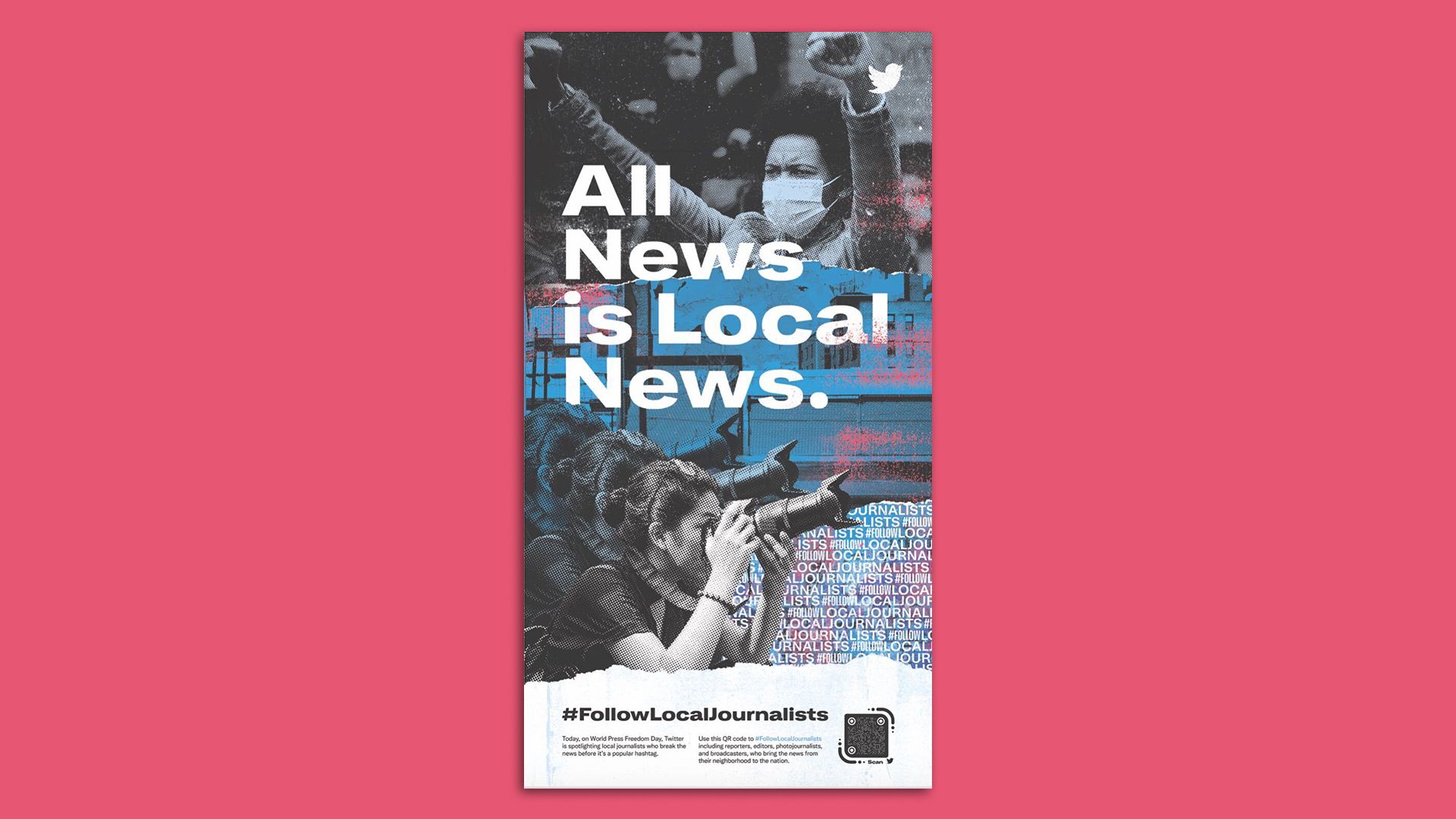 Twitter on Monday will launch a major advertising and social media campaign urging people to follow local journalists and support their work.
Why it matters: While Twitter is a platform designed to give everyone a voice, journalists from national outlets tend to have an outsized presence.
Amid the pandemic, local news companies have suffered devastating financial blows, resulting in thousands of lost jobs and newsroom cutbacks.
At the same time, the crisis has served as a daily reminder of how critical local journalism is to keep communities informed and safe.
Details: The campaign will launch with 28 full-page, color ads in local newspapers across the Gannett/USA Today and McClatchy network, including the Detroit Free Press, Columbus Dispatch, Oklahoma City Oklahoman, Indianapolis Star, Miami Herald, Kansas City Star and Cincinnati Enquirer.
The ads will direct readers to Twitter Lists of local journalists created by each newspaper and Twitter. Online ads will also run across the digital websites of each paper. Twitter will then run ads on USA Today online and in print.
Twitter will encourage prominent national reporters, journalism advocacy organizations and everyday news consumers to tweet the hashtag #FollowLocalJournalists alongside impactful examples of local journalism. The goal is to help elevate local reporters' stories and draw awareness to their work, further increasing their followings.
The company has organized several conversations on Twitter Spaces, its live audio chat feature, where people can hear from journalists around the globe. Conversations will occur with journalists in places like Philippines, Myanmar, India, Japan, Thailand and Brazil around local news.
The big picture: This is one of the first times Twitter is hosting a global campaign around news and journalism.
"Local journalists so incredibly important to the conversation on Twitter," says Niketa Patel, head of print and digital news partnerships at Twitter. "We're viewing this as a way of ensuring that Twitter is giving local journalists a national spotlight."
The main crux of the campaign, she notes, is to help local journalists leverage Twitter Spaces and Twitter Lists to expand their audiences. "We think these two products in particular are a powerful part of the way journalists can have great conversations on Twitter and build a following," Patel says.
Last year, Twitter said it would donate $1 million to the Committee to Protect Journalists and the International Women's Media Foundation ($500,000 each) to support newsrooms while covering the coronavirus. It has also worked with groups like UNESCO and various NGOs to protect local journalists.
What's next: The campaign kicks off Monday in conjunction with World Press Freedom Day, and will continue throughout the year.
Hashtags like #FollowLocalJournalists, #WorldPressFreedomDay, #PressFreedom and #WPFD2021 will be available in 20 languages.
Editor's note: This post has been updated to clarify that Miami Herald and Kansas City Star are owned by McClatchy, not Gannett.
Go deeper