Our crazy, booked-up summer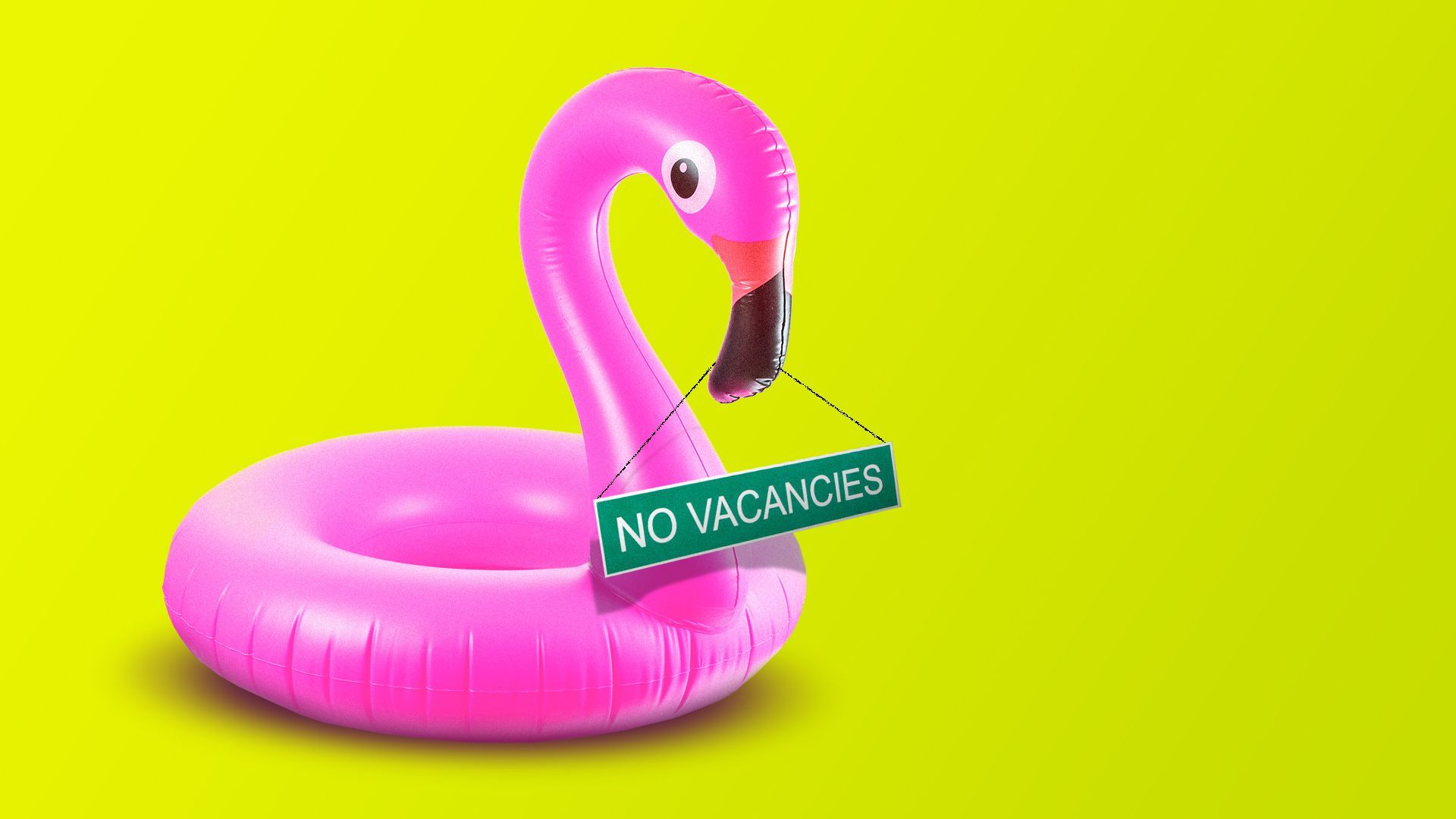 Vaccines are flowing, the weather is changing, and summer seems like the ideal time to finally get out of the house post-pandemic. The problem is, everyone else has the same idea.
The big picture: Campsites, Airbnbs, flights and rental cars are rapidly booking up for the summer as a cooped-up nation all vacations at once.
What's happening: Around 72% of Americans are planning summer trips this year, compared with 37% in 2020, according to the U.S. Travel Association.
And with international travel restrictions still in place, "we are seeing a ramp-up of domestic leisure," says Tori Barnes of the USTA. The number of U.S. domestic trips is projected to grow 19% year-over-year in 2021 and another 19% in 2022, per USTA.
That means more camping trips, more visits to coastal U.S. towns and lots of getaways within driving distance.
One of the biggest winners of the travel boom is camping, which already did well in 2020 because taking trips in the outdoors is safer when it comes to virus transmission.
Dan Yates, CEO of Pitchup.com, a campsite booking platform that serves the U.S. and the U.K., tells Axios this April is set to be his best month on record. Business is booming so much that Yates has had to hire more workers and get more servers to handle site traffic. "This has put a rocket under the market," he says.
One advantage campsites have over hotels and Airbnbs is that supply is much more flexible, and it's easy to create more space to meet demand, says Yates. The pandemic has pushed all sorts of unconventional places — like vineyards and horse farms — to start offering campsites as a way to make some money on the side.
What to watch: Domestic travel is not nearly enough to bring back all of the jobs lost in the hospitality and leisure sector, Barnes says.
The big spending comes from international visitors to the U.S. and business trips. And while international travel is projected to eventually reach pre-pandemic levels, business travel may never fully come back.
Go deeper