Voting groups fear Texas about to exceed Georgia's limits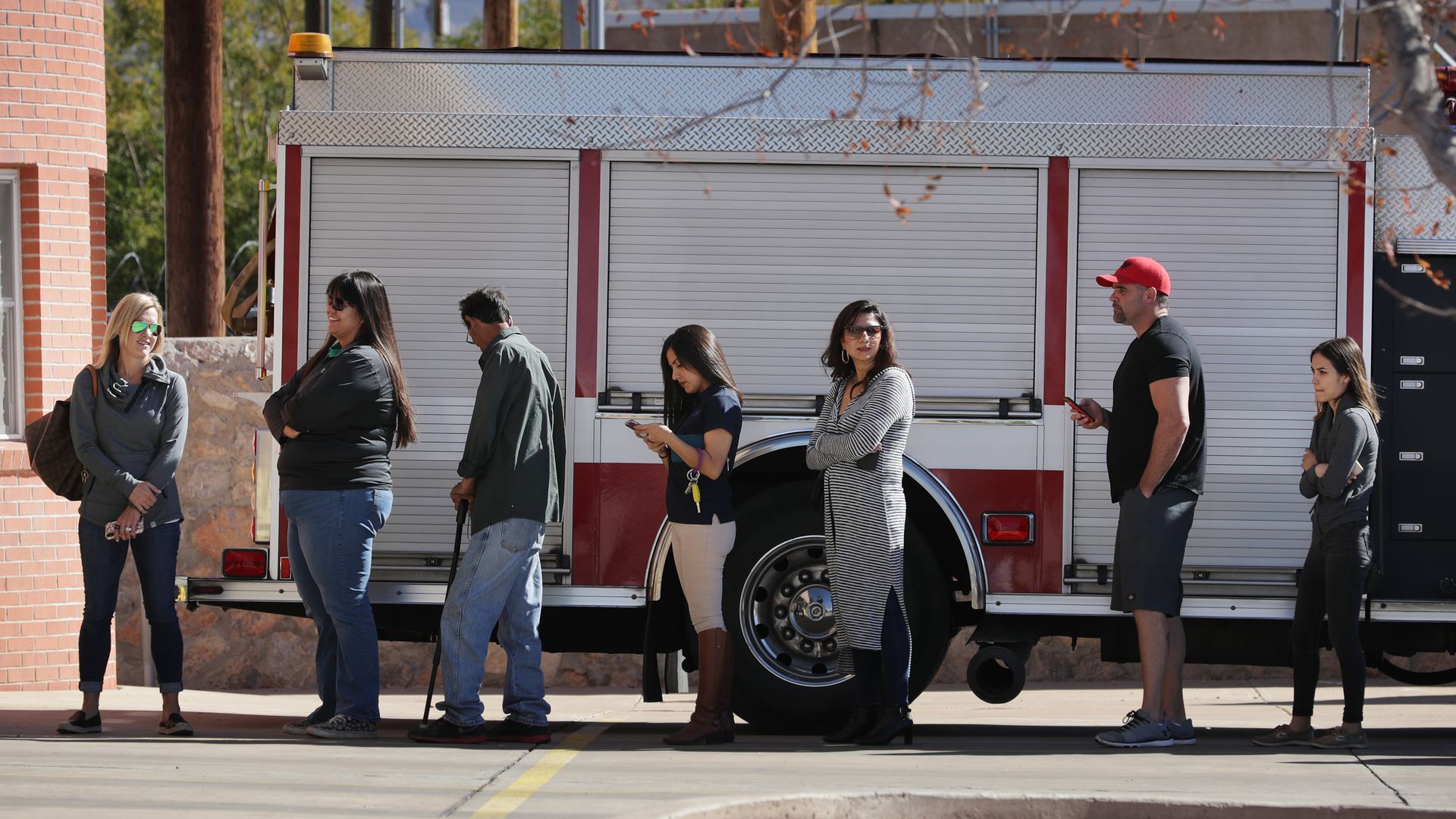 Local advocacy groups, big business and former presidential candidate Beto O'Rourke are fighting a pair of Texas voting bills they brand as suppressive, each of which could pass the Republican-controlled legislature as soon as next week.
Why it matters: Advocates say Texas' pending changes are worse than those that recently caused an uproar and boycotts in Georgia. The fight comes as the Texas population is rapidly growing and diversifying — and turning more Democratic.
"So much of what we learned about Georgia, we learned after it was too late," O'Rourke told Axios. "In Texas, if there's anything positive about the situation, it's that we could still win this."
Driving the news: Republicans have the political muscle to pass the provisions whenever they want. "Hands down something is going to get passed," Chris Hollins, a former Harris County clerk who opposes the bills, told Axios.
Democrats and groups like Texas Freedom Network and the ACLU are ramping up the pressure. After seeing the outrage from big business over the Georgia bill, groups are trying to get major companies to speak out and force Republicans to back off.
Texas is already considered to be one of the most restrictive voting states. It saw the highest voter turnout in 30 years in 2020 but came in 44th of the 50 states for turnout rate, according to data from Elect Project.
What to watch: American Airlines and Dell Technologies have already come out against the bills.
Advocates have been pressuring other Texas-based companies to get on board, and they expect to see more speak out in the coming days.
Details: The bills in the Texas Senate and House would end 24-hour and drive-thru voting — options that were disproportionately used by voters of color last year, according to the Texas Civil Rights Project.
They also would add criminal penalties for election officials who send out applications to vote by mail to voters who had not requested them and would provide more access for partisan poll watchers.
The changes would especially impact more progressive Texas cities, the New York Times reported.
The sweeping legislation has been pushed by Texas House Elections Committee Chairman Briscoe Cain — who drove to Pennsylvania to help the Trump campaign fight the 2020 election results.
The state of play: The House bill — HB-6 — is already out of committee and could make it to the floor as soon as next week.
The Senate bill — SB7 — was passed at the start of this month. It is now expected to be voted on in committee in the House as soon as Thursday evening after Cain brought it up at the last minute, Charlie Bonner, communications director for the nonpartisan advocacy group MOVE Texas, told Axios.
Republicans also have a flurry of duplicative, piecemeal bills ready to roll if the bigger packages fail.
The other side: Texas Republicans have pushed the legislation, saying that it will normalize voting across the state.
In response to American Airlines' opposition to the Senate bill, Lt. Gov. Dan Patrick released a statement, saying, "The majority of Texas supports maintaining the integrity of our elections. ... Senate Bill 7 includes comprehensive reforms that will ensure voting in Texas is consistent statewide and secure."
Gov. Greg Abbott, a Republican, said in a statement: "Texas is protecting the number of early voting days, which is longer than allowed in states like New York and Delaware. And, we are extending hours for early voting."
"Also, Texas ensures that voting by mail is protected from fraud, which is important."
Go deeper