Updated Apr 29, 2021 -

World
U.S. sending $100M in aid to India as country sets new COVID records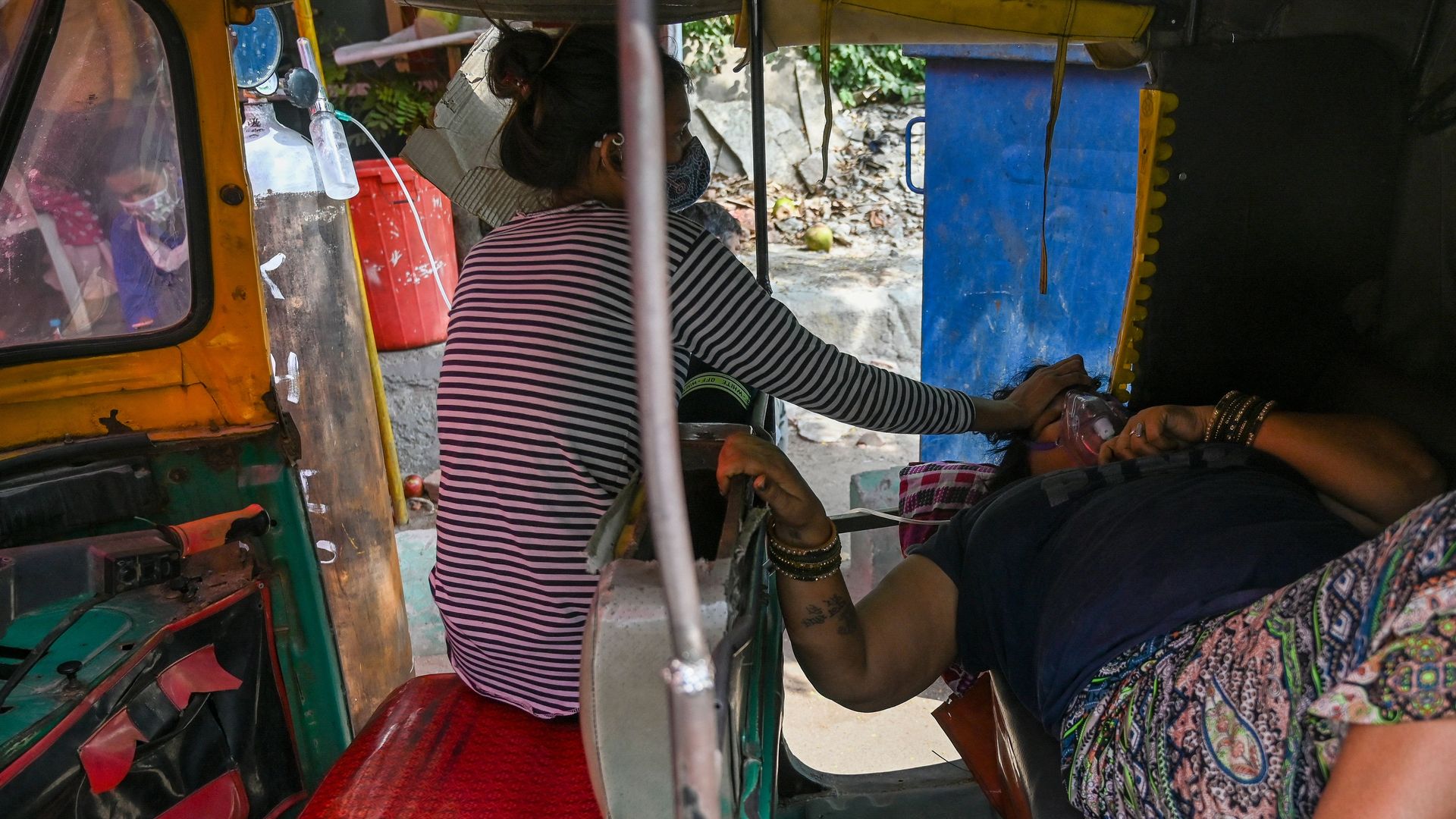 The White House announced the U.S. is sending more than $100 million worth of supplies to India — which set new records for COVID-19 cases and deaths in a single day on Thursday.
Driving the news: Coronavirus cases are surging in India amid a widespread oxygen shortage and slow vaccine rollout. The country's pandemic death toll surpassed 200,000 on Wednesday, amid reports that COVID fatalities and cases are going uncounted.
What's happening: The White House said in a statement Wednesday evening that U.S. government assistance flights would begin arriving in India on Thursday and would continue into next week.
Among the aid will be 15 million N95 masks, 1 million rapid diagnostic tests and an initial delivery of 1,100 refillable oxygen cylinders.
In addition to the federal aid, U.S. state governments, private companies, nonprofits, and "thousands of Americans from across the country have mobilized" to deliver vital equipment including oxygen to support frontline efforts in India, the statement noted. 
"Just as India sent assistance to the United States when our hospitals were strained early in the pandemic, the United States is determined to help India in its time of need."
— Excerpt from White House statement
Of note: Health officials are concerned West Bengal could become a virus epicenter as elections were being held in the Indian state on Thursday, the BBC notes.
It has recorded a state record of over 17,000 infections in the past 24 hours.
By the numbers: India's health ministry recorded another 379,257 COVID-19 cases on Thursday — more than any other country has recorded in a single day.
That takes the official total to 18.3 million infections since the pandemic began.
The ministry reported that the virus had killed a record 3,645 people in the past 24 hours, taking the official death toll to 204,832.
For the record: The Biden administration announced last week it would share its full inventory of AstraZeneca vaccine doses with countries in need.
Editor's note: This article has been updated with the latest official COVID data.
Go deeper