Biden to the nation: "America is on the move again"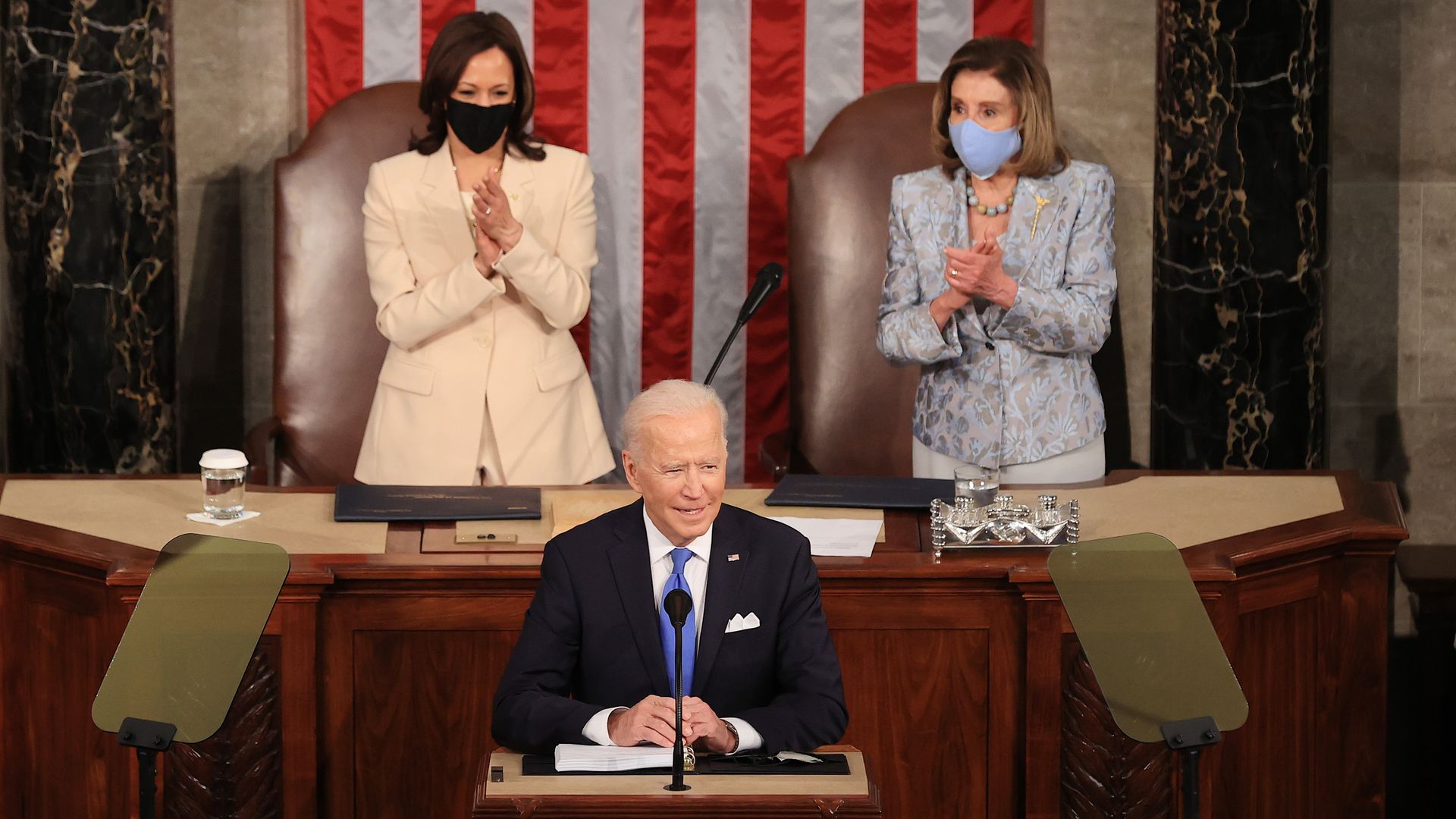 In his first joint address to Congress on Wednesday, President Biden told America that "one day shy" of his 100th day in office, his administration is turning the nation's "peril into possibility" and "setback into strength."
Why it matters: Wednesday's speech was one of the president's most significant opportunities so far to sway members of Congress in favor of his administration's agenda.
What he's saying: "I can report to the nation: America is on the move again," Biden said. "Turning peril into possibility. Crisis into opportunity. Setback into strength."
Biden marketed his American Jobs Plan as a "blue-collar blueprint to build America," stating, "90% of the infrastructure jobs created in the American Jobs Plan don't require a college degree."
"[I]t recognizes something I've always said... Wall Street didn't build this country. The middle class built the country. And unions built the middle class," the president added.
He also urged Americans to get the COVID-19 vaccine: "We can't let our guard down now."
Biden also touched on issues like gun reform and systemic racism — and urged Congress to take action.
The president reiterated his calls to ban assault weapons and to boost background checks in the U.S., calling gun violence an "epidemic."
He further urged Congress to pass police reform legislation, stating, "Let's get it done next month, by the first anniversary of George Floyd's death."
The president did thank the Senate for voting 94-1 this month in favor of legislation that targets anti-Asian hate crimes.
"I urge the House to do the same and send that legislation to my desk, which I will gladly, anxiously sign," he said.
Biden also introduced his American Family Plan, which includes proposals for...
Two free years of community college;
An additional two years of universal pre-K;
Expanding child-care access;
12 paid weeks of family and medical leave; and
Making expansions to the child tax credit permanent.
His bottom line: "It's never, ever, ever been a good bet to bet against America — and it still isn't ... We can do whatever we set our mind to if we do it together."
The state of play: The address looked different than most previous speeches to Congress due to the coronavirus pandemic.
Only select members of Congress were in attendance, versus the traditional full house present in most joint addresses.
Only the secretary of state and secretary of defense attended from Biden's Cabinet, while all other members watched remotely.
Vice President Kamala Harris and House Speaker Nancy Pelosi (D-Calif.) made history as the first women to lead the Senate and House during a president's congressional address.
Go deeper:
Editor's note: This story has been updated throughout.
Go deeper