U.S. and Israel seek to "fence off" Iran deal dispute from other issues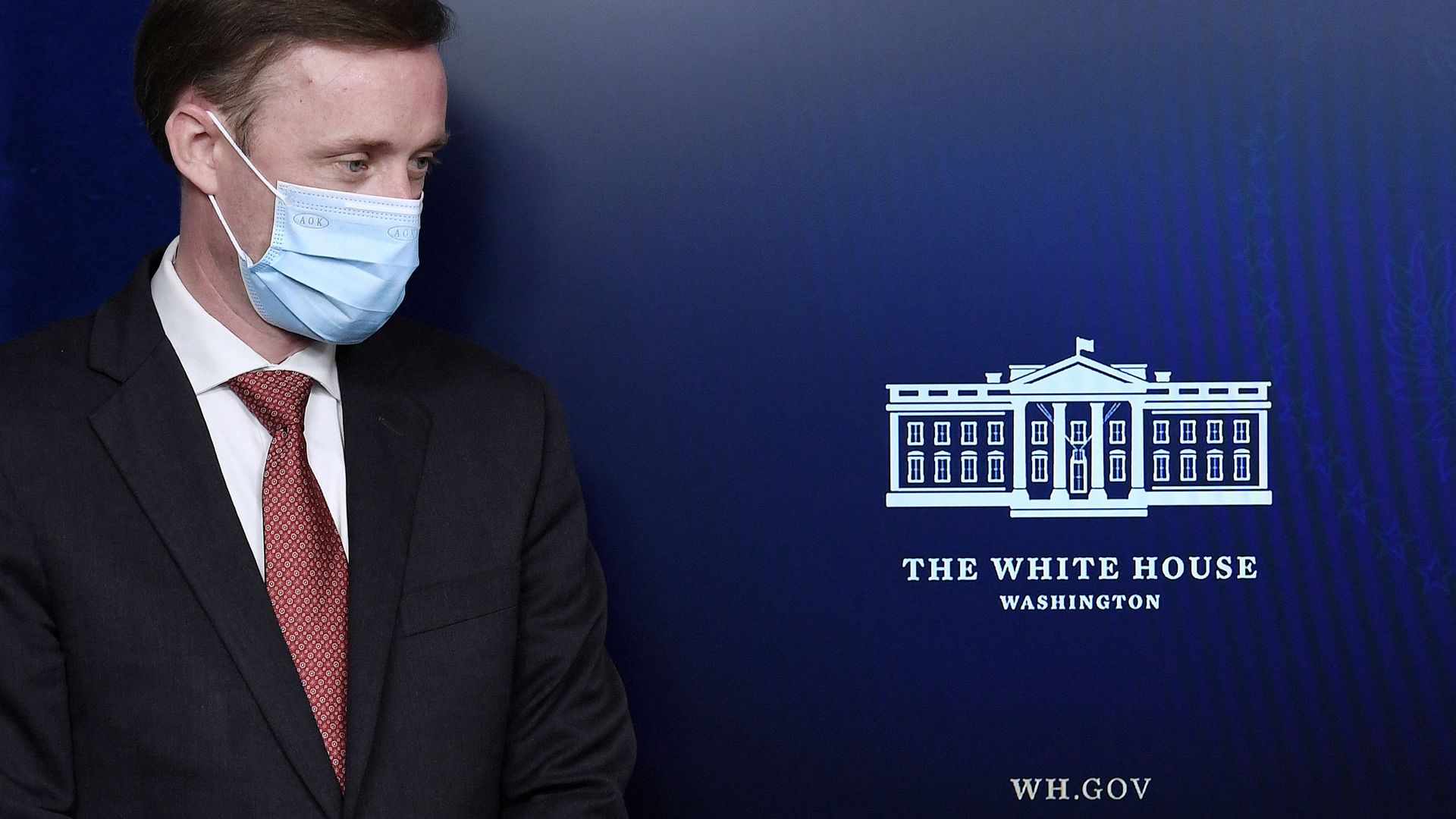 Israel and the U.S. want to fence their disagreements over the 2015 nuclear deal off from cooperation on other Iran-related issues, a senior Israeli official told me following talks on Tuesday in Washington between White House national security adviser Jake Sullivan and his Israeli counterpart, Meir Ben Shabbat.
Why it matters: The Israelis see a U.S. return to the deal as a matter of when and not if, Israeli officials say. So while Ben Shabbat arrived in Washington with a prepared message on Iran — stating Israel's objections to the deal and stressing Israel's freedom of operation against Iran — he was keen to move the discussion onto other issues.
Setting the scene: Sullivan and Ben Shabbat met for two hours at the Israeli embassy in Washington for their first in-person talks. National Security Council Middle East officials Brett McGurk and Barbara Leaf joined from the U.S. side, while Israeli ambassador Gilad Erdan and foreign policy adviser Reuven Azar joined from the Israeli side.
U.S. Iran envoy Rob Malley joined for part of the meeting to brief the Israelis on the nuclear talks shortly before departing for Vienna.
Ben Shabbat and his team contended that a return to the deal would lower the chances of a "longer and stronger" agreement, but said Israel would be happy to provide input if negotiations on a follow-up deal do take place.
Flashback: In 2015, the disagreements around the nuclear deal turned into a political fight between then-President Obama and Israeli Prime Minister Benjamin Netanyahu, harming the whole bilateral relationship.
Behind the scenes: Israeli officials were concerned about how Tuesday's meeting would go, but were very satisfied with how it went. They said that Sullivan and the other U.S. officials took a positive approach and bore no ideological or personal grudges towards Israel.
"Six years ago everything was politicized. This is not the case today. The U.S. respects our position regardless of the disagreement. Neither side wants to get into a public fight over Iran every other week that will prevent us from making progress on other issues," the senior Israeli official told me.
The Israelis were pleased that the White House chose to stress the threat from Iran and Israel's right to defend itself in its statement after the meeting.
The talks later focused on non-nuclear threats from Iran, the situations in Lebanon and Syria, and ways to press ahead with the Abraham Accords process between Israel and the Arab world, an Israeli official told me.
One action item the White House announced was an agreement to establish an inter-agency working group on the threats from drones and precision guided missiles produced by Iran and provided to its proxies in the region.
Worth noting: In previous administrations, such a conversation would likely have been held at the president and prime minister's level, but the Middle East is a fairly low priority in the early days of the Biden administration.
What's next: Mossad director Yossi Cohen is also in Washington for talks on Iran. Israeli officials say he is expected to meet today with Secretary of State Tony Blinken.
Go deeper