Senate Democrats resist Biden's $1.8 trillion pay-for plan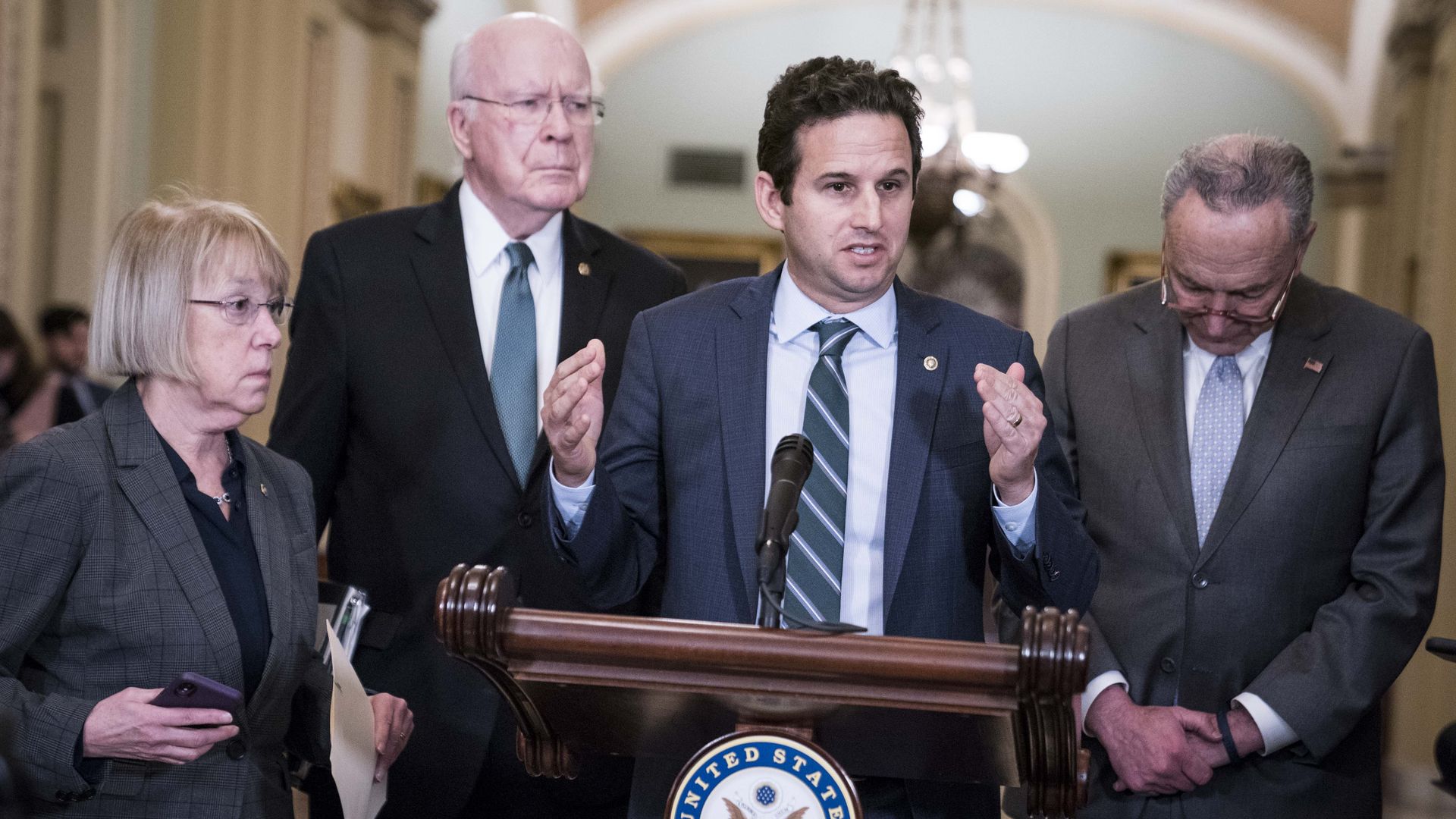 President Biden will ask Congress to pay for the entirety of his $1.8 trillion American Families Plan, yet some Democratic senators want him to finance it with deficit spending, lawmakers and their aides tell Axios.
Why it matters: The "human infrastructure" proposal, which Biden will formally unveil Wednesday night during his joint address to Congress, is already dead on arrival among Republicans — so the Democratic reaction is key.
The American Families Plan would cover support activities such as paid leave, free community college and universal preschool in part by raising taxes on the wealthy and corporations.
Even if the White House ultimately tries to force the bill through via the budget reconciliation process, it will still need every single Senate Democrat to come aboard. Right now, it's unclear if they will.
What they're saying: "I'm not a big pay-for guy," said Sen. Brian Schatz (D-Hawaii). "I think some investments are worth deficit financing."
"Nobody asks how we're going to pay for the United States military," Schatz said. "Nobody really asked how we were going to finance the tax cuts for the very wealthy. It's only when it comes to progressive priorities that everybody freaks out and tries to find pay-fors."
Sen. Chris Murphy (D-Conn.) concurred: "I think there's plenty of money in this country to pay for smart investments. But at the same time, if it's a good investment, I don't know that it needs to be fully paid for."
"My view is I think we need to pay for part of it on the infrastructure angle ... but not totally," said Sen. Jon Tester (D-Mont.), a member of the Senate Appropriations Committee. "I think we should find a way to pay for half of it upfront and then hopefully with good infrastructure, it'll create economic growth and pick up the other half."
Meanwhile, some centrist senators are wary of the overall $6 trillion price tag of the combined cost of Biden's three packages — the American Rescue Plan, the American Jobs Plan and the American Family Plan.
"When we're in a crisis, you know, we've got to sometimes take extraordinary steps, which is what we did," Sen. Mark Kelly (D-Ariz.) told Axios. "But we've got to get back to managing the size of our debt compared to the size of our economy."
"It always comes back to how we pay for it," Senate Minority Whip John Thune (R-S.D.) told reporters. "I think it'll come down to making sure every single Democrat is willing to vote for huge tax increases and huge increases in government spending. I'm not sure that's the case at the moment."
Key moderate Republicans most willing to cross party lines are also against Biden's proposal — making clear that any shot at bipartisanship is virtually impossible.
"Our total federal budget that we vote on every year is $1.4 or $1.5 trillion. So it's a massive amount of spending," Sen. Mitt Romney (R-Utah) said. "I think maybe if he were younger, I'd say his Dad needs to take away the credit card."
Go deeper