The podcast paywall wars have arrived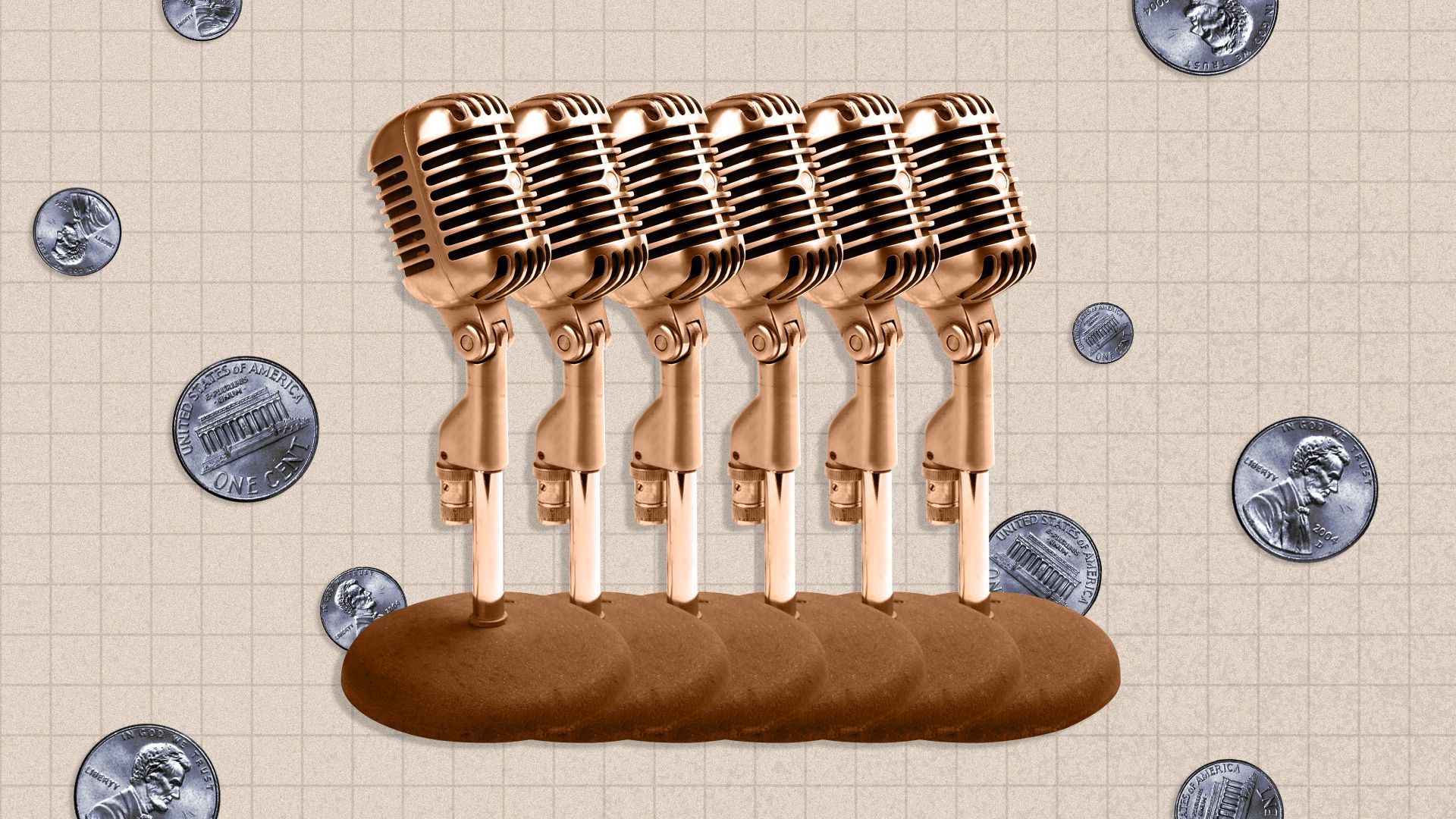 Podcasts have historically been open and freely distributed, but new subscription offerings for podcasts from Apple and Spotify aim to challenge that status quo.
Between the lines: As the subscription podcast ecosystem develops, it wouldn't be surprising if other major podcast publishers start to toy with the idea of putting some of their podcasts behind a paywall.
Driving the news: Spotify on Tuesday launched its new subscription podcast platform that gives podcast creators the ability to create podcasts exclusively for paid subscribers on and off Spotify.
Creators using Spotify's podcast creator platform Anchor will be able to mark episodes as subscriber-only and publish them to Spotify and other podcast listening platforms, the company said Tuesday.
For the next two years, creators can pocket 100% of their subscriber revenue, excluding payment transaction fees. Starting in 2023, Spotify says it plans to introduce a 5% fee for access to the tool.
Apple announced its podcast subscription service last Thursday.
Apple's new service includes all of the tools needed by creators to offer premium subscriptions on Apple Podcasts for $19.99 annually.
Apple will take a 30% cut from podcast subscriptions, similar to what it takes for any transactions made via apps within its app store.
That cut drops to 15% after the first year, but it's still much larger than Spotify's fee.
The New York Times has had conversations around paywalling podcasts, but there are no imminent plans to put any behind a paywall, sources told Axios.
The Times purchased Audm, a subscription narrated article product, in March. A spokesperson says this "is an example of our ambitions in this area."
NPR plans to launch a public radio podcast subscription service, the company confirmed to Axios.
The new NPR podcast subscription will allow listeners to directly support their favorite podcasts and receive sponsorship-free versions of individual podcasts for a small fee, a spokesperson tells Axios.
The idea would be to share the revenue with local member stations to help introduce podcast listeners to local radio. (Radio and podcast audiences don't always overlap.)
NPR says it will be partnering with Apple and Spotify on their new podcast subscription platforms, but it will also be committed to keeping content free.
"NPR remains committed to making news and other content available to the public free of charge as part of its public service mission," a spokesperson said.
The big picture: The financial return on investment in podcasts remains to be fully realized for most creators.
In order for podcasts as an industry to grow, the biggest podcast companies need to invest in more ways to help creators get paid, which is why subscription platforms make sense.
Subscription podcast platforms are becoming more popular as consumers show a willingness to pay for premium audio experiences without ads.
Go deeper