U.S. lifts pause on Johnson & Johnson's coronavirus vaccine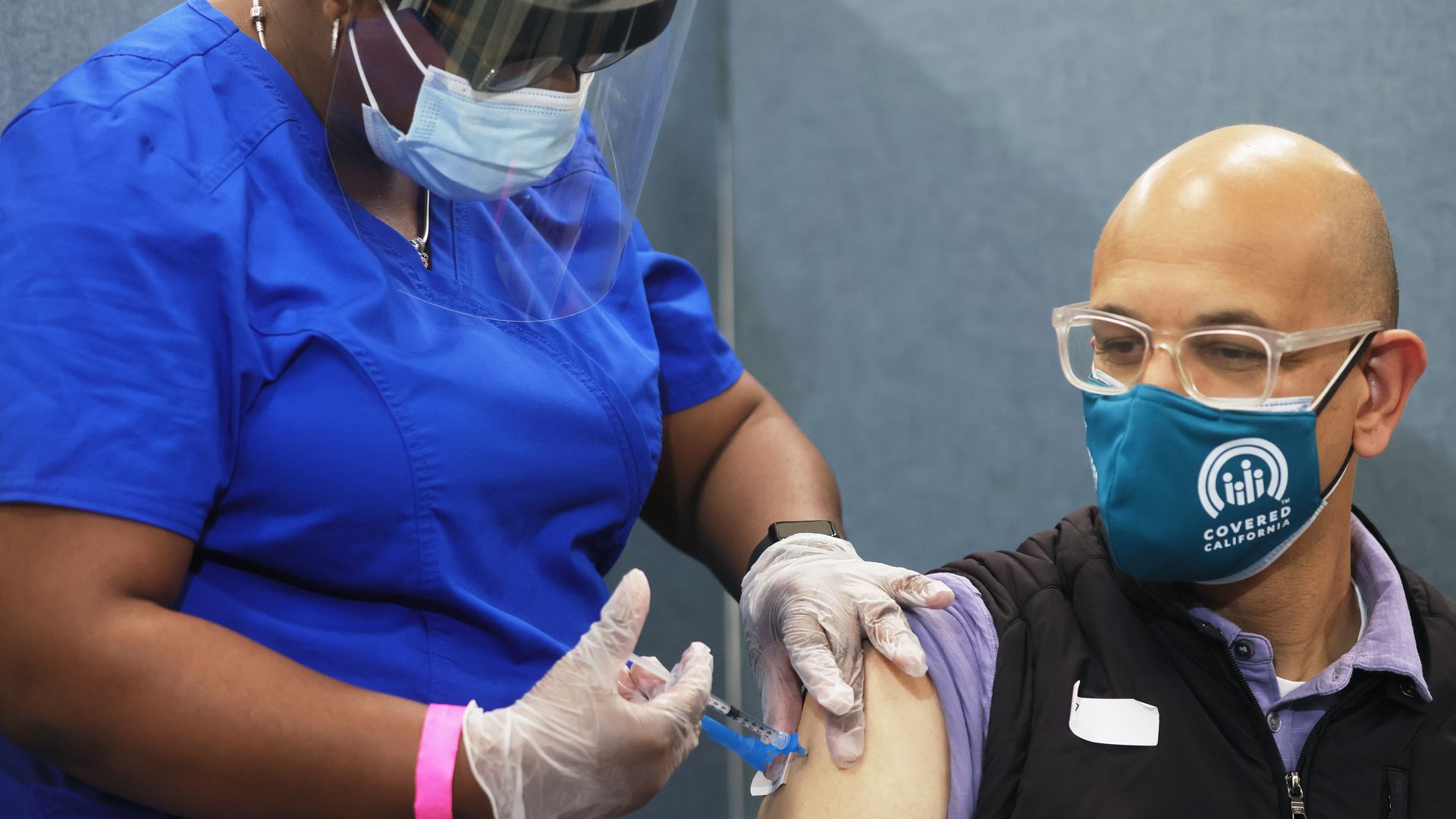 The CDC and FDA on Friday lifted the recommended pause on use of Johnson & Johnson's coronavirus vaccine, saying the benefits of the shot outweigh the risk of a rare blood clot disorder.
Why it matters: The move clears the way for states to immedialtey resume administering the one-shot vaccine.
The Johnson & Johnson shot had been seen as an important tool to fill gaps in the U.S. vaccination effort. But between the pause in its use and repeated manufacturing problems, its role in that effort is shrinking.
Driving the news: J&J shots have been paused for about two weeks, in response to reports that they may have caused serious blood clots in a small number of patients.
Only six people had experienced those blood clots at the time of the pause. The CDC said Friday that there have been nine additional cases.
Regulators said the number is small enough to safely resume the use of J&J's vaccine.
What they're saying: "Safety is our top priority. This pause was an example of our extensive safety monitoring working as they were designed to work — identifying even these small number of cases," said acting FDA Commissioner Janet Woodcock.
"We've lifted the pause based on the FDA and CDC's review of all available data and in consultation with medical experts and based on recommendations from the CDC's Advisory Committee on Immunization Practices," she said.
"We are confident that this vaccine continues to meet our standards for safety, effectiveness and quality."
What's next: Regulators said health care providers administering the shot and vaccine recipients should review revised fact sheets about the J&J vaccine, which includes information about the rare blood clot disorder.
That heightened attention is important because the standard treatment for blood clots can make this particular type of clot worse.
Yes, but: J&J was already a relatively small part of the overall domestic vaccination effort, in part because the company missed some of its early manufacturing targets.
Multiple problems have since emerged at a Baltimore facility that makes a key ingredient for the vaccine, which could sideline production for weeks.
Go deeper