Senators unveil bipartisan bill to address surge at the border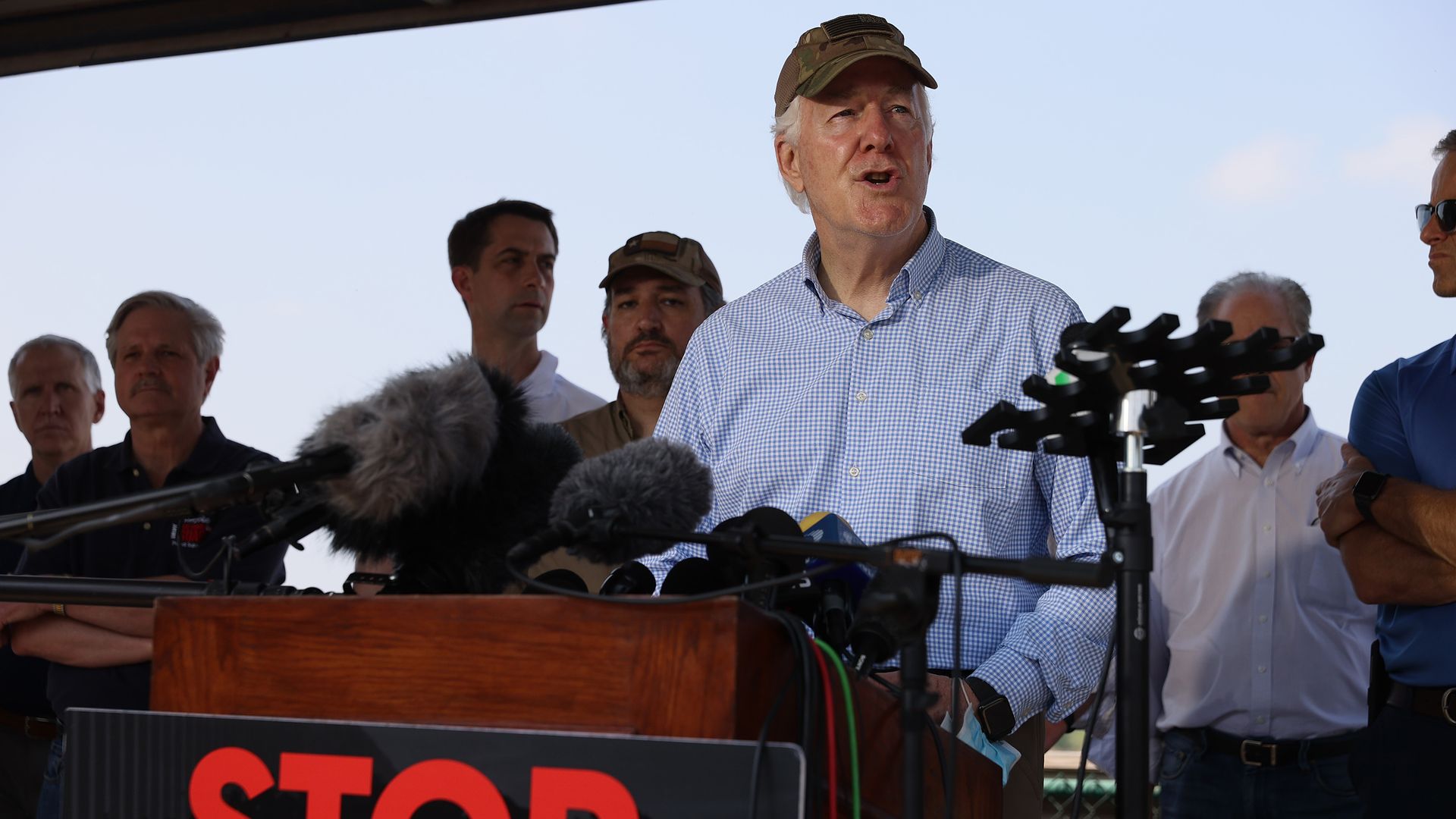 Sens. John Cornyn (R-Tex.) and Kyrsten Sinema (D-Ariz.) introduced bipartisan legislation on Thursday in response to the surge of migration at the U.S.-Mexico border.
Why it matters: It is the first bipartisan, bicameral bill to address the border situation. Both Cornyn and Sinema are part of a larger bipartisan group of senators who met for the second time on Wednesday to work toward passing immigration legislation.
"We know that this crisis at the border is not a Democratic or Republican problem," Sinema told reporters on a call Thursday afternoon. "It's not a new problem. It's an American problem, and it's one that we've been dealing with in our border states for decades."
Between the lines: The Bipartisan Border Solutions Act directs the government to create "regional processing centers" along the border where needed, which would "ensure that migrants are treated fairly and humanely and ensures that they understand their rights," Sinema said.
The bill would also address the immigration court backlog that has ballooned to more than 1.2 million cases, adding hundreds of additional immigration judges and asylum officers. It would further change which cases are prioritized — including asylum cases, per Cornyn. Sinema added the bill would improve access to counsel for asylum seekers.
The measure, if passed, would also require better follow up after unaccompanied minors are released by the government to sponsors in the U.S.

"Our bill would ensure that these children are never released into the custody of anybody, any sponsor in the United States who could abuse those already vulnerable children," Cornyn said.
What to watch: Both Cornyn and Sinema said they would pass the bill as a standalone or as part of a consensus package, and added they think it is important to find a permanent solution for Dreamers.
Reps. Henry Cuellar (D-Tex.) and Rep. Tony Gonzales (TX-23) introduced the House version of the bill.
The U.S. Chamber of Commerce has expressed its support for the legislation.
The senators are meeting with Sen. Dick Durbin (D-Ill.) next week to share an overview of the bill.
Editor's note: This story has been corrected to reflect that Rep. Tony Gonzales (R-Tex.), not Anthony Gonzalez (R-Ohio) introduced the House version of the bill.
Go deeper