Updated Apr 22, 2021 -

World
Russia announces end to massive troop buildup near Ukraine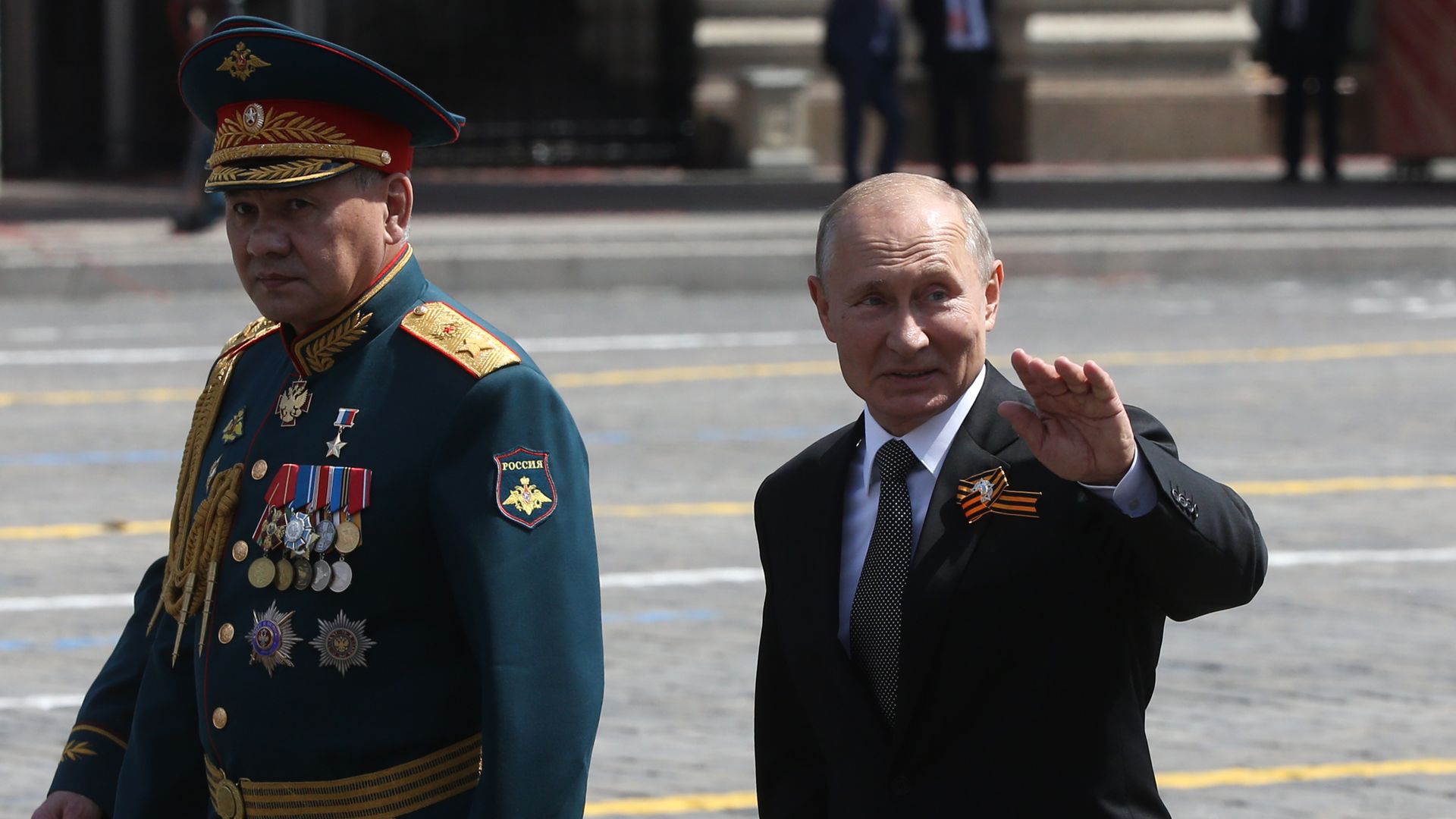 Russia's defense minister said Thursday that massive military exercises near the border with Ukraine had been completed, and that he had ordered troops to return to their permanent bases by May 1, according to state media.
Why it matters: Tens of thousands of troops and heavy military equipment had been moved to the border of eastern Ukraine and the annexed territory of Crimea over the last month, sparking fears of a potential Russian invasion.
As recently as early Thursday, Russia conducted military drills in Crimea that involved more than 60 ships, over 10,000 troops, around 200 aircraft and about 1,200 military vehicles, AP reports, citing the Russian defense ministry.
Defense Minister Sergei Shoigu said the goals of the military exercises "have been fully achieved" and that troops "demonstrated the ability to ensure reliable defense of the country," according to translated remarks.
What they're saying: "The reduction of troops on our border proportionally reduces tension. Ukraine is always vigilant, yet welcomes any steps to decrease the military presence and deescalate the situation in Donbas. Ukraine seeks peace. Grateful to international partners for their support," Ukraine President Volodymr Zelensky tweeted.
Between the lines: The immediate threat of a Russian invasion may be subsiding, but tens of thousands of troops remain within striking distance of Ukraine and there is no end in sight to the long-simmering conflict in the eastern Donbass region.
The Russian buildup appears to have been engineered in part to gauge the response not only of Ukraine, but of the U.S. and Europe.
President Biden offered stern warnings to Vladimir Putin and support to Ukrainian President Volodymyr Zelensky, but backed off a plan to send warships to the Black Sea and made clear that the U.S. would not fight a war over Ukraine. The European response was more muted still.
In Ukraine, though, the threat of invasion sparked a sense of national unity and bolstered Zelensky's position, Davyd Arakhamia, the leader of Zelensky's party in parliament, told Axios.
Go deeper