America scrambles for restaurant workers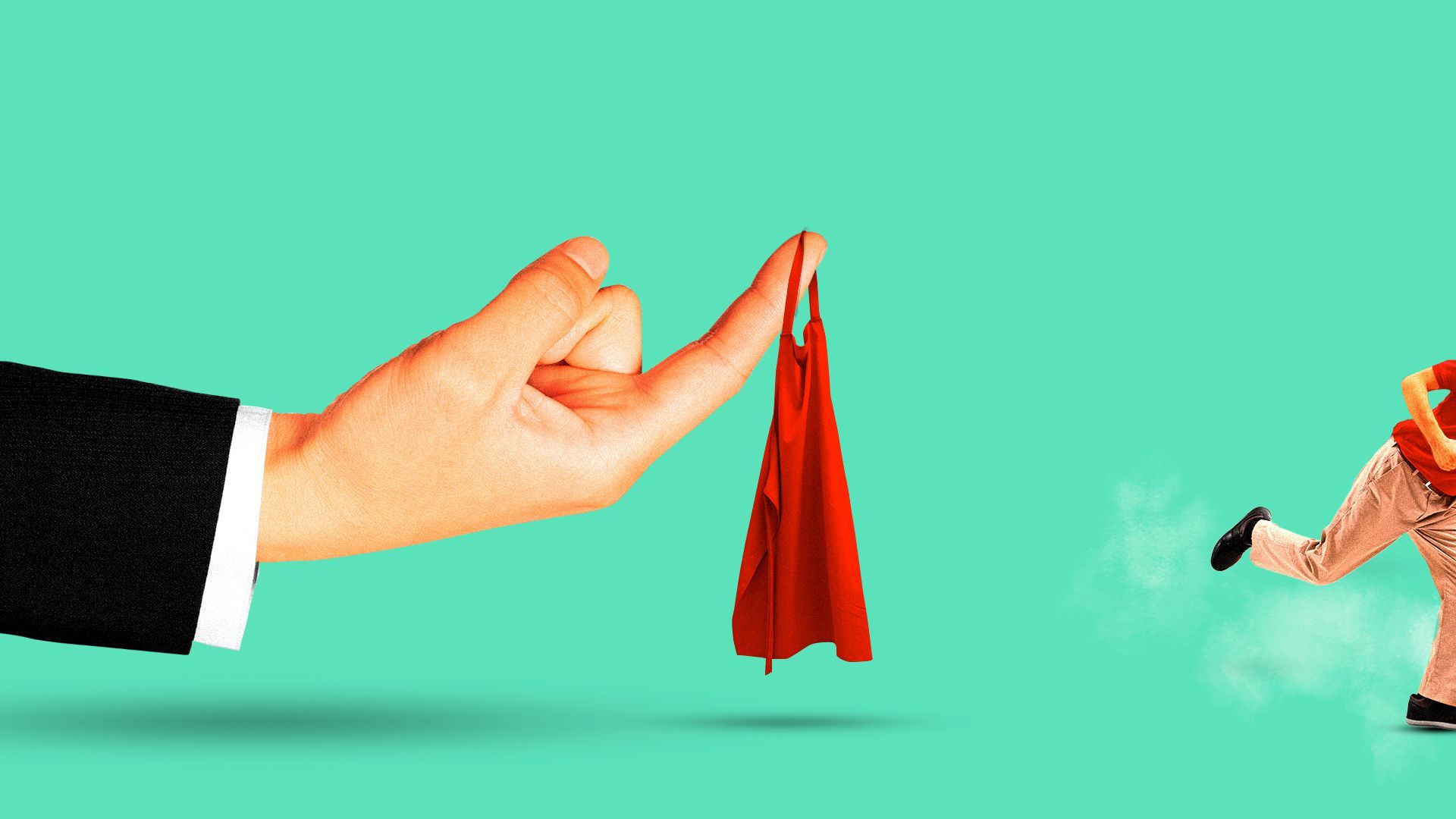 Vaccinations keep climbing, and restaurants are ready to roar back this summer. But eateries from Miami to Martha's Vineyard to Los Angeles are facing the same problem: not enough workers.
The big picture: Millions of restaurants are hiring all at once and, after a deadly pandemic, the jobs of waiters, cooks, and hosts seem more dangerous than they ever have before. All of this is contributing to a nationwide hospitality worker shortage as the economy opens back up.
By the numbers: The pandemic wiped out 2.5 million restaurant jobs and forced more than 100,000 eateries to shutter. And now the ones that made it through 2020 can't find staffers.
According to Census survey data from early April, a whopping 37% of small businesses in the hospitality and food sectors say their operating ability was affected by worker availability. When looking at all small businesses, the statistic was just 16%.
Main Streets nationwide are feeling the shortage.
"After a whole year of waiting, guests are clamoring to come back. And restaurants have invested in these expanded outdoor areas, and they need people right now," says Alice Cheng, founder of Culinary Agents, a hospitality job search site. "But they're not finding them."
Charlotte, North Carolina restauranteur Jon Dressler remembers being short one part-time dishwasher before the pandemic, and now he's looking for four kitchen workers and 10 servers, Axios Charlotte's Katie Peralta Soloff reports.
As travel starts up again, advance vacation bookings are spiking on Martha's Vineyard, but restaurant and hotel owners are struggling to hire enough employees, per the Martha's Vineyard Times.
One McDonald's in Tampa Bay, Florida is offering applicants $50 just to show up for an interview, Business Insider reports. In fact, according to a recent survey of employers by Culinary Agents, the top reason roles aren't getting filled is no-shows at interviews.
What's happening: The hospitality industry was among the hardest hit during the pandemic, and that's making its recovery even tougher.
"Everybody is reopening at the same time" and that means everybody is hiring at the same time, which makes it harder to find workers, says Cheng.
On top of that, restaurant work — especially customer-facing roles like server and host — is still seen as hazardous. "Some people are still concerned about getting the virus at an in-person job," says Jed Kolko, chief economist at the jobs site Indeed.
And many Americans who worked in hospitality have simply left the industry amid the pandemic. Anecdotally, there are plenty of servers and bartenders joining training programs to get new jobs in tech or finance.
There's also a shortage of foreign workers, due to former President Donald Trump's ban on temporary foreign workers and pandemic travel restrictions. The Trump ban lapsed on March 31, but employers fear there's not enough time to fill jobs by the busy summer.
Some employers are saying they can't compete with unemployment insurance checks and that workers would rather collect benefits than go back to work. But a 2020 study by Yale economists found that unemployment benefits don't create a disincentive for job seekers.
Silver linings: Service employees have long been treated as disposable workers. Now, with restaurants desperate to hire, the power is finally in the hands of workers — and that's a good thing, Cheng says.
Restaurants are already starting to offer referral and retention bonuses to attract talent. And workers can be pickier and seek out more pay or robust health benefits, she says.
What to watch: The latest COVID-19 relief package includes a $28.6 billion fund to help restaurants get back up and running.
And congressional Democrats' proposed legislation to raise the federal minimum wage would also help restaurant workers by boosting the minimum tipped wage, which currently sits at $2.13 an hour, to $4.95 an hour.
Go deeper