Making sense of Biden's big emissions promise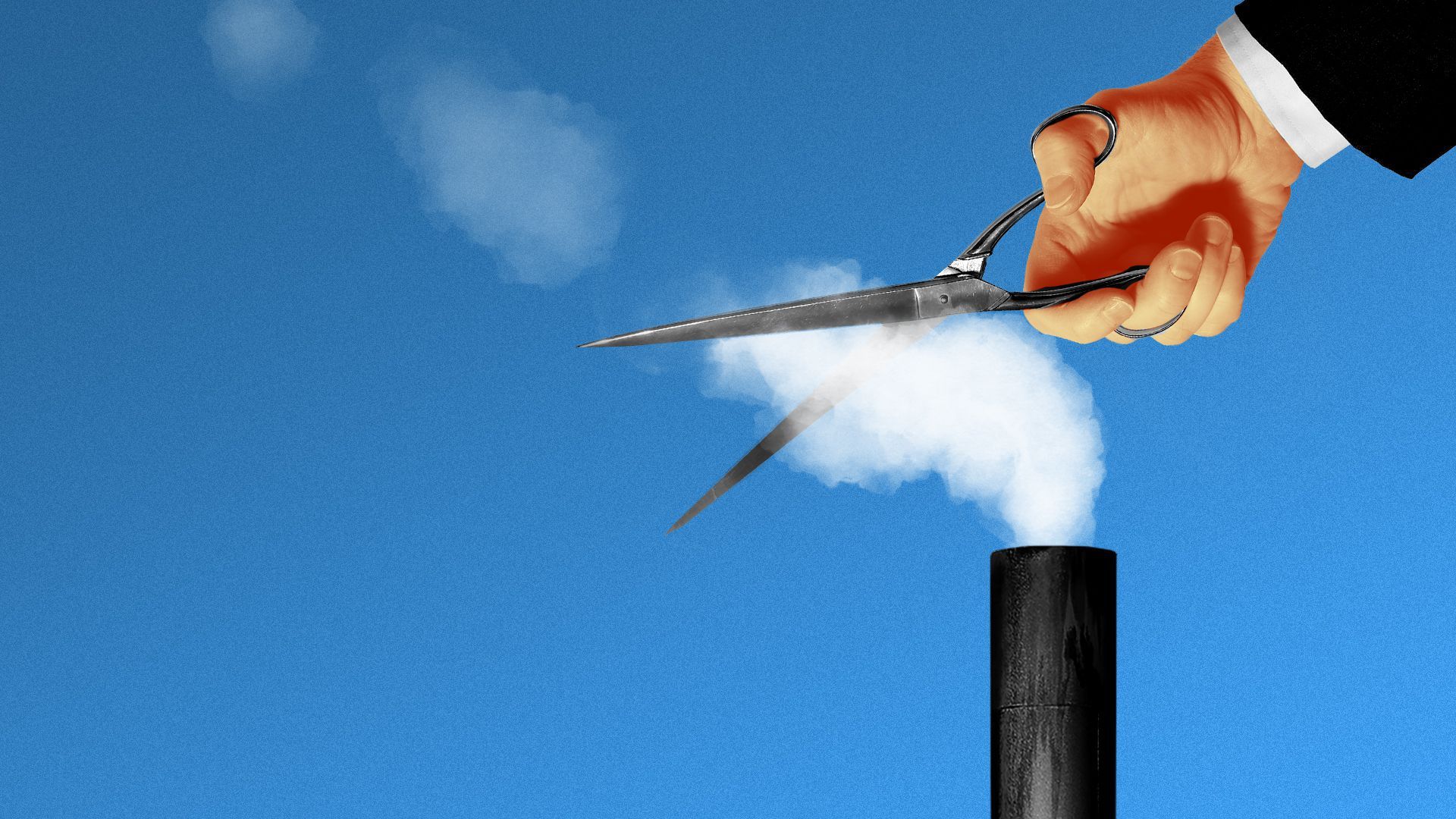 President Biden's new U.S. emissions-cutting target is a sign of White House ambition and a number that distills the tough political and policy maneuvers needed to realize those aims.
Driving the news: This morning the White House unveiled a nonbinding goal under the Paris Agreement that calls for cutting U.S. greenhouse gas emissions by 50%-52% by 2030 relative to 2005 levels.
President Biden today touted the new target at the opening of the virtual White House summit with other heads of state.
"That's what we can do if we take action to build an economy that's not only more prosperous, but healthier, fairer, and cleaner for the entire planet," he said, while also encouraging other countries to act.
Why it matters: Achieving it would require greatly accelerating the transition of U.S. power, industry and transportation to cleaner energy sources and greater efficiency. The pledge aims to show the U.S. return to climate diplomacy and prod other nations to act aggressively too.
It's an extremely heavy lift. Consider this: The research firm Energy Innovation estimates that without any new emissions-cutting policies, the U.S. is on track to reduce emissions by 12% by 2030 relative to 2005 — nowhere near Biden's goal.
Projections vary, but the bottom line is that hitting the target would require major changes in the country's trajectory.
Another lens: it's twice as ambitious as the previous target of a 26%-28% cut by 2025 set during the Obama administration.
It's a political tool — here and abroad. An administration official told reporters the pledge creates "significant leverage" to push for initiatives in other nations.
The target's also aimed at a U.S. audience, both in the public and Capitol Hill.
Officials are emphasizing job creation in low-carbon industries — a four-page White House summary cites "jobs" over a dozen times.
Biden's in a difficult spot. The pledge comes as the White House is pushing Congress to approve huge new climate investments, and planning new regulations.But there are huge uncertainties surrounding congressional action, while executive moves will face legal challenges — it all complicates the White House effort to convince other countries the pledge isn't just a paper tiger.
White House aides insist it's realistic. Officials told reporters they have multiple pathways to achieving the target and touted state and local efforts that help.
They also pointed to corporate plans and market forces rowing in the same direction, noting steep cost declines for batteries, solar and other clean tech.
"We're standing here with better field position today than we had four years ago, than we had 10 years ago," an official said.
It may not be enough. Emissions models are stuffed with variables, but directionally, analysts say global cuts on the scale of 50% by 2030 are needed to meet the Paris target of holding warming to 1.5 °C.So some activists say the U.S., as the largest historical emitter and the world's richest country, should shoulder a greater share.
Environmentalists are generally psyched about the target. Manish Bapna, the interim CEO of the World Resources Institute, called it a "bold" goal that should "make the world sit up and take note."
"This target will serve as the North Star for President Biden's domestic agenda. It will create a more equitable and prosperous society," Bapna said in comments circulated to reporters.
Yes, but: Some groups on the green movement's left flank, like the Sunrise Movement, said it falls short.
"The only way to get the rest of the world to take climate action to the degree we need is if the United States — the richest country in the world and the biggest historical polluter — does our fair share first," said Evan Weber, the group's political director, in a statement.
The other side: Via the New York Times..."Senator John Barrasso, Republican of Wyoming, said that the president was 'unilaterally committing America to a drastic and damaging emissions pledge' that would punish the U.S. economy while 'America's adversaries like China and Russia continue to increase emissions at will.'"
Go deeper: Biden pledges to cut greenhouse gas emissions by up to 52% by 2030
Go deeper