Church groups say they can help the government more at border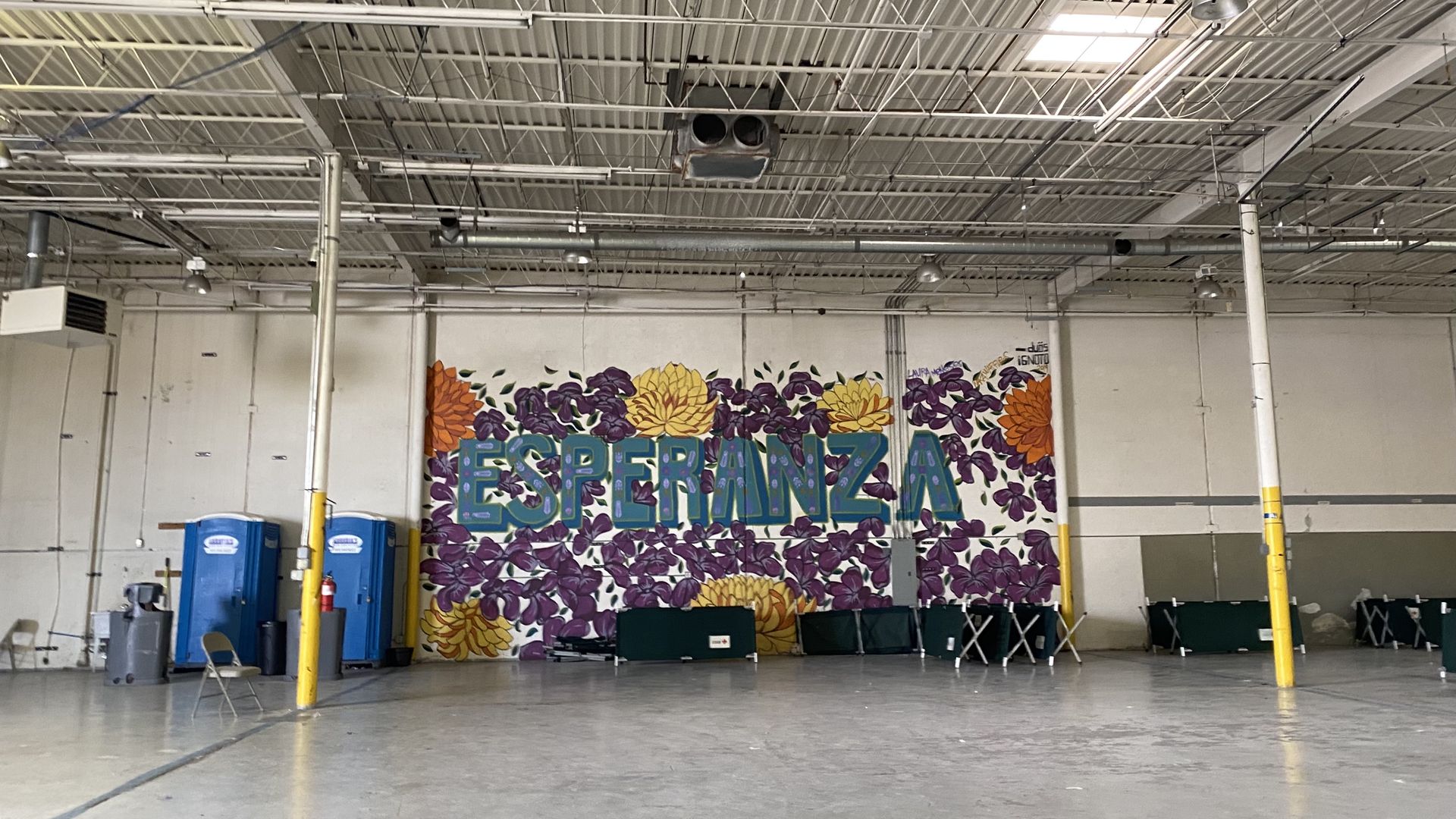 Despite the separation between church and state, the federal government depends upon religious shelters to help it cope with migration at the U.S.-Mexico border.
Why it matters: The network supports the U.S. in times of crisis, but now some shelter leaders are complaining about expelling families to Mexico when they have capacity — and feel a higher calling — to accommodate them.
"They're human beings. They're here in my community, and they need help," said Sister Norma Pimentel, who runs Catholic Charities in the Rio Grande Valley in South Texas.
Axios interviewed Sister Norma after a visit to the Southwest that included stops on both sides of the border.
The big picture: Catholic and Protestant churches in both the United States and Mexico have built a network during the last few years to offer temporary shelter to migrants. Volunteers help them arrange travel plans, provide them food and offer donations of clothes and toiletries.
Migrants at a shelter in Ciudad Juárez, Mexico, told Axios that church-based shelters gave them temporary housing along the way and suggested names of places should they make it to the U.S.
Only two of more than a dozen shelters in Ciudad Juárez are government-run — most are run by religious groups.
U.S. churches have organized efforts to house migrant children 250 miles north near Santa Fe, New Mexico, with volunteers to speak in Spanish and Portuguese.
Organizers say that despite record migrant numbers this year, they are not as overrun as in 2019.
Why it matters: Ruben Garcia, director of Annunciation House in El Paso, Texas, expressed frustration the Biden administration continues expelling families to Mexico.
He said his shelters are at low capacity by their standards, and there are newly opened hotels under contract with Immigration and Customs Enforcement for families.
What's happening: Sister Norma told Axios her shelters have been receiving 400 to 800 migrants from the Border Patrol each day, mostly parents and children.
Despite that influx, "I haven't seen the numbers as high as 2019," she said, adding it may be because the Border Patrol presence is sending some migrants to other sections of the border.
A plane or two holding about 135 migrants who crossed in South Texas is being sent to other border areas like El Paso and Laredo, Texas, and San Diego, California, each day, Garcia explained.
Annunciation House shelters take in 30 to 35 of those migrants sent to El Paso, while the rest are expelled into Ciudad Juárez. Many expelled migrants do not understand where they are being sent.
Garcia doesn't know how the ratio was decided or who made the call. The lack of transparency about who is making decisions and why is "one of the most frustrating parts," he said.
Between the lines: Garcia talked about volunteers flying from all over the U.S. to help and read Axios texts from other organizations ready to assist.
"I am writing to let you know that we are preparing to assist when you need to send buses our way," Garcia read from one advocate who represented five religious groups who also assisted in 2019.
But there is also pushback. Sister Norma said that for weeks now, they have had 10 to 12 men protesting their work, accusing them of participating in human trafficking.
How you can help: Annunciation House, Catholic Charities RGV and HOPE Border Institute.
Go deeper