FCC to explore text access to suicide prevention hotline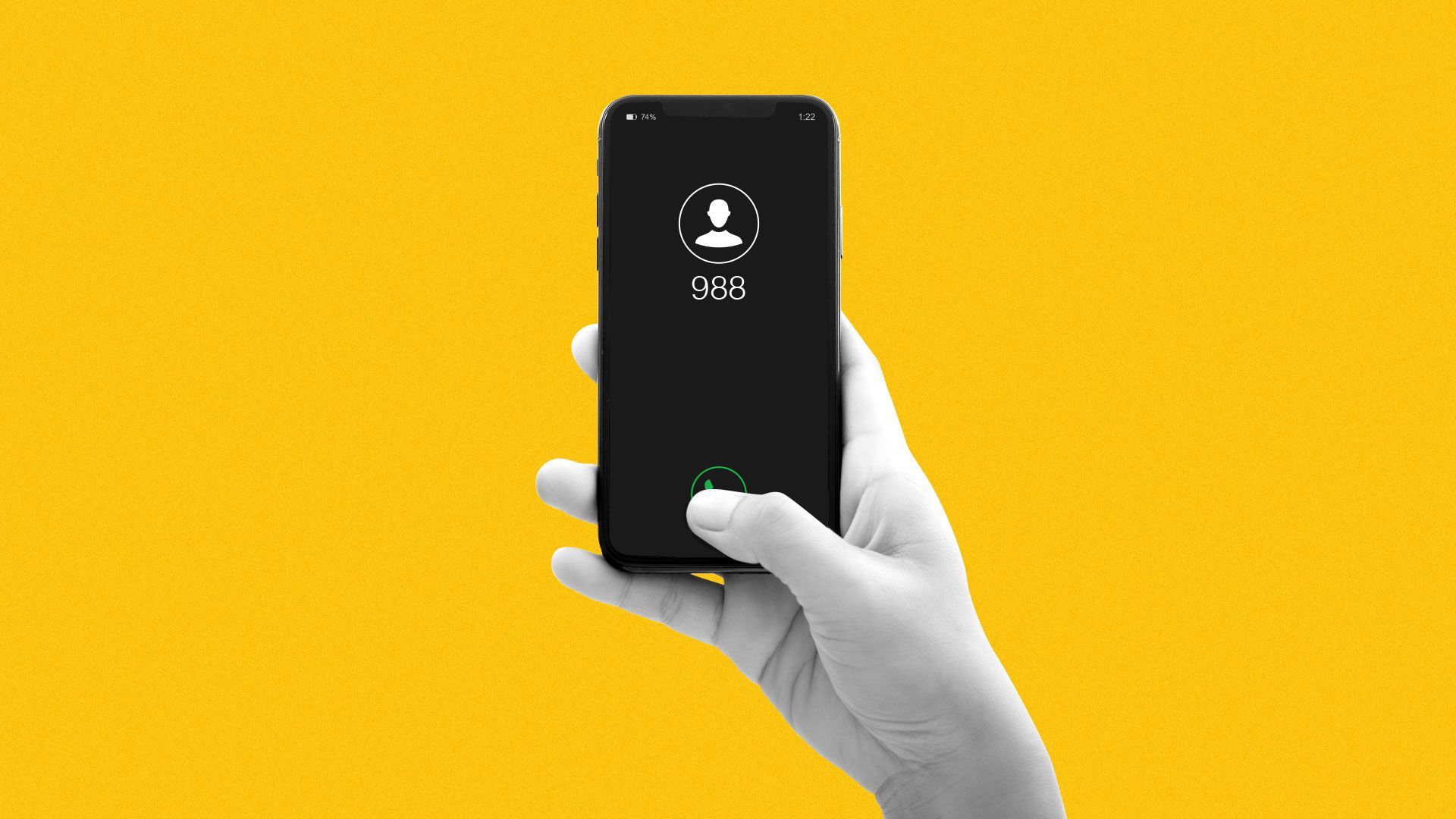 With the need for mental health care for teens skyrocketing during the pandemic, the Federal Communications Commission wants to ensure they can reach a suicide prevention line by their preferred method of communication — texting.
Why it matters: The pandemic has taken a mental toll on American youth, with new data showing that teen medical claims for intentional self-harm nearly doubled in April 2020, compared to April 2019.
What's happening: The FCC will vote Thursday on a proposal that would explore requiring phone providers to route text messages sent to 988 to the National Suicide Prevention Lifeline.
The agency previously established 988 as the three-digit number that would connect callers to the hotline, setting a July 2022 deadline for providers to route such calls. (In the meantime, callers can reach the hotline by dialing 1-800-273-8255.)
The new proposal is meant to make it easier for young people, low-income individuals, those in the LGBTQ community and people who are deaf and hard of hearing to connect and seek help, acting FCC chairwoman Jessica Rosenworcel said in a post.
What they're saying: "It's no secret that young people can be more comfortable communicating through text, so why not explore ways to connect them with resources when they're distressed and need help?" Rosenworcel told Axios in a statement.
By the numbers: The Trevor Project, the world's largest suicide prevention and crisis intervention organization for LGBTQ youth, said more than 40% of the 150,000 crisis contacts it received in the 2020 fiscal year were via its text or online instant messaging service.
"We know young people are increasingly relying on texting more often than phone calls, so it's critical that they have access to crisis services on the platforms where they spend most of their time," Sam Brinton, vice president of advocacy and government affairs for The Trevor Project, told Axios in a statement.
Brinton also noted that texting might be a safer option for LGBTQ youth who live in an unsupportive environment and may lack the privacy needed to talk to a counselor on the phone.
"We've also heard from transgender and nonbinary young people who prefer to use our text/chat services to eliminate the potential of being misgendered," Brinton said. "It's critical that we take the specific considerations of marginalized groups into account."
Go deeper