Chauvin verdicts reduce pressure for police reform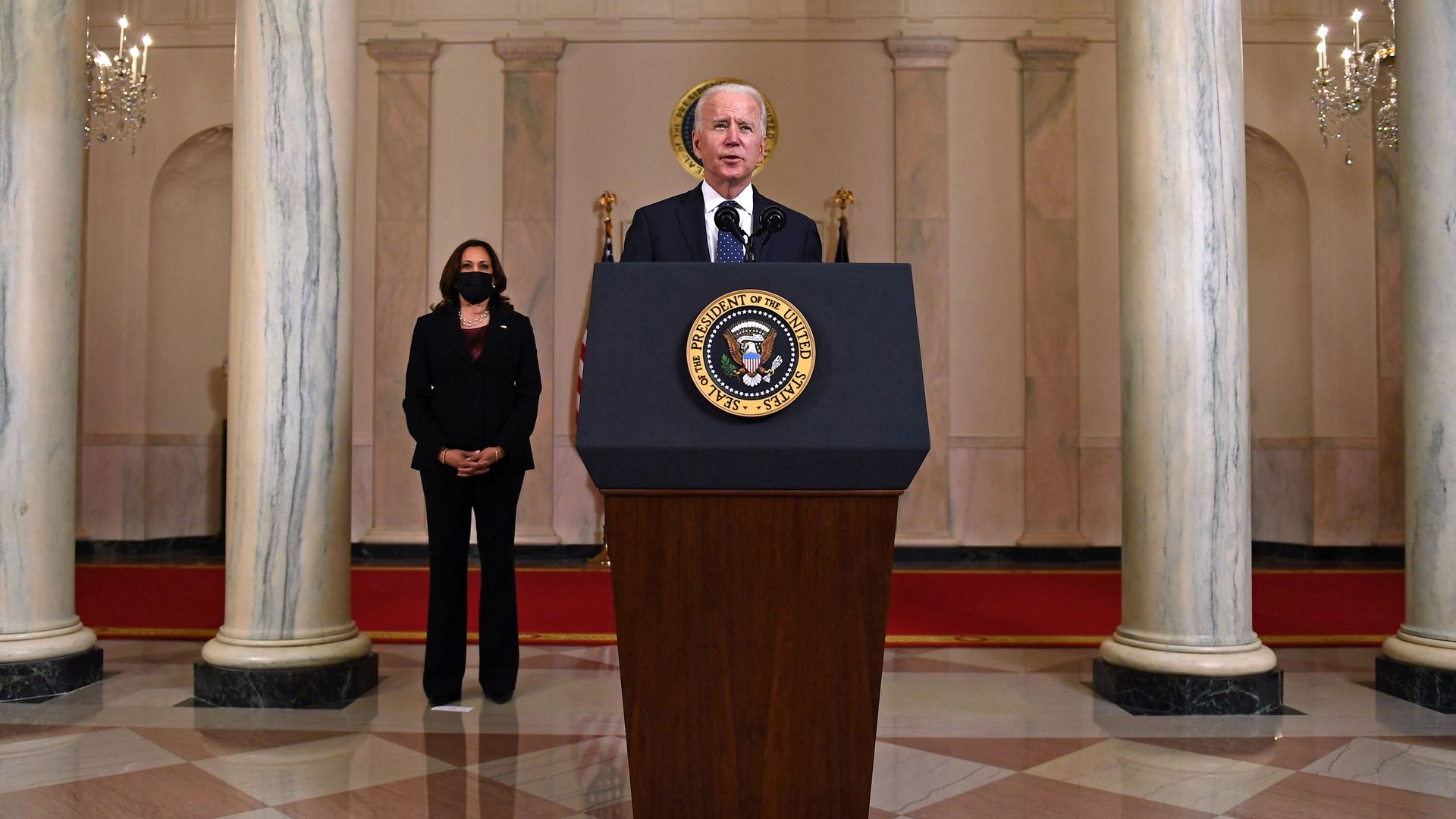 The unanimous guilty verdicts against Derek Chauvin are a huge relief for Washington's political establishment but seem unlikely to rush in the systemic overhauls George Floyd's family and civil rights and progressive leaders seek.
The big picture: An acquittal or mistrial involving the former police officer would have unleashed violence and days more of protests — and added bipartisan pressure to act on criminal and police reform.
Senior Democratic and Republican aides — who would never let their bosses say so on the record — privately told Axios the convictions have lessened pressure for change.
They noted the aftermath of mass shootings: time and again, Congress has failed to pass gun control legislation, and the conversation ultimately moves on until another terrible event occurs.
Yes, but: Several Democrats still hope the conviction brings about broader reforms.
During a huge moment sure to be written about in history books, more than a dozen members of the Congressional Black Caucus huddled around a laptop in the Capitol's Rayburn Reception Room to watch as Judge Peter Cahill announced the jury's decisions in Minnesota.
There was an audible chorus of sighs after each "guilty" verdict was read.
CBC Chairwoman Karen Bass (D-Calif.) and Sen. Tim Scott (R-S.C.), the top leaders pushing for comprehensive police reform, said they hoped attention from the trial would fuel meaningful change.
"It just marks to me the first step, and I'm hoping that, having justice now might serve as a catalyst to really finish the bill," Bass told Axios.
She's recently held conversations with Scott, Sen. Cory Booker (D-N.J.) and a number of House Republicans about a way forward.
"I think the verdict just reinforces that our justice system continues to become more just," said Scott, the only Black Republican in the Senate.
At the White House, President Biden and Vice President Kamala Harris watched the verdict with staff in the Private Dining Room. Along with first lady Jill Biden, they then spoke with Philonise Floyd, George Floyd's brother, from the Oval Office.
The president rescheduled a speech about his infrastructure package, planned for Tuesday evening, to shift to a nationally televised address focused on the country's next chapter.
This month, Biden backed down from his campaign promise to create a police reform commission, saying he would back other legislation wending its way through Congress.
Harris, the nation's first Black and female vice president, urged Congress to enact that reform in light of the behavior triggered by Chauvin's convictions.
"We're going to make something good come out of this tragedy," she said.
Biden called the verdicts "a giant step forward in the march toward justice in America," and said, "No one should be above the law, and today's verdict sends that message. But it's not enough. We can't stop here."
Go deeper