Jimmy Carter leads tributes to "best vice president" Walter Mondale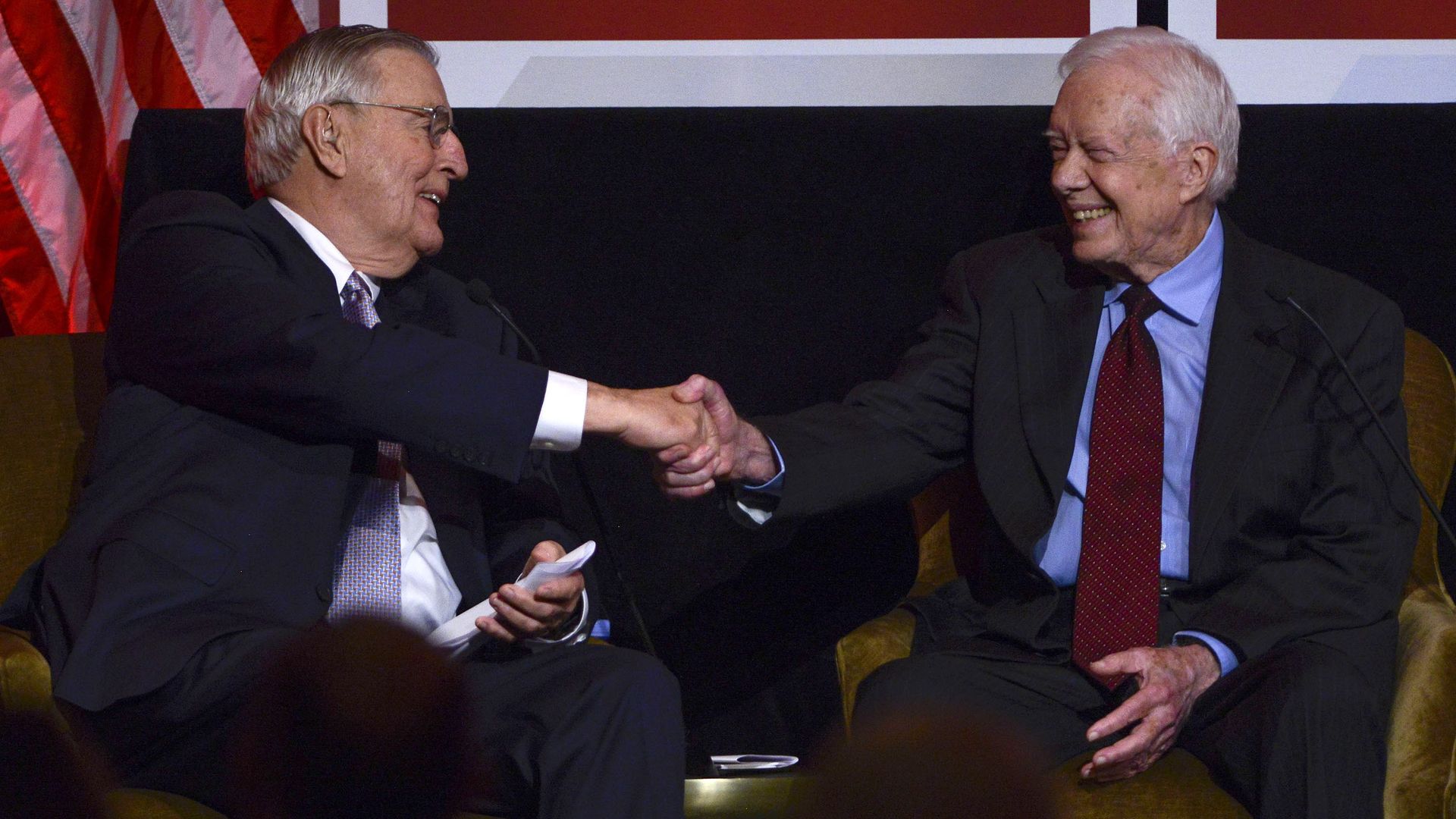 Former President Jimmy Carter on Monday remembered his "dear friend" Walter Mondale, as the "best vice president in our country's history."
The big picture: Carter's tribute was one of many from past presidents and lawmakers from both sides of the political aisle to Mondale, who died on Monday at the age of 93.
What they're saying:
Carter said in a statement that Mondale was an "invaluable partner."
"During our administration, Fritz used his political skill and personal integrity to transform the vice presidency into a dynamic, policy-driving force that had never been seen before and still exists today," he said.
President Biden said in a statement that he and first lady Jill Biden had "great gratitude that we were able to call one of our nation's most dedicated patriots and public servants a dear friend and mentor."
"Jill and I had the opportunity to speak to Fritz and his family over the weekend, to reflect on the years of friendship we shared, and how much we learned from and leaned on each other."
"It was Walter Mondale who defined the vice presidency as a full partnership, and helped provide a model for my service."
— Biden
Vice President Kamala Harris said in an emailed statement the fact Mondale picked a female running mate, former Rep. Geraldine Ferraro (D-N.Y.), when he ran for president in 1984 opened "a new door to the future." 
"I was able to speak with him just a few days ago and thank him for his service and his steadfastness," she added.
Former President Clinton tweeted, "Walter Mondale believed in the power of government to make a positive difference in people's lives, and proved it at every stage of his remarkable career — with deep policy knowledge, a tireless work ethic, and uncommon decency. Hillary and I loved him and will miss him very much."
Sen. Amy Klobuchar (D-Minn.), who was an intern in Mondale's office when she was a college student in the 1970s, said in an emailed statement he taught her about "actually getting things done for people."
Klobuchar said Mondale was "a true public servant" in every sense of the word. "He was someone who always treated people with dignity and respect, and I was privileged to call him my friend and mentor," she added.
Sen. Lindsey Graham (R-S.C.) said in a Twitter post that Mondale "served his country with great distinction and was passionate about his causes."
Sen. Chuck Grassley (R-Iowa) tweeted that Mondale was a "gr8 senator & Vice President"
"He was very successful politically except 1 loss to Reagan in 84 Mondale spoke the values of Minnesota & loved his state like I do Iowa," he added.
Former Sen. Gary Hart (D-Colo.), who narrowly lost the Democratic presidential nomination to Mondale in 1984, said in an emailed statement that Mondale was "a statesman before he was a politician," representing the "best qualities of the Democratic Party."
"We were competitors once, but we were friends always," he added.
Rep. Ilhan Omar (D-Minn.) called Mondale "a giant in Minnesota politics," a "champion of civil rights," an "advocate for peace, fair housing, women's rights and consumer protection for the better part of five decades in politics."
Go deeper: Read: Former Vice President Walter Mondale's last message
Editor's note: This article has been updated with new details throughout.
Go deeper