Germany's conservative bloc backs Laschet ahead of first post-Merkel election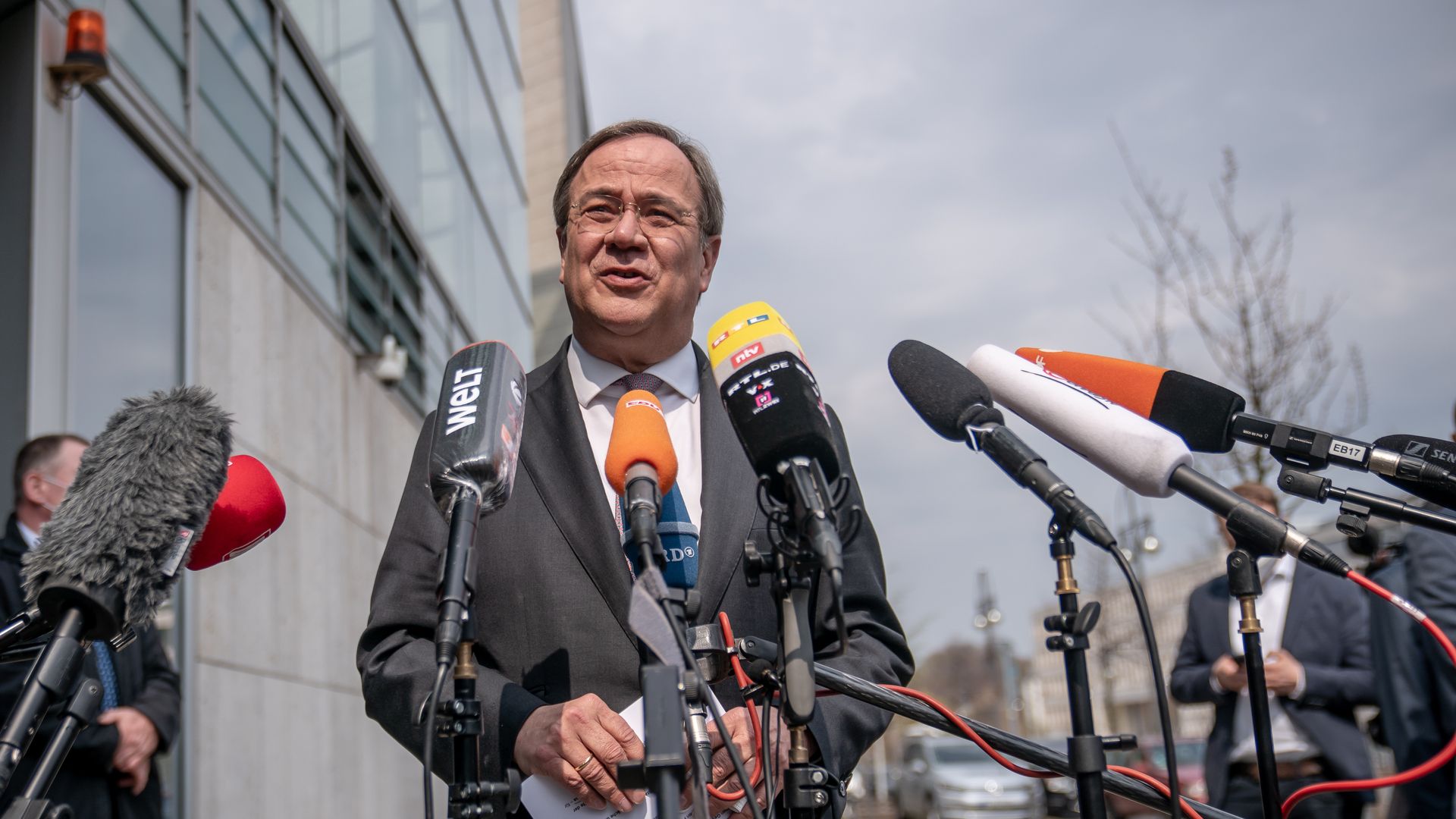 North Rhine-Westphalia Governor Armin Laschet will lead Germany's center-right bloc into September's election after his rival Markus Söder conceded a leadership race on Monday.
Why it matters: The election will be the first in which Angela Merkel will not lead the Christian Democratic Union since 2002. She has been chancellor for 16 years, representing the most stable reign of any G7 leader this century.
The state of play: Germany's conservatives — made up of the Christian Democratic Union (CDU) and its sister party in Bavaria, the Christian Social Union (CSU) — have seen their polling numbers slide amid a slow vaccine rollout and corruption scandals.
General election polling had favored the more media-savvy Söder, the premier of Bavaria, over the Merkel ally Laschet.
But after a weeks-long internal feud, Söder acknowledged on Tuesday morining: "The die is cast. Armin Laschet will be the chancellor candidate."
The big picture: Like Merkel, Laschet is seen as a champion of German industry who backs close economic ties with China and Russia, but "the tide is turning" on those issues, says Sudha David-Wilp of the German Marshall Fund.
Laschet has come under scrutiny for his positions on allowing Huawei into Germany's 5G networks and maintaining good relations with Russian President Vladimir Putin.
"We have to look at what he said in the past as a reflection of his role as the governor of a state with lots of business interests with China and Russia, but now he's in a new role," David-Wilp says.
"He'll still have to support German business, but voters in Germany are starting to see Russia and China in a new light."
Go deeper: Feud on center-right could help Greens succeed Merkel
Go deeper