Updated Apr 18, 2021 -

World
Skripal poisoning suspects linked to Czech blast, as country expels 18 Russians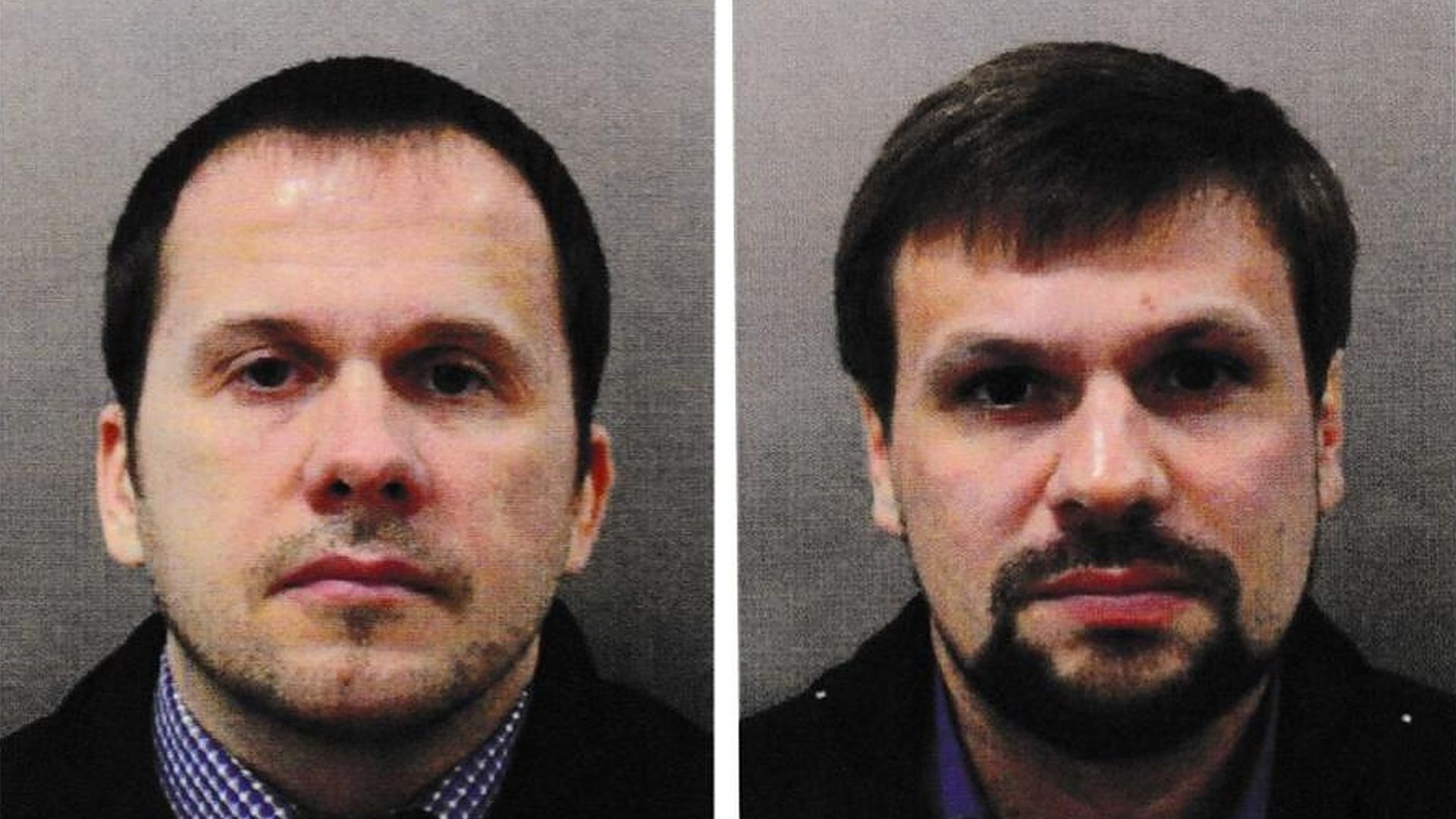 Czech police on Saturday connected two Russian men suspected of carrying out a poisoning attack in Salisbury, England, with a deadly ammunition depot explosion southeast of the capital, Prague, per Reuters.
Driving the news: Czech officials announced Saturday they're expelling 18 Russian diplomats they accuse of being involved in the blast in Vrbětice, AP notes. Czech police said later they're searching for two men carrying several passports — including two with the names Alexander Petrov and Ruslan Boshirov.
The Czech organized crime squad said these two men suspected of the 2018 Salisbury attack "were present on Czech territory" when the Vrbetice depot exploded and that they also used "Tajik and Moldovan identities," per the Guardian.
The big picture: Two people died in the explosion in 2014 and hundreds of others were evacuated.
Czech officials said "unequivocal evidence" showed the 18 diplomats were spies from the Russian GRU and SVR intelligence services involved in the blast in an eastern town of Vrbětice. They were given 48 hours to leave the Czech Republic.
"[T]he expulsions and allegations have triggered its biggest row with Russia since the end of the communist era in 1989," Reuters noted.
What they're saying: "The Czech Republic is a sovereign state and must adequately react to those unprecedented findings," Prime Minister Andrej Babiš said, per AP.
"The explosion led to huge material damage and posed a serious threat to the lives of many local people, but above all it killed two of our fellow citizens, fathers of families," he added.
The U.S. "stands with its steadfast ally, the Czech Republic," said Jennifer Bachus, chargé d'affaires at the U.S. Embassy in Prague.
"We appreciate their significant action to impose costs on Russia for its dangerous actions on Czech soil," she added.
The other side: Russian Foreign Ministry spokesperson Maria Zakharova said, "Prague is well aware of what will follow such tricks," AP reported, citing the RIA Novosti news agency.
Russia also denies any involvement in the Salisbury poisonings of Sergei Skripal, a Russian former double agent, his daughter and a British woman who died following exposure to Novichok, a military-grade nerve agent used in the attack.
Worth noting: The U.S. said this week it is sanctioning dozens of Russian officials and entities, expelling 10 diplomats from the U.S., and setting new restrictions on buying Russian sovereign debt in response to the massive SolarWinds hack of federal agencies and interference in the 2020 election.
Russia responded Friday, saying it will expel 10 U.S. diplomats and add eight current and former U.S. officials to its no-entry list.
Flashback: How the Skripal poisoning unfolded
Editor's note: This article has been updated with details of the suspects.
Go deeper