Bernie Madoff dies in prison at 82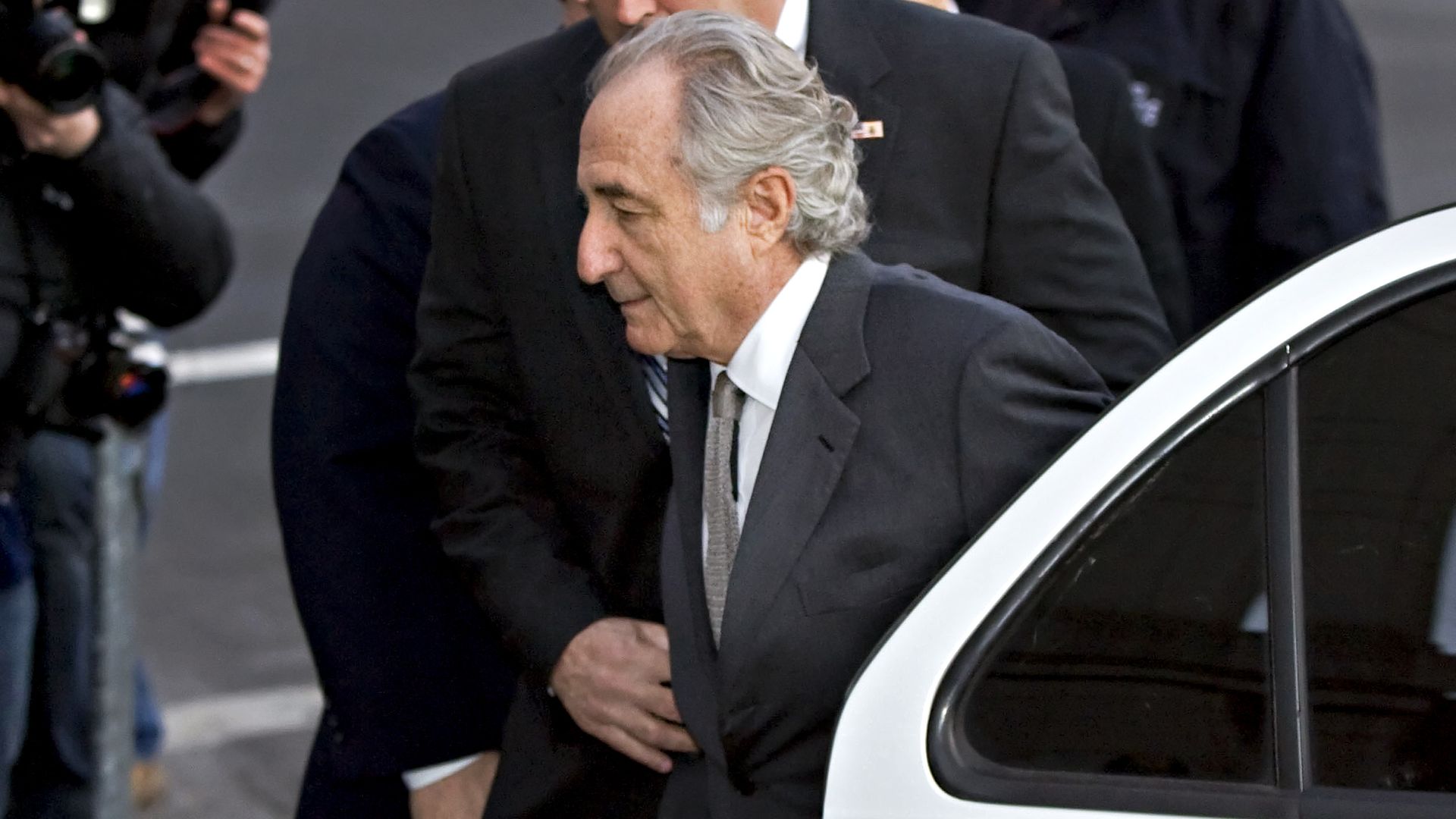 Bernie Madoff, a former investor sentenced to 150 years in prison for perpetrating the largest Ponzi scheme in U.S. history, died Wednesday at age 82, AP reports.
The big picture: Madoff pleaded guilty in 2009 to a multibillion-dollar scheme that investigators said began in the 1970s and defrauded as many as 37,000 people in 136 countries — including high-profile victims like Steven Spielberg, former New York Mets owner Fred Wilpon and actor Kevin Bacon, according to CNBC.
Our thought bubble, via Axios' Felix Salmon: Madoff, a former chairman of Nasdaq, was enabled in his crimes by top-tier auditors and financial institutions such as JPMorgan.
The collapse of his Ponzi scheme caused massive losses for investors, most of which were ultimately recovered.
But the damage to trust in finance and Wall Street more generally is ongoing to this day, and is partly responsible for the popularity of Bitcoin and other forms of decentralized finance.
Background: Madoff's investment firm, Bernard L. Madoff Investment Securities, took billions of dollars from clients and spent it on family and friends, cheating many of his victims out of their life savings. He then took in money from the investors to cover up his fraud.
In 2008, Madoff admitted the Ponzi scheme to his sons, who turned him in to federal authorities the next day.
At his sentencing in 2009, Madoff apologized and acknowledged that is "responsible for a great deal of suffering and pain. ... I live in a tormented state now, knowing of all the pain and suffering that I have created."
Madoff sought medical release from his life sentence last February after being diagnosed with a series of terminal conditions, including end-stage renal disease, hypertension, cardiovascular disease and hyperparathyroidism, according to the Post.
His medical records indicated at the time he had nearly 18 months left to live.
Madoff been moved to palliative care within the Federal Medical Center prison in North Carolina. The Bureau of Prisons rejected a previous application for compassionate release in December 2019, saying his release "would minimize the severity of his offense."
Go deeper