Scoop: DraftKings readies major media push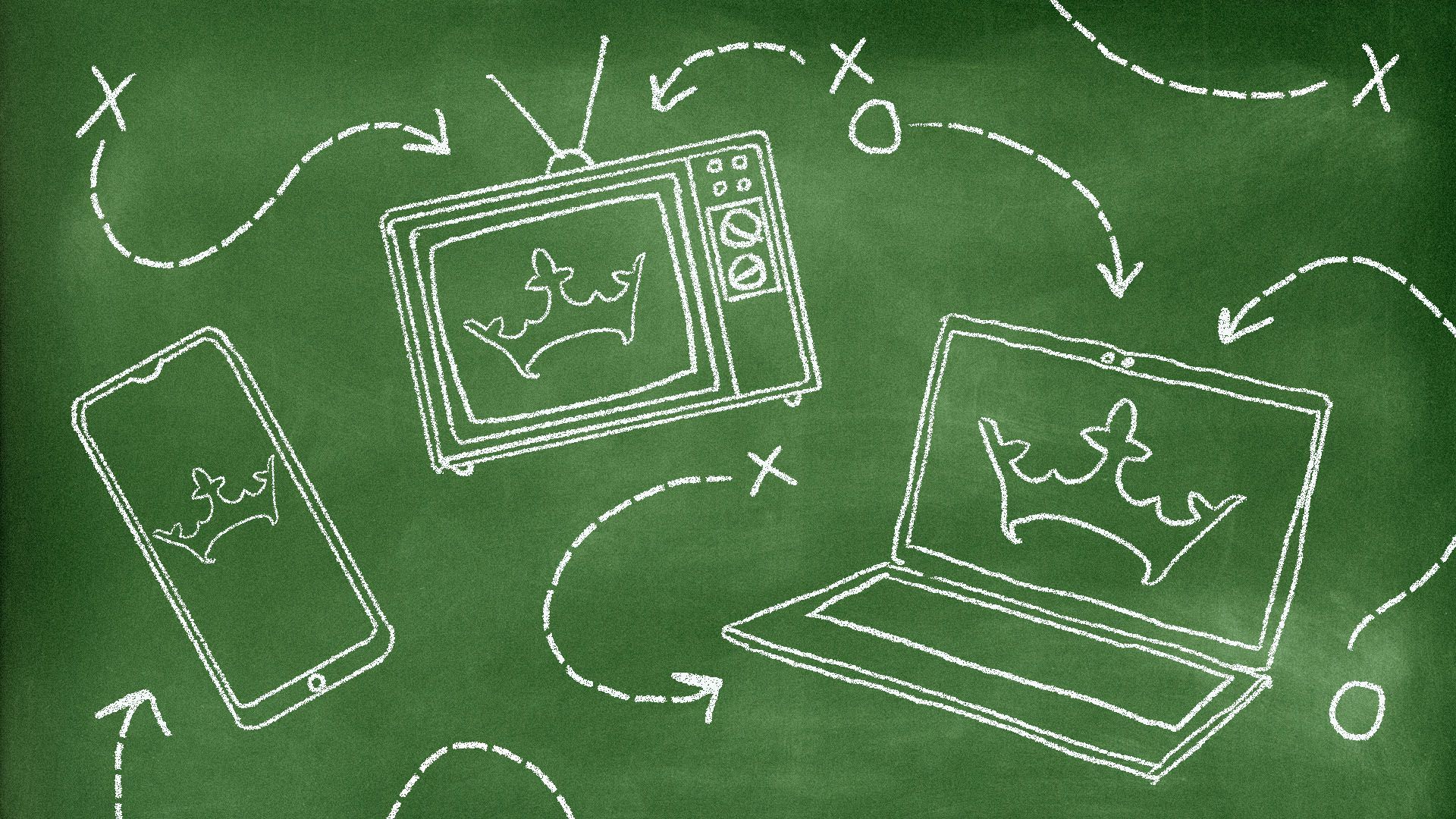 DraftKings has hired Brian Angiolet, former senior vice president and chief business officer at Verizon, as the company's first-ever chief media officer.
Details: Angiolet will lead a team responsible for evaluating potential media acquisitions and content efforts, sources tell Axios. The team will help vet future deals and content partnerships that the company will use to help drive customer referrals to its sportsbook.
DraftKings has talked about a potential deal with Action Network, the digital sports betting publisher, two sources familiar with the conversations tell Axios.
Action Network, which sources say is profitable, has been approached by several sportsbooks about a deal. One source says that the sale process for the venture-backed company has accelerated in recent weeks, given the momentum around the betting market.
Driving the news: DraftKings two weeks ago announced the acquisition of VSiN (Vegas Stats & Information Network), a sports betting television and streaming channel. VSiN, sources say, is the catalyst for more deals to come.
A source familiar with the transaction says the deal was valued around $100 million, mostly in stock.
"Obviously, when we made the decision to sell the business to DraftKings, they were committed to content and media," says sports tech VC Wayne Kimmel. Kimmel's SeventySix Capital was the sole venture investor of VSiN.
How it works: For sportsbook operators like DraftKings, as well as rival FanDuel and casinos like MGM, Caesars and Wynn, owning content could be a cheaper long-term vehicle for accruing customers than paid marketing.
DraftKings spent $475 million on sales and marketing last year. The company has reported 1.5 million monthly unique paying customers.
Between the lines: Most sportsbooks have already begun striking partnerships with media companies, but the deal frenzy is just getting started.
DraftKings inked several high-profile deals with sports publishers over the past few years to test the waters around content before starting to build its own operation. The most notable partnership has been with Bleacher Report, which has long been rumored as a potential acquisition target for the company.
Sources say Turner Sports, the parent to Bleacher Report, does not have plans to sell Bleacher Report at this moment.
The big picture: Sports betting has helped to boost dozens of small sports media upstarts that are ripe for future acquisitions.
Companies often noted as potential acquisition targets include Blue Wire Podcasts, Front Office Sports, Wave.TV, Overtime, OutKick Media and SportsGrid.
Other bigger sports media platforms, like Minute Media's FanSided and even Yahoo Sports, could also one day end up in the hands of a sportsbook, some speculate.
DraftKings most recently took part in an investment round for MeadowLark, the new media company from ESPN veterans John Skipper and Dan Le Batard.
DraftKing's biggest rival FanDuel has also inked numerous partnerships with content providers and is also eyeing potential deals.
"Leading operators, in addition to DraftKings, such as FanDuel, BetMGM, Caesars, WynnBet, PointsBet and more…they're all looking at (media) assets," says David VanEgmond, Founder & CEO Bettor Capital, an investment fund.
VanEgmond previously was at Barstool and worked on the company's deal with Penn National, a casino operator. Before that, he was an executive at FanDuel, and was there during the company's merger attempt with DraftKings.
"There are a lot of emerging digital media assets, in the $50-250+ million equity range, that are likely acquisition targets of the operators to own more media content and subsequently lower their cost of customer acquisition as opposed to buying advertising," VanEgmond adds.
Flashback: Last year, Penn National agreed to buy a 36% stake in Barstool Sports for $163 million, which valued Barstool at $450 million.
Penn National's stock has fared much better throughout the pandemic than most of its peers in the casino business. Its success has pushed casino operators to consider media investments, specifically investments in podcasts.
Go deeper: Casinos throw cash at sports betting media
Go deeper