Democrats, led by Biden, are aiming big on health care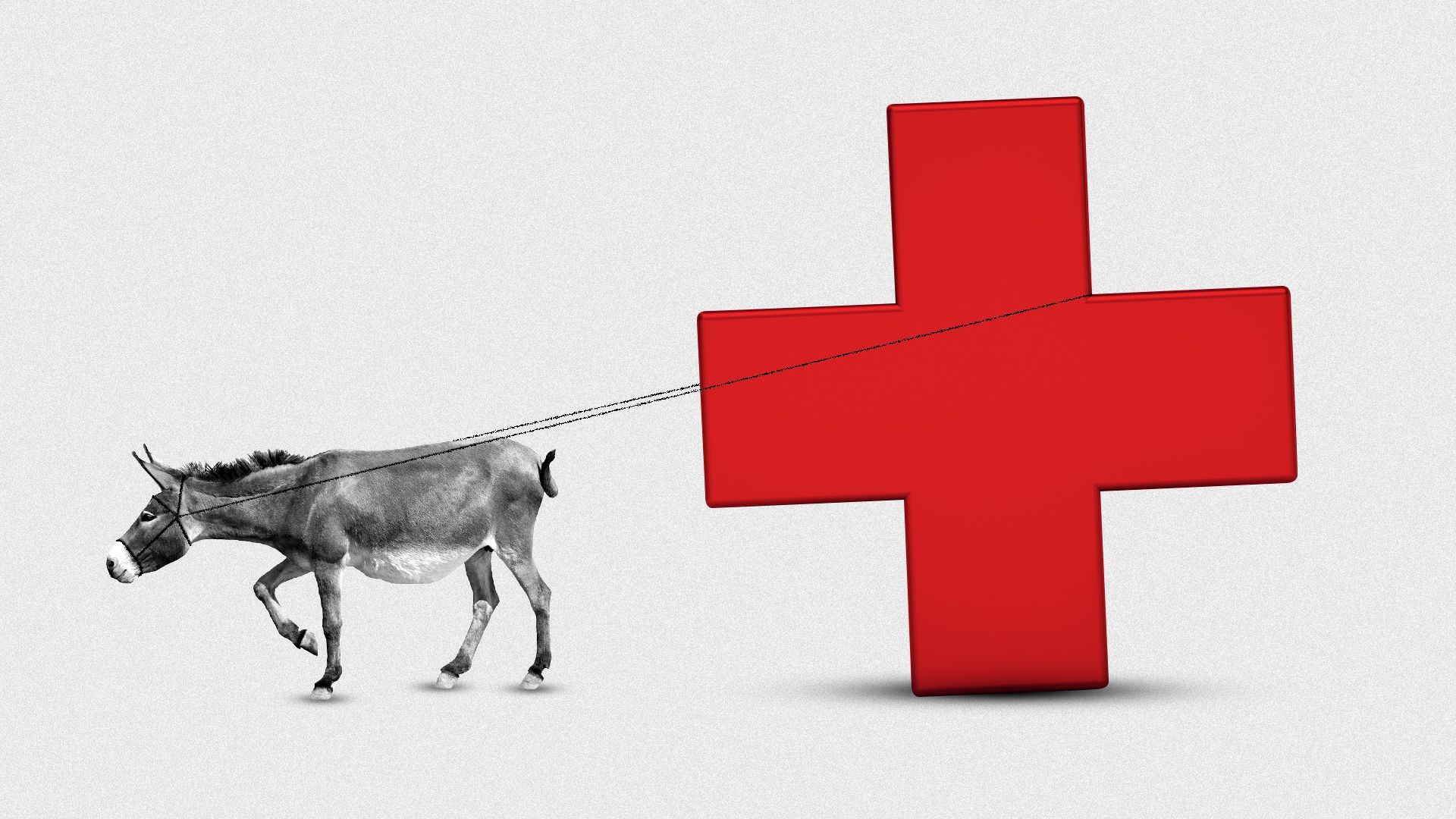 Democrats are exploring adding a huge array of health policies to upcoming spending legislation, ranging from further enhancing Affordable Care Act subsidies to allowing Medicare to negotiate prescription drug prices.
Why it matters: The next few months may give Democrats the opportunity to walk the walk after campaigning extensively on health care for years, and to plug some of the glaring holes in the system that were exposed by the pandemic.
What they're saying: "It's not just a moment, it's the opportunity to address an undeniable set of problems that have been highlighted to a great degree during the COVID pandemic crisis," Democratic health strategist Chris Jennings said.
Where it stands: President Biden is expected to release his blueprint for a giant package of family-related policies, including health care, in the coming weeks.
Congress will then have to figure out what to include in actual legislation, with their razor-thin vote margins.
That's no easy task; the 2020 presidential primary was defined largely by the candidates' disagreements on health policy, reflective of the party's divisions.
Plus, the policies being considered together would likely cost hundreds of billions — if not trillions — of dollars, and some would be viciously opposed by different health industry groups.
Details: House Speaker Nancy Pelosi is pushing the White House to prioritize a permanent expansion of the ACA's premium subsidies, the Washington Post reports. The last coronavirus package expanded them through 2022.
Additional ACA changes are also being explored, such as tying subsidies to more generous marketplace plans — an idea Biden supported in the primary.
Some Democrats also want to find a way to provide health insurance to poor adults in states that haven't expanded Medicaid, as Politico first reported.
Biden has already proposed including $400 billion in his infrastructure plan to help provide seniors medical care at home, the WSJ reports.
More controversial moves are also on the table, including lowering the Medicare eligibility age — which Sen. Bernie Sanders is pushing for, per the Post. Hospitals strongly oppose that change.
Sanders is also pressing to expand Medicare benefits to include dental, vision and hearing care.
"It is fair to say there are differences of opinion as to how we prioritize health-care needs," he told the Post.
Between the lines: Democrats want to help pay for these coverage expansions by lowering prescription drug prices, including by letting Medicare negotiate prices.
But that would meet fierce resistance from the pharmaceutical industry, which had an incredibly strong track record of lobbying wins even before it developed coronavirus vaccines.
What we're watching: Passing any combination of the above policies would be a big deal.
But if Democrats attempt to add a public option into the mix, or remove the firewall between employer coverage and the ACA marketplaces — both of which Biden supported in the primary — the fight with the industry would go nuclear.
Go deeper