Rep. Gaetz declares he's "not going anywhere" amid sex trafficking probe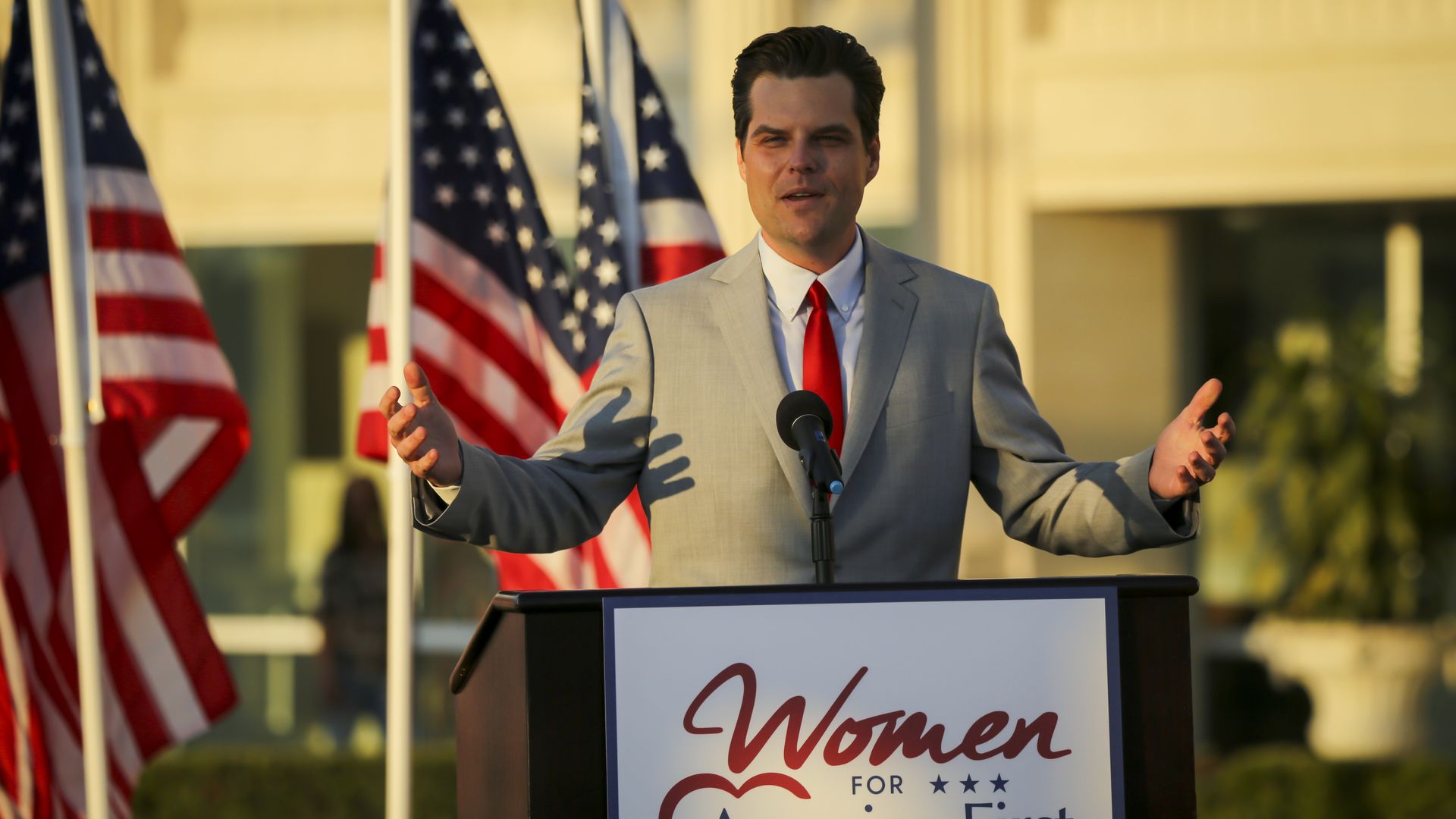 Rep. Matt Gaetz (R-Fla.) doubled down Friday night, saying he's not "going anywhere," and vowing, "I have not yet begun to fight," amid a federal investigation into sex trafficking allegations.
What he's saying: "I'm built for the battle, and I'm not going anywhere," Gaetz, who denies the allegations, said during a Women for America First event at the Trump National Doral Miami resort.
Gaetz has not been charged with any crimes and has repeatedly denied allegations of being sexually involved with a 17-year-old and claims that he shared naked images of women with other Congress members.
He told Axios in an interview last month that the investigation is "rooted in an extortion effort against my family for $25 million."
"The smears against me range from distortions of my personal life, to wild — and I mean wild — conspiracy theories," Gaetz said Friday.
"I won't be intimidated by the lying media, and I won't be extorted by a former DOJ official and the crooks he is working with. The truth will prevail," he added, speaking to The Women for America First group.
The big picture: The House Ethics Committee announced earlier Friday it has launched a probe into the Florida congressman.
The panel said it is aware of allegations that Gaetz "may have engaged in sexual misconduct and/or illicit drug use, shared inappropriate images or videos on the House floor, misused state identification records, converted campaign funds to personal use, and/or accepted a bribe, improper gratuity, or impermissible gift."
Go deeper: GOP Rep. Adam Kinzinger calls for Rep. Matt Gaetz to resign
Go deeper