House Ethics panel opens investigation into Gaetz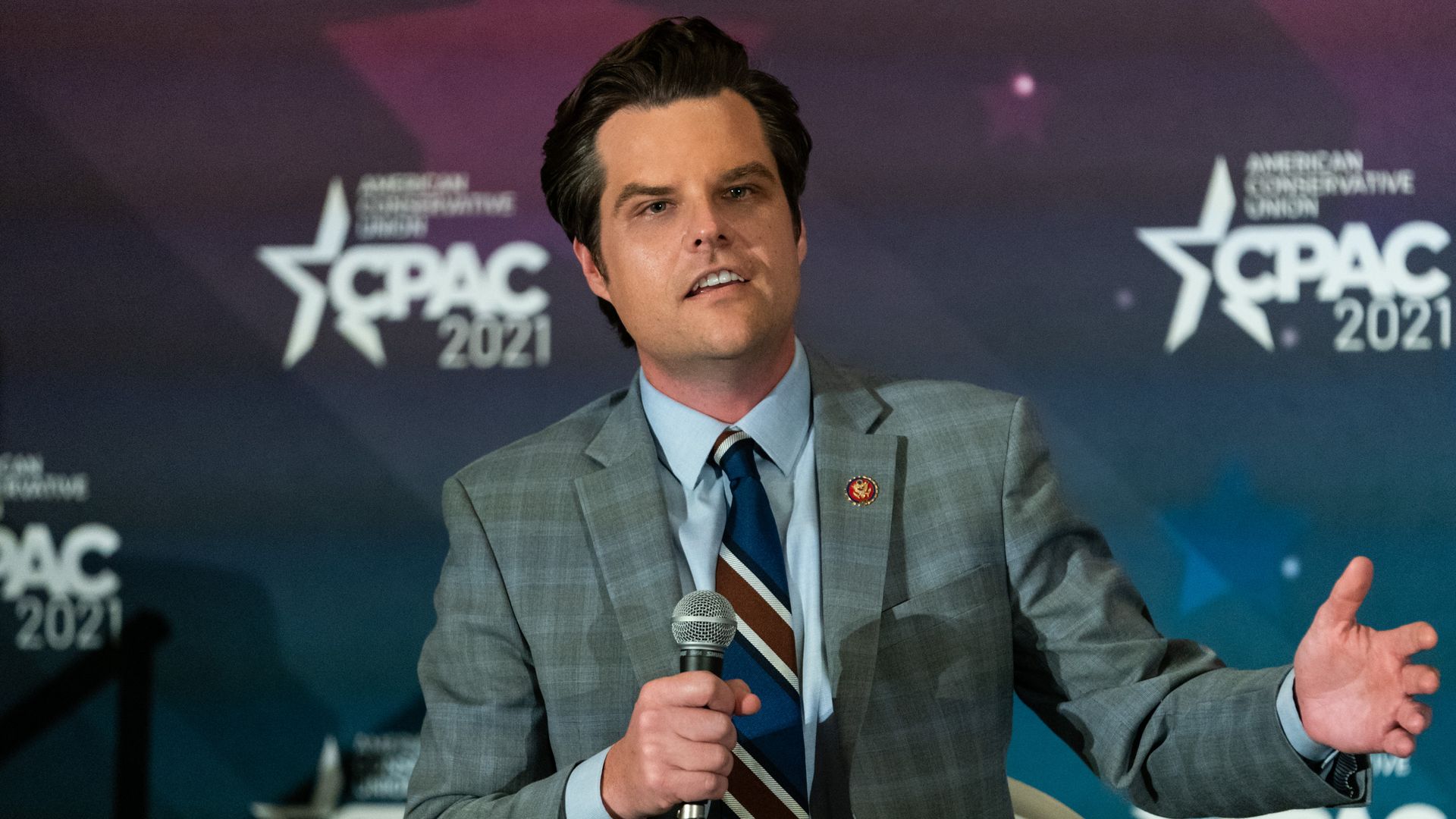 The House Ethics Committee announced Friday it has launched an investigation into Rep. Matt Gaetz (R-Fla.), who is facing a federal probe into sex trafficking allegations.
Driving the news: The panel said it is aware of allegations that Gaetz "may have engaged in sexual misconduct and/or illicit drug use, shared inappropriate images or videos on the House floor, misused state identification records, converted campaign funds to personal use, and/or accepted a bribe, improper gratuity, or impermissible gift."
Gaetz has denied allegations of being sexually involved with a 17-year-old, telling Axios in an interview last month that the investigation is "rooted in an extortion effort against my family for $25 million."
Gaetz has also denied claims he shared naked images of women to other Congress members.
What they're saying: The panel said in a statement it has "begun an investigation and will gather additional information regarding" the allegations.
"The Committee notes that the mere fact that it is investigating these allegations, and publicly disclosing its review, does not itself indicate that any violation has occurred, or reflect any judgment on behalf of the Committee."
Gaetz's office said in a statement to CNBC: "Once again, the office will reiterate, these allegations are blatantly false and have not been validated by a single human being willing to put their name behind them."
The big picture: The House panel also said it opened an investigation into Rep. Tom Reed (R-N.Y.), who was accused of sexual misconduct.
Nicolette Davis, a former lobbyist, told the Washington Post in March that Reed unhooked her bra without her consent at a Minneapolis bar in 2017.
Reed declined to comment to the Post at the time beyond issuing a statement that said, "This account of my actions is not accurate."
He later apologized to his family and announced he won't seek reelection in 2022.
Go deeper: GOP Rep. Adam Kinzinger calls for Rep. Matt Gaetz to resign
Go deeper