Updated Apr 7, 2021 -

World
Brazil's daily COVID death toll tops 4,000 for first time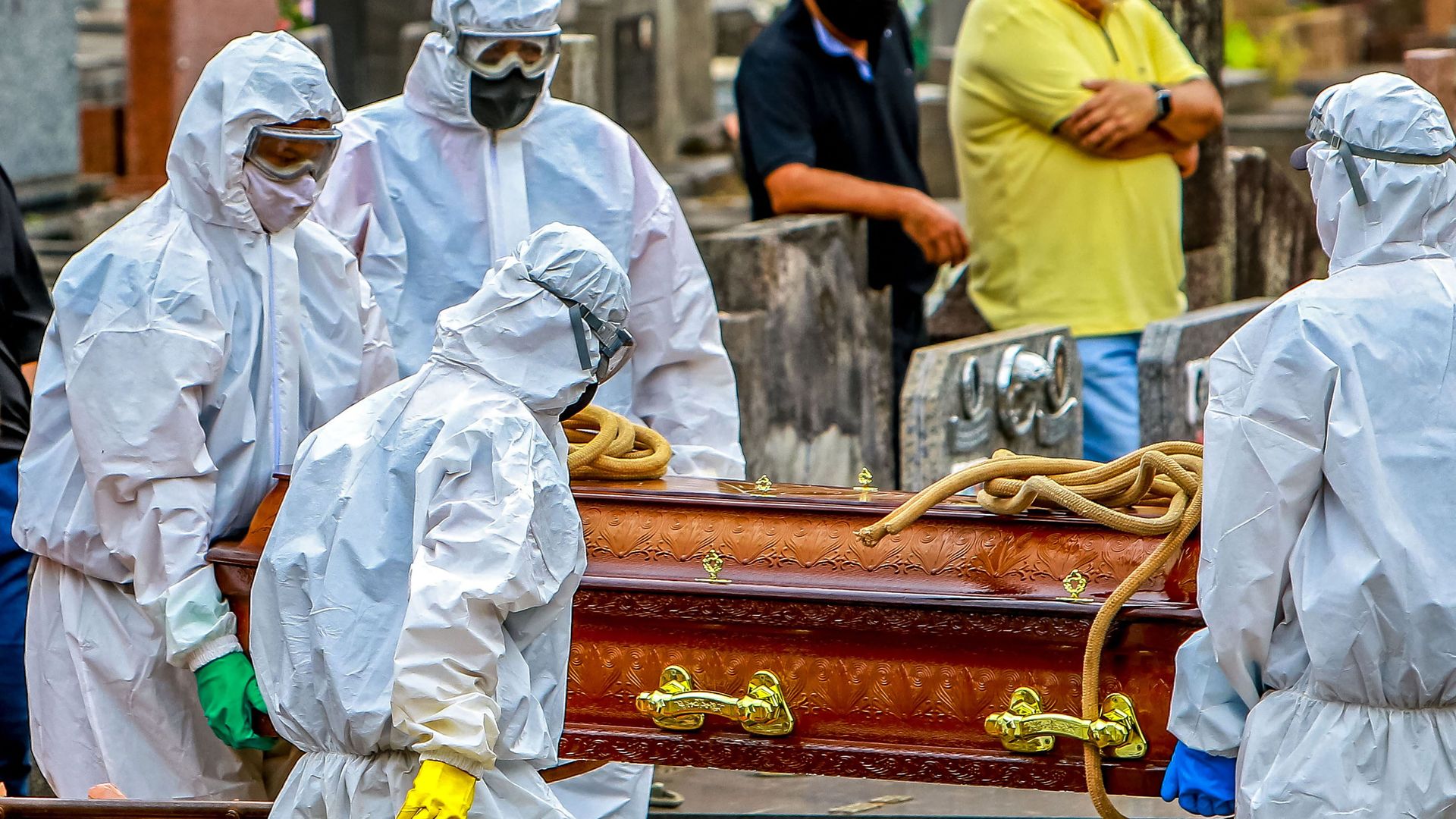 Brazil confirmed more than 4,000 COVID-19 deaths in a 24-hour period for the first time on Tuesday, the health ministry announced.
Why it matters: A surge in cases and deaths, driven in part by relaxed mitigation measures and a more contagious local variant, has overwhelmed the country's health system.
Coronavirus patients are occupying more than 90% of ICU beds in most Brazilian states.
Of note: Brazil is on track to overtake the U.S. record for the seven-day average for COVID-19 deaths set in January (3,285), possibly by next week, the Institute for Health Metrics and Evaluation at the University of Washington predicts.
Brazilian doctor Miguel Nicolelis, a professor at Duke University who's tracking the virus, compared Brazil's healthcare system situation to "a nuclear reactor that has set off a chain reaction and is out of control, per Reuters.
"It's a biological Fukushima," Nicolelis said.
By the numbers: Brazil's health ministry said Tuesday it confirmed 4,195 COVID-19 deaths and 86,979 new cases in the last 24 hour-period.
The country has recorded more than 336,940 deaths and 13.1 million cases since the pandemic began. Only the U.S. has confirmed more deaths and cases.
Sao Paulo state, Brazil's most populous, recorded nearly 1,400 deaths on Tuesday. Health officials said the figure was so high partly because of delayed counting due to the Easter holiday, AP noted.
The big picture: Tuesday's grim record comes as President Jair Bolsonaro continues to push back against social distancing, masks and lockdowns.
"The fact is the anti-lockdown narrative of President Jair Bolsonaro has won," Miguel Lago, executive director of Brazil's Institute for Health Policy Students, told AP.
"Mayors and governors are politically prohibited from beefing up social distancing policies because they know supporters of the president, including business leaders, will sabotage it."
Economy Minister Paulo Guedes said Tuesday that he believes Brazil "could be back to business" in two to three months, per Reuters.
The country's inoculation effort has also been slowed by supply shortages. "The country dragged its feet last year as the world raced to secure vaccines, slowing the launch of a national immunization program," Reuters noted.
Go deeper: Brazil becomes 2nd country to surpass 300,000 coronavirus deaths
Editor's note: This article has been updated with more details, including the Institute for Health Metrics and Evaluation's forecast.
Go deeper