Boehner book excerpt accuses Trump of inciting "bloody insurrection"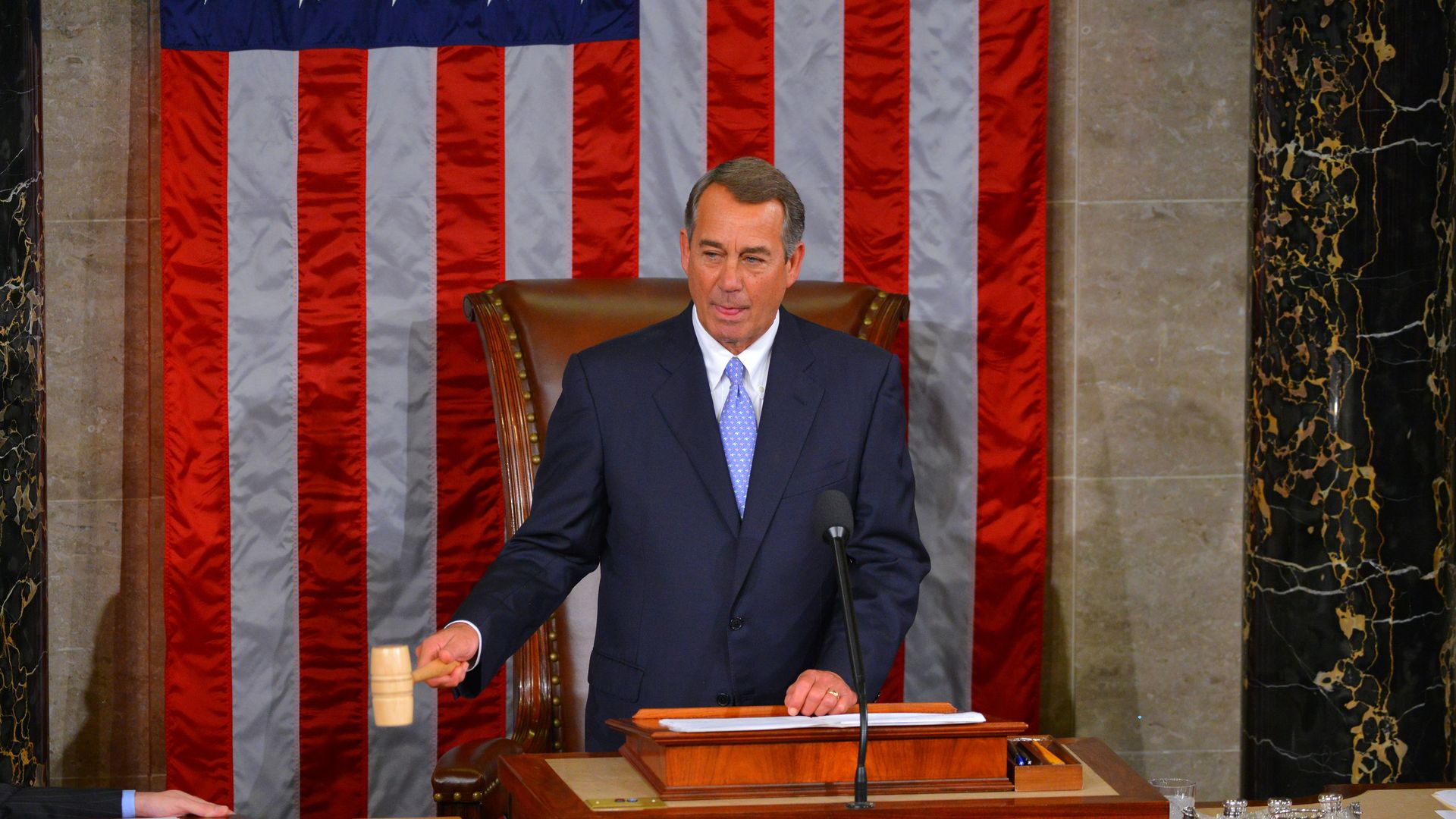 Former House Speaker John Boehner continued his attacks on the modern Republican Party in a new book excerpt obtained the New York Times, accusing former President Trump of inciting "that bloody insurrection for nothing more than selfish reasons."
Why it matters: Boehner joins Senate Minority Leader Mitch McConnell (R-Ky.), House GOP Conference Chair Liz Cheney (R-Wyo.) and other current or former members of the GOP establishment who have directly accused the most popular Republican in the party of inciting the violence of Jan. 6.
What they're saying: "I'll admit I wasn't prepared for what came after the election — Trump refusing to accept the results and stoking the flames of conspiracy that turned into violence in the seat of our democracy, the building over which I once presided," Boehner writes, according to the Times.
"Watching it was scary, and sad. It should have been a wake-up call for a return to Republican sanity. ... Whatever they end up doing, or not doing, none of it will compare to one of the lowest points of American democracy that we lived through in January 2021."
Boehner goes on to write that Trump "incited that bloody insurrection for nothing more than selfish reasons, perpetuated by the bullshit he'd been shoveling since he lost a fair election the previous November. ... He claimed voter fraud without any evidence, and repeated those claims, taking advantage of the trust placed in him by his supporters and ultimately betraying that trust."
In a nod to what he has famously labeled Trump ally Rep. Jim Jordan (R-Ohio), Boehner addresses members of Congress involved in pushing Trump's false claims about the election: "Some of the people involved did not surprise me in the least. The legislative terrorism that I'd witnessed as speaker had now encouraged actual terrorism."
The big picture: Boehner, who retired from Congress in 2015, has routinely been critical of Trump over the past several years, but the comments in his book — titled "On the House: A Washington Memoir" — take it a step further.
The former speaker has also used the forthcoming book to tear into right-wing media and what he calls the GOP's "crazy caucus," targeting Sen. Ted Cruz, Fox News' Sean Hannity, and former Rep. Michele Bachmann, among others.
Boehner went off script while recording the audio version of the memoir, using expletives and asides not in the book — including saying at one point, "Oh, and Ted Cruz, go f**k yourself."
The other side: Trump spokesman Jason Miller told the Times that Boehner is a "Swamp Creature" who favors "Communist China." In a follow-up statement to the Times by Trump himself, the former president said: "Was [Boehner] drinking when he made this statement? Just another RINO who couldn't do the job!"
Go deeper: John Boehner unloads on Republican "crazy caucus" in new book excerpt
Go deeper