Big Tech's big D.C threat: the FTC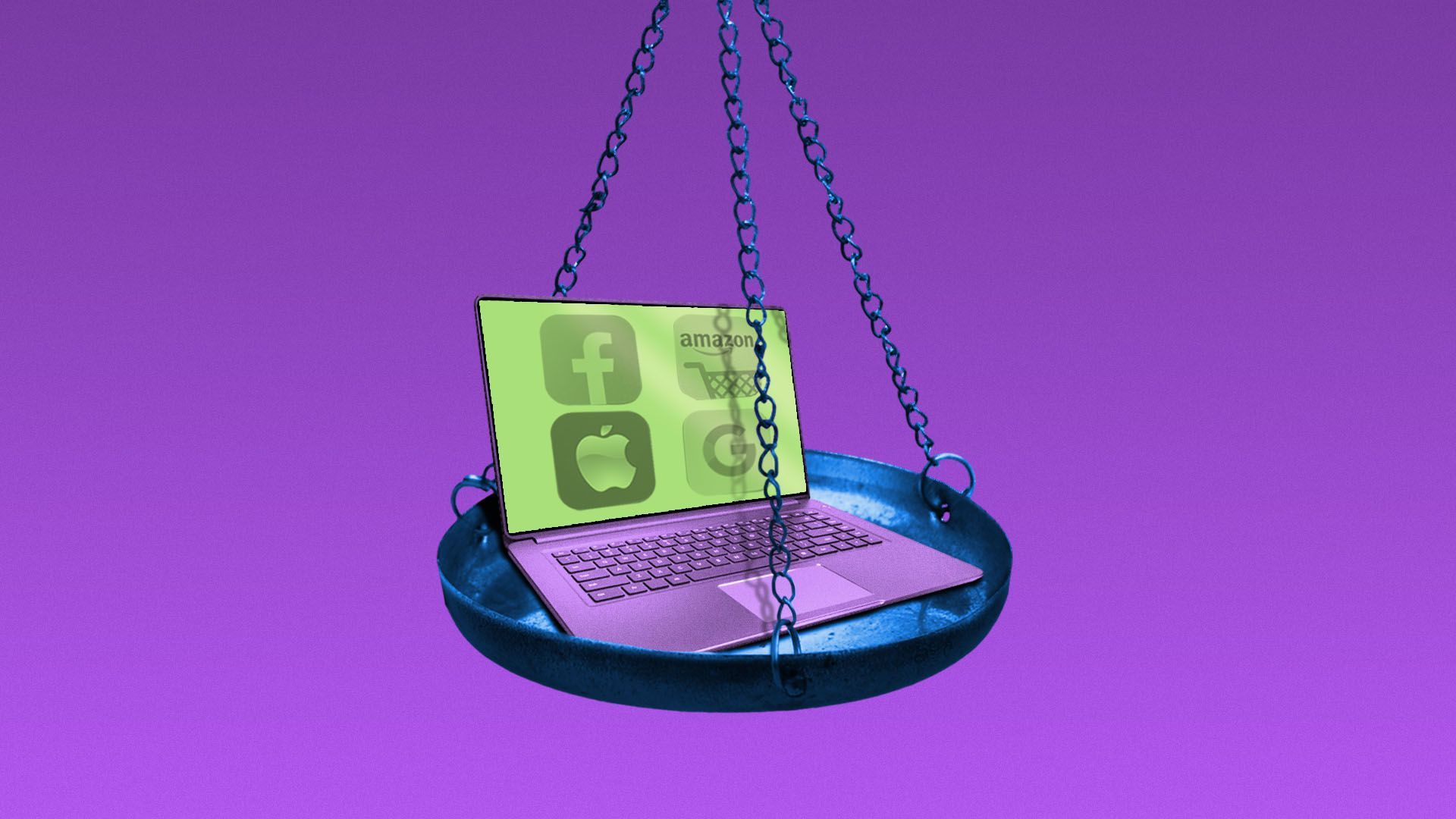 While antitrust lawsuits and Capitol Hill hearings get headlines, Big Tech's biggest threat in Washington may come from the Federal Trade Commission.
Why it matters: The FTC is gearing up to flex its muscle, by both enforcing current rules and trying to draft new ones. And it may be able do so relatively quickly.
Driving the news: Acting FTC chair Rebecca Kelly Slaughter has created a new "rulemaking group" within the agency's general counsel's office, positioning the FTC to draft new rules cracking down on anti-competitive corporate behavior.
The move signals that Slaughter aims to be more aggressive than her recent predecessors, who focused on consumer protection issues like fraud.
It's also a signal to the Biden administration — which hasn't nominated a permanent FTC chair yet — that if Slaughter gets the gig, she's open to testing all the agency's legal authority to keep Big Tech in check.
FTC rulemakings could apply to multiple companies at once. For the platform companies, potential regulations could focus on app stores, data security and transparency in algorithms.
Big Tech can also expect the FTC, which has the power to police companies' "unfair and deceptive" practices, to take more aggressive enforcement actions under the Biden administration, including lawsuits.
Slaughter has suggested the FTC's recent settlements didn't go far enough, and she argues that executives should be held personally liable for violations.
She criticized the agency's $5 billion fine against Facebook in 2019, stemming from the Cambridge Analytica data leak, saying it was too small and that Facebook and CEO Mark Zuckerberg should have been referred to the Justice Department for litigation.
Yes, but: The FTC is a relatively small agency with limited resources.
New rulemaking is a cumbersome process, and there are chances for stakeholders to slow it down even further. Congress added some speed bumps to the FTC's processes in the 1970s, as lawmakers believed it was overstepping its bounds with moves like trying to ban some children's TV advertising.
Rulemakings are used sparingly on relatively narrow issues or when directed by Congress.
Expanding the use of its rulemaking authority would be new ground for the FTC, and there's no guarantee it will work.
Antitrust suits don't always work out, either. The agency last week abandoned its 4-year-long case accusing Qualcomm of using its dominance to squash competition. Slaughter said she still believes Qualcomm broke antitrust laws, but that the FTC faced "significant headwinds."
Still, even failure to enact new rules could help the FTC argue that it doesn't have the tools it needs and persuade Congress to give it more authority.
What to watch: President Biden recently nominated Lina Khan for FTC commissioner. Khan's legal analysis on Amazon helped propel the narrative that the Big Tech companies have too much power.
Biden hasn't yet named a replacement for the panel's third Democrat, Rohit Chopra, who's been nominated to lead the Consumer Financial Protection Bureau.
Khan was previously a legal adviser to Chopra, who has argued that the FTC has the authority to make new rules targeting anti-competitive practices.
What's next: The FTC's actions have been relatively bipartisan and noncontroversial in the past. But antitrust attorneys and former staffers say the FTC will likely become more partisan as it tries to take full advantage of its legal authorities.
Go deeper