Corporate America scrambles to get behind voting rights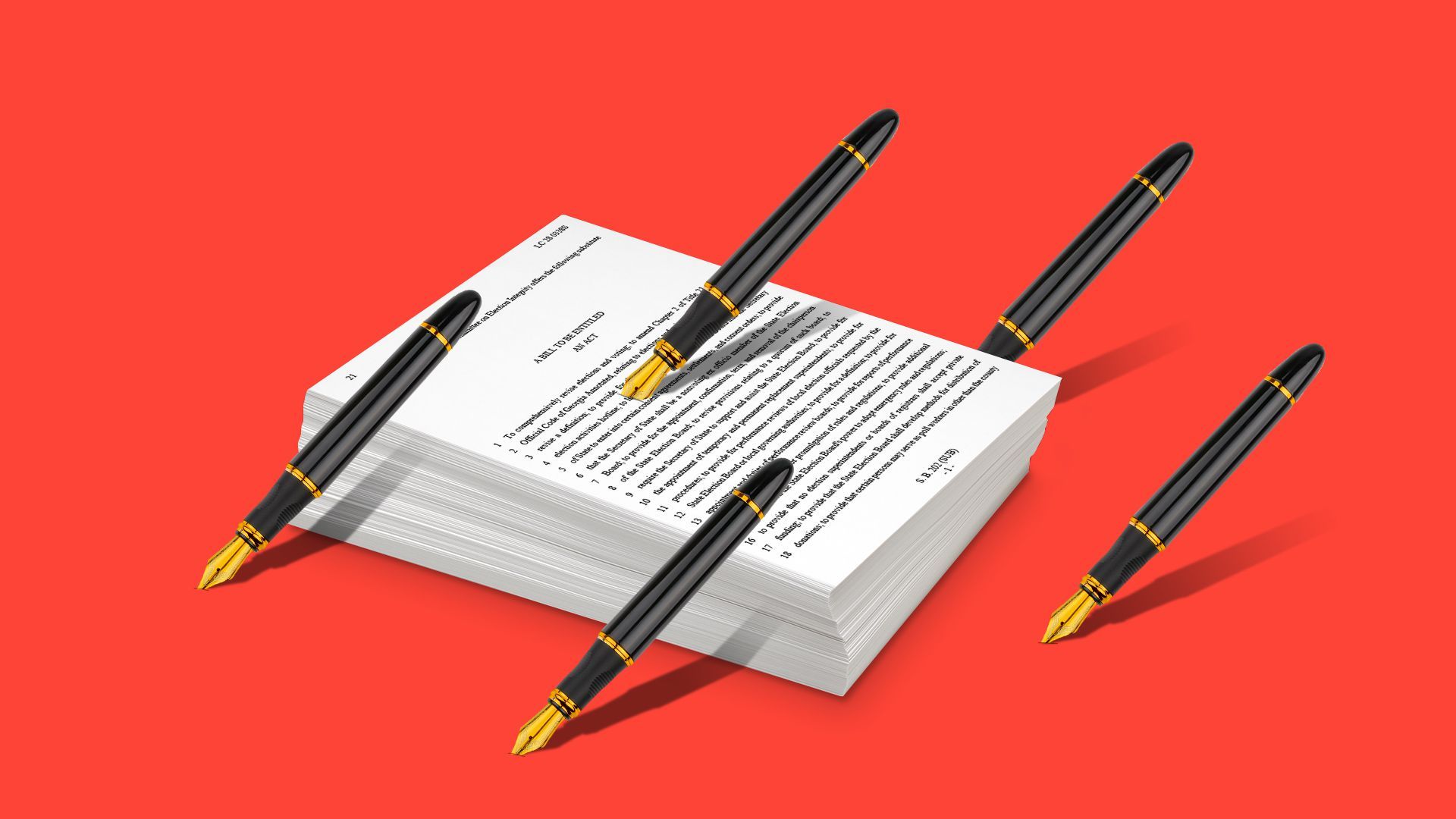 It's not just Georgia: Corporate America is under growing pressure to put its muscle behind voting rights.
Why it matters: Big businesses have taken on a bigger role in social political issues, but got involved in Georgia's voting-rights fight too late to block it. And the fallout is raising the stakes for similar legislation in other states.
Where it stands: Over 70 Black executives signed a letter this week calling on fellow executives to speak out against a number of restrictive voting bills in dozens of states.
Texas is shaping up to be the next big battleground: Texas-based American Airlines said in a statement it is "strongly opposed" to a state bill with "provisions that limit voting rights."
"Governments should ensure citizens have their voices heard. HB6 does the opposite, and we are opposed to it," Dell CEO Michael Dell tweeted, referring to another voting related Texas bill.
Between the lines: Employees and customers are increasingly looking to corporations to take on a bigger role in social and political issues. Many of them have leaned into that role — and gotten results.
Big companies, entertainers and ultimately the NBA and NCAA canceled big-ticket events in North Carolina after the state passed its anti-LGBTQ "bathroom bill" in 2016. The state lost roughly $3.8 billion in business and ended up repealing that measure less than a year after it became law.
There are shades of that organized, well-funded pushback in Georgia, Axios Charlottes's Katie Peralta Soloff reports.
Hollywood studios, which have recently established a major presence in Georgia, thanks to its generous tax credits, threatened to leave the state in 2019 over a controversial abortion law, but that law was then struck down in court.
A few Hollywood voices have threatened to leave the region if lawmakers don't take action to overturn the voting law, but most of the big studios have have been relatively quiet this time.
The fallout is still growing: The MLB on Friday said it would yank its All-Star game from Atlanta.
"I want to tell the Georgia legislature we are not investing in your community if you don't get this bill reversed," SurveyMonkey CEO Zander Lurie, who's company has employees there, told CNBC on Friday.
What's next: Whether Georgia repeals its law or not, the controversy — and the criticism Georgia-based businesses like Delta Air Lines have taken for their initial approach to the bill — will likely push corporations in other states to move faster than their Georgia peers did.
"If companies are on the right side of this, the benefit that they get from speaking out is much greater than the blowback they're gonna get," Paul Argenti, a corporate reputation expert and Dartmouth College professor, tells Axios.
Go deeper