Inside Republicans' battle plan on infrastructure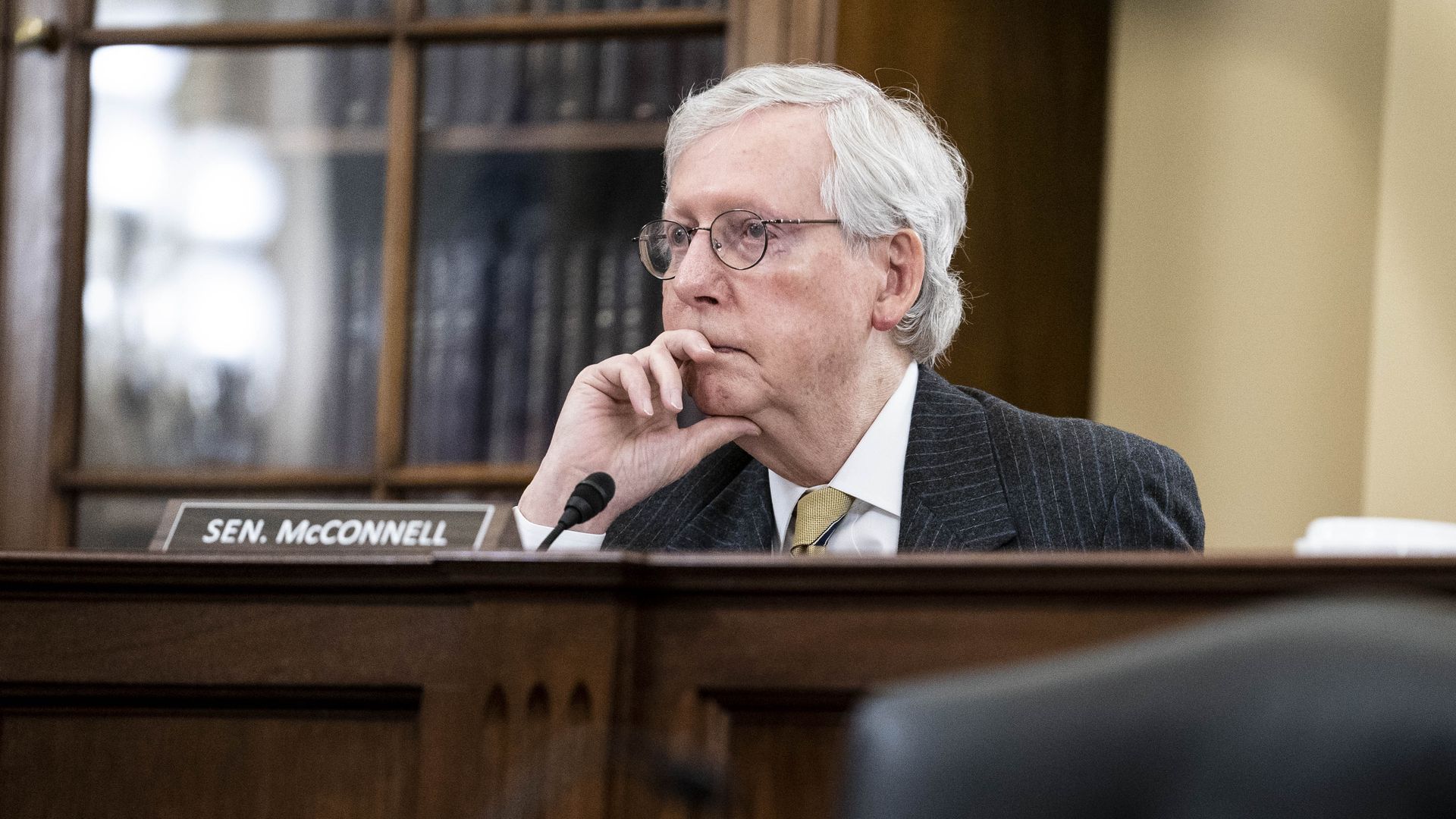 Republicans' criticism of President Biden's infrastructure package isn't just about its cost, but also the definition of "infrastructure."
The big picture: Top Republicans aides tell Axios they learned their lesson after failing to successfully define Biden's coronavirus relief package. This time around, they'll try to convince voters the infrastructure legislation is more of a wishlist for progressives than a "roads-and-bridges" measure.
What they're saying: "Joe Biden's 'infrastructure' plan is not really about infrastructure, it is another multi-trillion dollar far left wish list," declared an email from the Republican National Committee on Thursday.
The RNC is taking a narrow view of what constitutes "infrastructure" spending: "roads, bridges, waterways, ports, and airports."
Senate Minority Leader Mitch McConnell took a similar position. Biden's proposal, he said on Wednesday, "would spend more money just on electric cars than on America's roads, bridges, ports, airports, and waterways combined."
A new memo from House Minority Leader Kevin McCarthy says: "Biden's so-called infrastructure plan spends less than 6 percent to repair bridges, highways, and roads. The rest is a 'kitchen sink' of wasteful progressive demands."
Several Republican offices have also been circulating a Wall Street Journal editorial, highlighting this passage: "First came $1.9 trillion in social spending under the cover of Covid-19, and now comes $2.3 trillion more for climate and political spending dressed as 'infrastructure.' ... Mr. Biden has proven to be the perfect political front for the Warren-Sanders agenda."
The big picture: In addition to hundreds of billions of dollars on traditional public works projects, Biden's proposal includes funding for workforce development, expanded long-term care under Medicaid, clean energy investments and affordable housing.
The proposal "will invest in Americans and deliver the jobs and opportunities they deserve," the statement said. "But unlike past major investments, the plan prioritizes addressing long-standing and persistent racial injustice."
Some Democrats have gone even further. In the days before Biden released his proposal, Massachusetts Sen. Ed Markey called a sweeping infrastructure bill "a way of accomplishing many of the goals of the Green New Deal."
The other side: Some congressional Democrats and administration officials say GOP criticism is hypocritical, given Republicans' own past characterizations of ''infrastructure."
McConnell previously defined "infrastructure" to include energy projects—specifically the Keystone XL pipeline.
Ohio Sen. Rob Portman singled out Biden's focus on workforce development as extraneous. But in 2019, he co-authored workforce training legislation titled the Building U.S. Infrastructure by Leveraging Demands for Skills Act.
"If we are going to invest in our nation's infrastructure, we are going to need a skilled workforce," Portman said at the time.
Go deeper