What democratization of finance sounds like on Clubhouse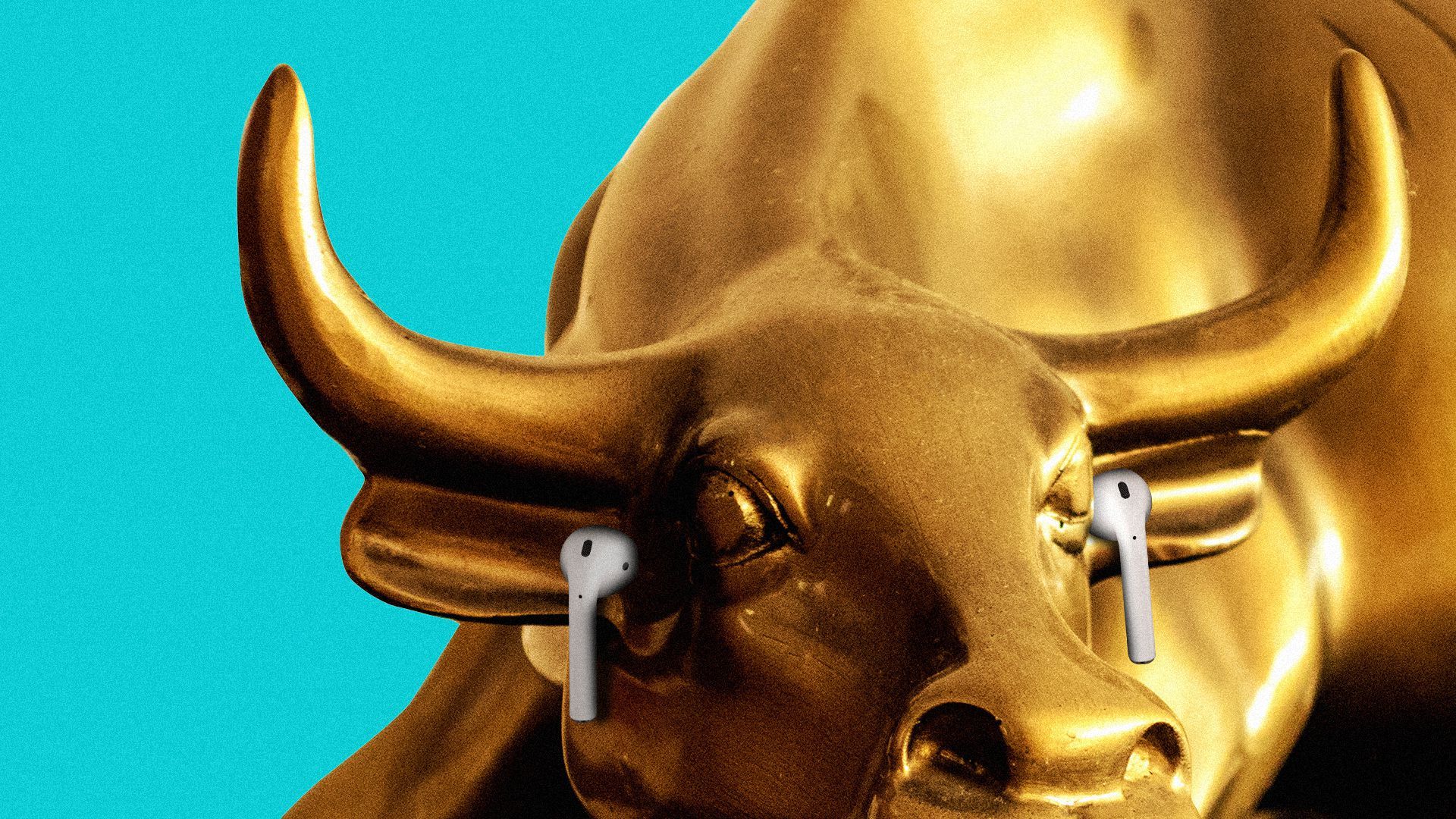 Audio chat app Clubhouse has enabled solo investors to build their own digital trading floors. 
Why it matters: The live, audio-only aspect of Clubhouse gives retail investors a way to mind-meld with more decorum than other platforms, and a way to pick up on insights hard to find elsewhere. 
The big picture: Retail trading activity kicked up during the pandemic and coincided with the rise of Clubhouse, which turned 1 year old in mid-March. 
Individual investors contributed roughly 20% of stock market action on average as of July last year, up from 10% in 2019.
Meme stocks and the SPAC boom have been two key drivers of retail interest and growth, pushing individual investors to seek out more information in new ways.
What's happening: Investors with varying degrees of experience can spend a few minutes, hours or a whole day on the app listening to speakers discuss new trends, like marijuana or space, react to breaking news, such as Jeff Bezos stepping down as Amazon's CEO, or answer questions about investment terms and strategies.
Who's in the room: Crypto entrepreneur Mihai Dinulescu was active during the initial AMC and GameStop frenzy. He described one room as having a mixture of retail investors, hedge fund investors and fundamental analysts. 
A.J. Lloyd, who has been investing for about five years, moderated meme stock rooms almost daily for weeks. "We've had journalists come through, celebrities, billionaires, writers, football players and athletes, and beginning retail investors and veterans," he told Axios from Paris.
A former M&A executive who goes by SPAC Guru, or just "G," joined the app in early February as part of his search for the "next big thing." He told Axios he uses the app after trading hours to get away from his nine computer screens as a way to unwind and to give back.
What you hear: There are discussions about strategy (who's long what, how do I use options in my portfolio), there is worry, excitement and laughter ("to the moon!"), an atmosphere of respect and camaraderie, and an eagerness to teach or to learn. 
During the GameStop trade, "the dominant theme from the questions was confusion," Dinulescu said of one room. "People were getting lucky, but they didn't know how to get smart. 'I got lucky. I got this. What does this mean? How do I turn my momentary gains into a consistent strategy?'"
In a recent room about Lilium, a new eVTOL company going public through a SPAC, G heard from an engineer who discussed different technologies they feel are far from viable, which made him reevaluate his investment in Lilium's upcoming merger with Qell Acquisition Corp. "These are not things you'd read in filings," G told Axios. 
On an average trading day, a moderator for the Trade All Day room who goes by May told Axios that she likes to say good morning to others. "I like the people in the room, so that starts my day in a nice way," she said. "I like to trade happy. The Trade All Day Room has a great vibe."
Maurice Byron Boone, who also hosts with May, told Axios he likes being able to talk to someone somewhere else in the world and ask if they see the same things he's seeing on a technical chart. 
Yes, but: Misinformation on Clubhouse could lead to bad trades, and there can be a lot of self-promotion.
The bottom line: "Clubhouse expands the limitations of other social media apps," said trader Lamar Francis.
Go deeper