Ruined J&J doses may only be a "blip"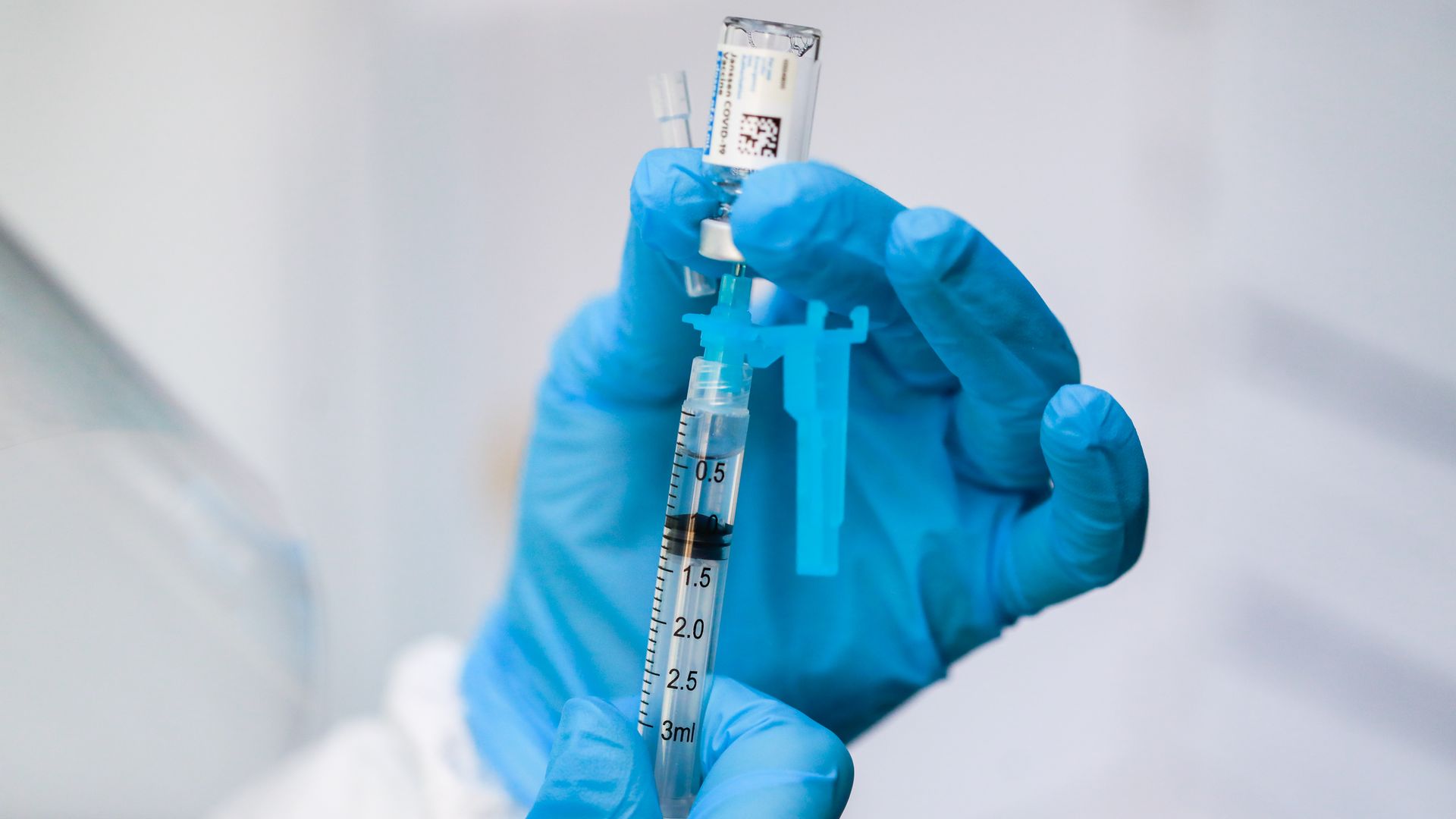 A Baltimore plant ruined a batch of "drug substance" that would have gone into millions of doses of Johnson & Johnson's coronavirus vaccine — but sources familiar with the process say the setback ultimately may not be that bad.
The big picture: Anything that could slow down the vaccine production process is not good news, especially for the one-shot J&J vaccine. But some experts said the company and the overall U.S. vaccination effort will likely be able to recover quickly.
Driving the news: The New York Times first reported that workers at the Baltimore plant, run by Emergent BioSolutions, ruined a batch of "drug substance" — material that makes up a vaccine, but isn't yet bottled — when workers there accidentally contaminated the batch.
The NYT reported that the accident ruined about 15 million doses of J&J's vaccine, although sources cautioned that it can be difficult to predict how many doses a batch of drug substance will ultimately yield.
What's next: The contamination doesn't affect vaccine doses that have already been manufactured, and this plant has been building a stockpile of the substance, sources said. Only one batch is known to have been contaminated.
"Ultimately, it's a blip, and I think everyone expected there to be issues somewhere at some point...it's not nothing, but it's not perhaps as big as it's been made out to be," a former Operation Warp Speed official told me.
Manufacturers often produce more of this particular substance than they need, so this part of the supply chain may be able to catch up while the later stages of the manufacturing process keep moving.
Yes, but: The Baltimore facility hadn't yet gotten authorization from the FDA to manufacture the substance. It was building up its supplies in anticipation of getting that green light.
It will only be able to get back on track if the green light still comes — and this incident could jeopardize that.
The contamination has prompted the FDA to delay the plant's approval, Politico first reported, and Axios confirmed.
So far, J&J has produced all of its vaccine doses using drug substance produced overseas. This is the only plant making the substance in the U.S., and was supposed to produce all further domestic shipments of the Johnson & Johnson vaccine in the immediate future, the NYT reported.
So if these problems are severe enough to cost the plant its regulatory OK, the supply problems could get more serious.
A source close to the process said J&J has committed enormous resources to fix the process.
The bottom line: A serious setback in J&J's production would absolutely be bad news for the global vaccination effort, which is running short on supply. But sources are optimistic that even under worst case scenarios, the U.S. effort won't be affected much.
A source close to the process said while it's important for J&J to fix its process, Pfizer and Moderna are far enough ahead of schedule to ensure there will be enough vaccine available for every adult who wants one by the end of May, even without any more J&J doses.
Go deeper