Scoop: Matt Gaetz eyes early retirement to take job at Newsmax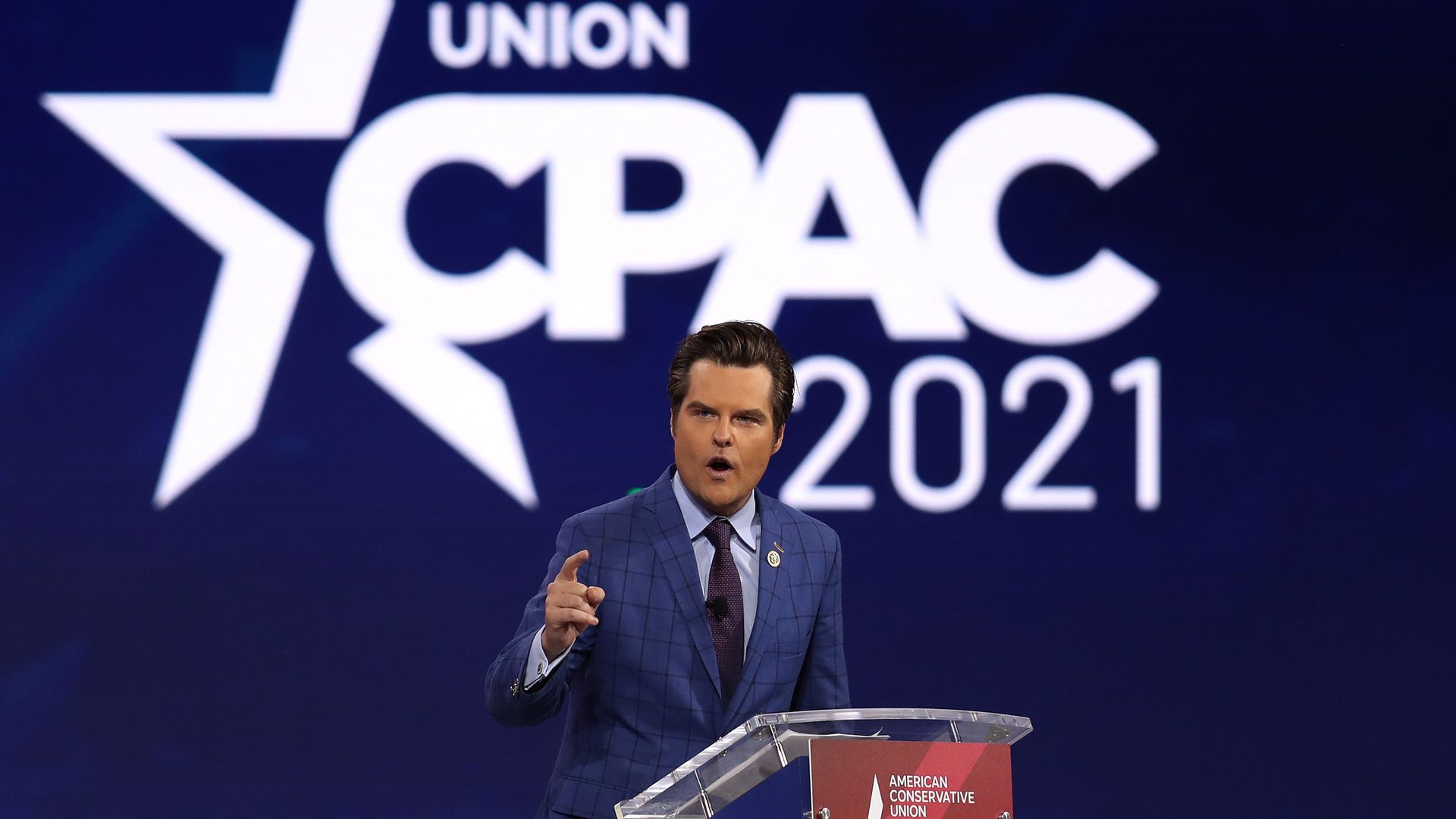 Rep. Matt Gaetz (R-Fla.) has privately told confidants he's seriously considering not seeking re-election and possibly leaving Congress early for a job at Newsmax, three sources with direct knowledge of the talks tell Axios.
Why it matters: Gaetz is a provocative figure on the right who's attracted attention by being a fierce defender of former President Trump. The Republican also represents a politically potent district on the Florida panhandle.
What we're hearing: Gaetz has told some of his allies he's interested in becoming a media personality, and floated taking a role at Newsmax.
One of the sources said Gaetz has had early conversations with the network about what a position could look like.
The backdrop: Many Republicans turned to the network after Fox News called Arizona early for President Biden.
Some critics now say Fox is not conservative enough for their tastes, providing an opening for Newsmax and the One America News Network (OANN).
Gaetz has previously toyed with the idea of running for higher office.
Between the lines: Gaetz, 38, went to Florida State University and received a law degree from the College of William and Mary. He served in the Florida House before being elected to Congress in 2016.
While the party out of power tends to gain seats in midterm elections — creating the possibility of Republicans' taking control of the House in 2022 — a prominent spot in the media could give Gaetz a platform for a future national political role.
Former Fox executives and contributors were among Trump's many senior advisers, including Bill Shine, John Bolton and Larry Kudlow.
Trump has stoked speculation he may seek a second and final term in 2024.
For the record: Gaetz and his spokesman did not immediately respond to several requests for comment.
Go deeper